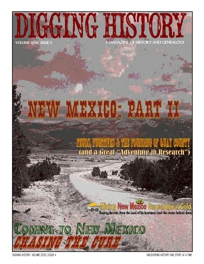 The latest issue of Digging History Magazine features Part II of a series of articles on one of my favorite places:  New Mexico, the Land of Enchantment.  Although I originally planned one big issue, time got away from me, and thus the two-part series.
This issue includes extensively-researched articles, including an update of one of the first "Tombstone Tuesday" blog articles:
When conducting genealogical research it's beneficial to know just where our ancestors settled, but why. In the late nineteenth and early twentieth century, many came for their health.

It was a dreadful, wasting disease – afflicting young and old, rich and poor. Sometimes called "the great white plague", it was more commonly referred to as "consumption" or by its scientific name, "tuberculosis", coined in 1834 by Johann Schonlein. During the late nineteenth and early twentieth centuries New Mexico would become the place where consumptives, or "lungers" as they were colloquially called, came to "chase the cure" for this then-incurable disease.

One of the best aspects of publishing entire issues which focus on a single state is finding the stories, pictures and records which tell the real story. Last year I learned so much about the great states of Colorado and Kansas by digging around for some unique records, like the Colorado State Hospital records which told the stories of hundreds of people through newspaper snippets, or the Kansas Registration Affidavits of Alien Enemies obtained at the height of World War I.
As genealogists it's important to find records, but don't forget the stories you might uncover! I hope the resources highlighted in this article will inspire you to explore New Mexico, the Land of Enchantment. I'll start with the most common records genealogists tend to begin their search.

You might have noticed that I like to choose alliterative titles for my articles. The premise of this article began late last year when I received an email regarding a blog article I published in May 2014. It is one of the most commented-on articles at the blog – some visitors thanking me for the article and a few who wanted to "put in their two cents worth". Family feuds are like that. Everyone has their own opinion about which side was right and which was wrong.
In this case it was known as the Spikes-Gholson feud. While the feud started years before in East Texas, it was later carried forward to West Texas and then into what would one day be Quay County, New Mexico. The email's author, Kate, had come across the article and was intrigued because it mentioned an ancestor – a missing one. Henry Hawkins was the ringleader of a gang of bandits known as the "Mesa Hawks" and he was likely acquainted with the Spikes family.
Not only is this article an overview of the early days of Quay County, New Mexico, it's what I like to call (genealogically speaking) an "adventure in research".

This updated article was first published on November 5, 2013 as one of the early "Tombstone Tuesday" posts at the Digging History blog. The column would become my favorite each week to research and write. However, since then I've honed my research skills considerably and have access to newspaper archives unavailable to me at the time. It was an article left dangling with no information as to how Adolphus E. Sipe had died since there was only a 1909 date. In addition, some of the information provided at Find-A-Grave has since been removed. An update, with additional research and local history, is definitely in order – I actually missed quite a bit of this family's history (gave up?). Text highlighted in blue indicates mistaken assumptions from the original article, followed by the result of new research.
Plus, "Essential Tools for the Successful Family History Researcher" and "May I Recommend" (book reviews). This issue is on sale here: https://digging-history.com/store/?model_number=sepoct-20
A subscription is always the best deal with three budget-minded options:  https://digging-history.com/digging-history-magazine-subscription/
Upcoming Issue:  The last issue of 2020 will feature the Spanish-American War — stories, book reviews, tips for finding records, and more!