It's On!  Special Promotion and Giveaway(s)!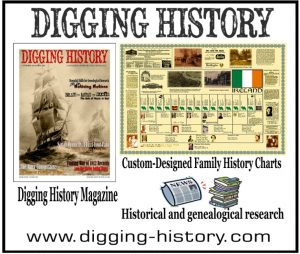 Welcome to the Digging History Special Promotions page!  After checking out details below, feel free to explore the rest of the web site.
Digging History specializes in newspaper, historical and genealogical research, both for clients and in the pages of Digging History Magazine, a digital publication (PDF, six issues per year) available by individual issue purchase or subscription (the best deal with plans to fit every budget).  By all means, please check out the Free Samples page and download as many articles and individual issues as you wish:  https://digging-history.com/free-samples/
The Promotion and Giveaway(s)
Digging History is currently offering a special promotion.  Details are as follows:
For every twenty recurring subscriptions (3-month, 6-month or one year) purchased, Digging History will hold a drawing to give away a free custom-designed family history chart (depending on size, worth up to $350-400).  There is NO expiration date as to when you can use your prize — do it now, do it later.  These charts are all unique as evidenced by these samples:  https://digging-history.com/charts/
NOTE:  Winners must remain a subscriber until their chart is completed.  Cancellation will result in forfeiture of your prize.  And, I hope by the time your chart is finished you will still want to continue subscribing!  Most issues of the magazine run between 75-100+ pages of tips, articles and stories linking history and genealogy (well-documented and researched articles, no ads).
For instance, in 2020 the magazine featured:  A "monster" issue on the Census (January-February), a couple of issues devoted to previously "shelved" articles (March-April and May-June), two issues featuring the great state of New Mexico (July-August and September-October).  The final issue of 2020 featured articles, research tips and stories related to the Spanish- American War.
Benefits of Becoming a Digging History Magazine Subscriber
Let me summarize the benefits of subscribing:
Six issues per year, full of stories and articles focused on linking history and genealogy, including research tips, book reviews  and more — and no ads!
All subscribers receive a generous 20% discount on all Digging History services, including charts.  However, this year is the 5-year anniversary of Digging History Magazine.  Therefore, all subscribers will receive a very generous 25% discount in 2023!
The chance to win your very own family history chart via referrals to friends and family.
Periodic Zoom sessions (coming soon!) to interact with other lovers of history and genealogy.  One of your stories just might appear in the pages of Digging History Magazine!
All of this for only the price of a one-year ($32), six-month ($16), or three-month ($8) recurring subscription.
Questions?  Please feel free to contact me:  seh@digging-history.com or call me at (806) 317-8639.
I look forward to giving away MULTIPLE charts!
Sharon Hall, Publisher and Editor, Digging History Magazine