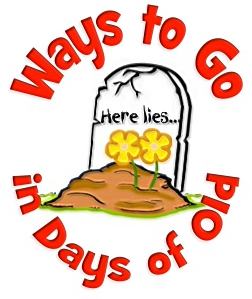 As anecdotal stories begin to emerge in the midst of a worldwide crackdown on the virus known as COVID-19, I am currently working on an article for the upcoming issue of Digging History Magazine under the column title: "Ways to Go in Days of Old".   After reading a particularly compelling account of one family's struggle to maintain during this crisis (the father is quite ill, cared for by his wife and 16-year old daughter), the thought crossed my mind:  is the current crisis worse than what our ancestors faced?
In terms of genealogical research this regular column is meant to provide an important historical perspective as to how our ancestors dealt with all manner of misfortune, pestilence and disease.  It is one of my favorite columns to write.  Past issues featuring this column include (click the date to review the issue and purchase if interested):
November 2018 – This issue featured an extensive article on the 1918 Spanish Flu pandemic.  The issue is largely dedicated to World War I and finding records surrounding that volatile period of history.  Did you have ancestors of German heritage?  Stories abound as to how the United States viewed them as potential security threats (and there are records to prove it!).  On sale for $2.99 (regularly $5.99).
March-April 2019 – The "Way to Go in Days of Old" column in this issue was personal as I recounted the story of my third  great-grandmother's Civil War Widow's Pension Application following the death of her husband, Francis DuPee, in a Fort Beaufort, South Carolina field hospital.  This type of story is oft-repeated for many a Civil War soldier who died not from battle wounds, but from rampant disease.
May-June 2019 – This "Ways to go in Days of Old (Of Collar and Corset)" article has a twist — Victorian fashion saved and Victorian fashion killed (a two-part series).  Another favorite column, "OK, I Give Up, What is It?", is an extensive look at how villages, small towns and large cities dealt with pestilence throughout early American history.
September-October 2019 – The "Ways to (Fashionably) Go in Days of Old" article concludes with a look at how some men met their untimely, yet fashionable, demise.
The upcoming issue which will be out on or before April 15 (crossing my fingers, given all the delays experienced this time around) features an article:  "Ways to Go in Days of Old:  Death by Pimple".  Today, we have Dr. Pimple Popper to advise us as to how to deal with the age-old scourge of pimples.  Our ancestors, however, weren't so fortunate as their attempts at self-treatment sometimes turned deadly.
Subscriptions are the best (and most economical) way to get your history fix (with a tie-in to genealogical research).  There are three options to fit every budget (one-year, six-month and quarterly).  Please note these regular subscriptions are automatically recurring until you tell me you wish to cancel.
Not sure if you want to commit long-term?  Digging History is offering a trial one-year subscription for the special price of $24.00 with absolutely no obligation to re-subscribe.  Check it out here.  Included in this offer is the added bonus of two free issues from the archives (your choice).  I'd love to have you as a subscriber, even if it's only for one year!
Be safe and well during this unusual and historic season,
Sharon Hall, Editor and Publisher, Digging History Magazine