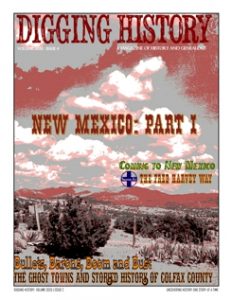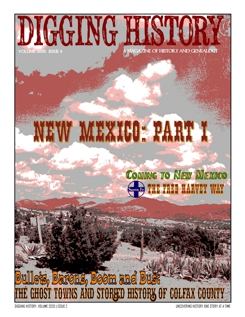 The latest issue of Digging History Magazine features Part I of a series of articles on one of my favorite places:  New Mexico, the Land of Enchantment.  Although I originally planned one big issue, time got away from me and Part II will be featured in the upcoming September-October issue.
This issue includes two extensively-researched articles and an update of one of the most popular "Tombstone Tuesday" blog articles:

I have only traveled through Colfax County on my way to Colorado or heading south to Albuquerque, usually stopping in Raton, the county seat. As you'll see there's so much more to Colfax County – its storied history and more than a few ghost towns. One of these days I want to go and really explore!

There really isn't any way to write about New Mexico history without including one of the ways people made their way to the state. "Coming to New Mexico The Fred Harvey Way" is both a history of the iconic Harvey Houses and Harvey Girls, but also contains a generous dollop of New Mexico history made in the railroad towns across the state.

This article was featured several years ago in a "Tombstone Tuesday" article. Since then several comments have been made by Corn family members and descendants. This article will refresh the original with more information about Corn family origins.
Also included in this issue:  New Mexico history book reviews and Family History Tool Box:  Essential Tools for the Successful Family Researcher.
Exciting News!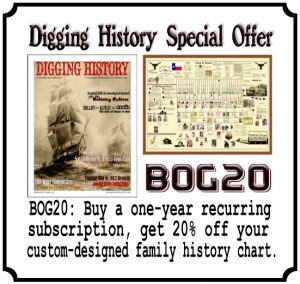 Digging History is now offering a special benefit for one-year recurring Digging History Magazine subscribers.  It's called "BOG20" — buy a one-year recurring subscription and receive 20% off a custom-designed family history chart (no expiration — whenever you're ready as long as you're still a subscriber).  Purchase an annual recurring subscription here and receive the latest issue:  https://digging-history.com/store/?model_number=subscription-yearly
Please let me know if you have questions or need assistance signing up for a subscription:  seh@digging-history.com.  Thanks for stopping by!