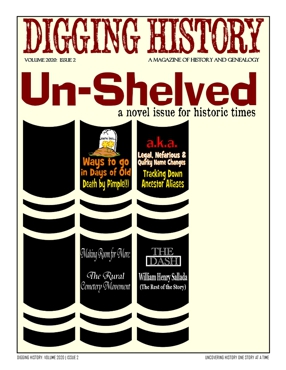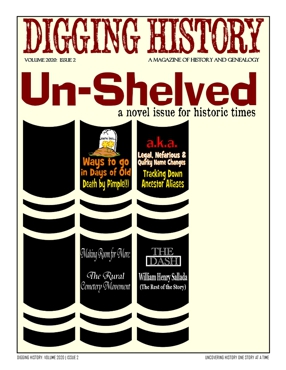 Description
Specifications
Customer Reviews (0)
This issue of Digging History Magazine is themed as "Un-Shelved", stories which, for one reason or another, were pushed back from their original planned publication.  Included in this issue are four articles which have been extensively researched:
a.k.a. (Legal, Nefarious and Quirky Name Changes: Tracking Down Ancestor Aliases):  "a.k.a.", although perhaps not as ubiquitous as "LOL" or "OMG" in our increasingly emoji and acronym-driven world, is commonly used today. While there exists more than one interpretation of the well-known acronym, the most common usage, "also known as", is a legal one in terms of identifying either a legal or, in the case of one (or more) of our elusive ancestors, a nefarious name change.  This informative article covers a wide range of various types of aliases and how you might locate one for your ancestor.  Lots of genealogy-related information, but lots of interesting stories as well!

Making Room for More:  The Rural Cemetery Movement.  Given the current situation the world is facing with a global pandemic, this article (which has been repeatedly pushed back) now seems appropriate.  Not to be morbid, but meant to highlight an issue which challenged our ancestors who themselves were overwhelmed at times with epidemics of one disease or another (smallpox, cholera, typhoid fever and so on).

Ways to Go In Days of Old:  Death by Pimple.  I ran across this particular "way to go in days of old" while researching a Surname Saturday blog article several years ago about the Pimple surname (after seeing the name in a list of Revolutionary War veterans).  As I researched the unusual surname, I came across several references to "death by pimple" – and, of course, I was intrigued.  As is usually the case, these are the best kinds of stories to feature, giving us a sense of how our ancestors dealt with diseases, infections, pestilence and more in a time when medicine and technology we depend on today was non-existent.

The Dash:  William Henry Sallada.  Sometimes I run across people whose story just begs to be told.  This one was featured in the March-April 2019 issue, with a note the article would be concluded the following month.  Plans changed, however, and the article kept getting pushed aside ("shelved").  Here is the article in its entirety, including the original article.
Plus, book reviews and Family History Tool Box -- an issue packed with articles related to both history and genealogy. 
Keywords:  Alias, aka, Vigue surname, Waterville Maine, Cuff Wells, Cuffee Wells, Doctor Cuffee, John Adam Boozer, ancestor name change, rural cemetery movement, Mount Auburn, Green-Wood Cemetery, Hollywood Cemetery Richmond, Ladies Hollywood Memorial Association, Death by Pimple, blood poisoning, picking pimple, wool sorter's disease, madstone, William Henry Sallada, Carl Sallada, Harry Sallada, Grant Sallada, Civil War, Los Angeles Times 1910 explosion, Harrison Otis, William Burns, Clarence Darrow, Veilleux
There are no reviews yet, submit yours in the box provided.
Submitting Your Review, Please Wait
Your Review Has Been Submitted Successfully
Add a review for March-April 2020
You must include a title, rating, and message in your review.
Your Review Title
Your Rating
Your Review