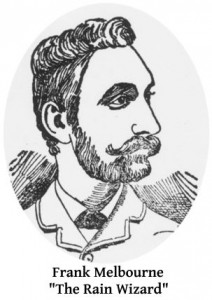 In the early 1890's several men claiming to be rainmakers were making headlines — from explosive-laden balloons launched to blast rain from the sky (see Part One of the series) to the super-secret formulas Frank Melbourne, a.k.a., the "Rain Wizard", claimed would produce copious amounts of rain in drought-stricken parts of the West and Midwest (see Part Two).
Frank Melbourne began broadening his horizons in 1892 and making plans for that year's rainmaking wizardry.  In early January he was promising rain to farmers around the Rapids City, South Dakota area, for which he would charge ten cents per acre of coverage.  In late January Melbourne was on his way to the State of Sonora, Mexico where it hadn't rained for about eight months.
The Mexican government was willing to pay his expenses, but wouldn't grant further compensation until rain was produced.  By early March rain had indeed fallen at Hermosilla and Melbourne began negotiating another deal with the State of Chihuahua.   Meanwhile, back in the States rainmaking companies were sprouting up.  In February of 1892 the Goodland Artificial Rain Company filed its charter with the Kansas Secretary of State.  Melbourne would now have competition.
After an absence of four months, he returned to his "headquarters" in Cheyenne claiming to have produced "three inches of rain at a cut rate and left because the people were so dumbfounded that some of the more superstitious peons wanted to make a god of the miracle performer."  Now he wasn't merely a "wizard – he was a "rain god".1   Several newspapers were reporting, however, that Melbourne had failed to collect his fees.  As clouds began to gather, he was ordered to stop his experiments because authorities believed natural rain was about to fall.  "Next time he goes with a supply of rain to Mexico he will ask spot cash."2
Summer was approaching and Frank was busy making contracts, or at least trying.  His contract with parts of the Arizona Territory was indignantly torn up after the rain he promised in certain sections did not materialize.  Next he started up his rain machine in eastern Colorado on June 14, contracted to produce rain by the following day at noon.  He promised rain for six counties in Colorado and two in Nebraska, covering 8,500 square miles at six cents per acre of cultivated area.
A dispatch from Holyoke, Colorado indicated that his "test rain" had been successful, with rainfall varying across the targeted area from twenty-hundredths of an inch to one and one-fourth inches.  "Farmers and business men are jubilant, and one and all swear by Melbourne."3  Orders for his services were flowing in, "so many requests for his services that it is difficult for him to decide between orders."4
Melbourne was turning down opportunities and reneged on his South Dakota contract, citing his busy schedule.  He was also required to address his competition, defending his own rainmaking methods as, of course, being far superior.  Still, not everyone was convinced of his claims.  The Topeka Daily Capital printed a short paragraph on July 30: "Some of the papers are cruelly insinuating that Frank Melbourne and his rainmaking scheme are rank frauds, and newspapers are usually correct."
In August, Nebraska papers were reporting a "dead failure of Frank Melbourne to bring rainy tears from the clouds, because there were no clouds to weep."  He begged for contract extension, was refused and quit in disgust.  It appears that Kansans were catching on as well, wondering if all the so-called rainmakers were indeed frauds.  The question posed – why, if the invention was so great, wasn't the process patented so that it might be exhibited openly?  Good question.
Frank Melbourne wasn't about to divulge his secrets, however – at least not just yet.  He went into a fit of panic and rage in late September when upon arrival back in Cheyenne he couldn't locate two of his valises.  He drew a revolver, rushing through the crowded depot and stopping every person carrying baggage.  His manager found them under the seat where Melbourne had stored them.  The pressures of fulfilling his contracts and the added competition were perhaps exacting a toll on him.  According to the Salt Lake Tribune (30 Sep 1892, p. 1), he planned to sell his secret to the United States government.
By early April of 1893, Melbourne's competitors were combining their efforts to deliver rain to western Kansas, claiming to have discovered Frank's secrets by entering his room in Goodland and confiscating samples of everything used in his experiments.  An observation appeared in several newspapers, including the New York Times, about the rainmaking business that everyone should have paid attention to:
There is one feature of this rainmaking business that has been overlooked by the farmers, whose anxiety has in the past led them to advance money.  The "rainmakers" fix dates for the production of rain corresponding with the predictions of Foster of St. Joseph and Hicks of St. Louis, who have gained widespread reputations as weather prophets.  The farmers are never permitted to fix the dates, as the rainmakers give themselves three of four days latitude in their contracts.5
Tucked away in the middle of an article on page 12 of the Times, that paragraph may or may not have been overlooked.  Meanwhile, Frank was negotiating a $20,000 contract to produce ten inches rain for Laramie County, Wyoming during the months May, June and July.  Not long afterwards, another rainmaker, C.B. Jewell, an official of the Rock Island Railroad, claimed to have the "true secret for making rain."
Skeptics still questioned the rainmakers' methods and assertions.  The Davenport Democrat and Leader came up with a novel idea apparently no one had thought of – appoint a commission of meteorologists or weather observers to oversee and confirm the results. 6
Under mysterious circumstances, Melbourne left Cheyenne on February 19, 1894, disappearing without a trace and leaving behind partially completed contracts.  Speculation ranged from his return to Ohio to obtain more chemicals to conduct his experiments to possibly returning to Australia.  No one had heard from him, leading others to speculate perhaps he had been kidnapped in an attempt to force him to divulge his secrets.
By the end of August, his whereabouts were still unknown.  In Denver a man believed to have been Frank Melbourne had committed suicide at the Hotel Hope (suicide at the Hotel Hope – how ironic is that?).  However, it wasn't Frank, even though newspapers were reporting across the country a coroner's jury had proven his identity.  With his mysterious disappearance, one newspaper published a clever one-sentence summary: "Frank Melbourne is not dead, as reported, but his business is."7
Whatever came over Frank Melbourne in February of 1894 is unclear – perhaps a twinge of conscience.  In June of 1895 he was found to be living in Cleveland, Ohio, admitting publicly, "that the whole thing was a humbug and that he never possessed any more power in that respect than any one else.  He says the American people like to be humbugged, and the greater the fake the easier it is to work it.  Melbourne made a fortune in the business and spent it like a prince."8
Several years passed before Frank Melbourne again made it into the headlines.  In December of 1903 he was again reported missing, this time believed to have been kidnapped while out west near Deadwood, South Dakota.  His brother George claimed to have discovered his whereabouts after traveling to South Dakota, but refused to divulge the details.  He would only say that Frank had not been kidnapped and was not in a sanitarium.
Whether George ever saw his brother again is also unclear, since eleven years later the Fort Scott Daily Tribune and Monitor asked the question:  "Know Frank Melbourne?"  Reportedly, George was still searching for his brother.  The last confirmed report of his whereabouts was in Fort Scott in 1905.  One source believed he had departed for an unknown location in New Mexico.
Just because Frank Melbourne mysteriously disappeared, and the public gradually began to catch on to the fact they had been duped during the 1890's, didn't stop other so-called rainmakers from trying to make a buck.  The next article concludes this series with the story of the early twentieth century's version of Frank Melbourne, billing himself as the "Moisture Accelerator".
Have a GREAT day . . . someday it will be HISTORY!

© Sharon Hall (Digging History), 2015.
Footnotes: