Frank Melbourne, The Rain Wizard
Just because General Dyrenforth was on his way to being exposed as a fraud (see Part One of this series) didn't stop others from trying, nor end the public's fascination with so-called rainmakers.  Frank Melbourne immigrated to America and lived in Ohio before heading west to Kansas, Nebraska and Colorado in 1891, proclaiming himself as "The Rain Wizard".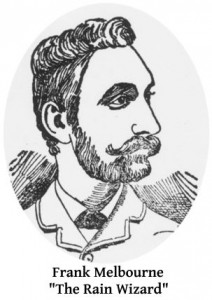 He was born in Ireland in 1857 and educated in the public schools of his village.  Although he never attended college, he was considered a well-educated gentleman.  At the age of twenty-one he left Ireland to live on a ranch in Australia where the dry climate presented challenges.  Melbourne, determined to solve the problem with scarcity of rain, set about to find a way to produce rain artificially.  In 1887 he began experimentation and after three years and twelve successful attempts to produce rain in Australia, he went to New Zealand before making his way to Ohio where his brothers resided.1
Melbourne always insisted he couldn't publicly discuss his methods which he'd devoted a considerable amount of time and money to develop.  Reports of his rainmaking abilities started appearing in newspapers in May of 1891.  It was reported on May 22, following a violent storm in Canton, Ohio which uprooted trees and came close to toppling telegraph poles, that Australian Frank Melbourne was claiming credit for bringing the storm "by means of his chemical process."2
Newspapers reported an "electronic contrivance" which could produce rain under the driest of weather conditions. His methods involved manufacturing gas on the ground, creating a cloud which upon rising united with air in the upper atmosphere and causing it to rain.3
After his self-proclaimed success in May, Melbourne promised to again make it rain in Canton on June 28th and 29th.  One newspaper predicted, "It will only be a matter of a little time now when, instead of praying for rain, as our forefathers were wont to do, and then waiting patiently until it came, we can order a shower whenever there is a popular demand for it."4
Canton residents were anxiously awaiting the dawn of June 28, anxious because of the disastrous May flood which Melbourne had taken credit for.  He was proclaiming he would cause rain to fall over, at a minimum, an area of 70,000 square miles.  Melbourne had already petitioned the government to include his experiments in the appropriations approved for General Dyrenforth.  He wanted his piece of the pie I suppose and was willing to guarantee that after he fired up his "machine" it would rain within three to six hours.
The government declined to include his experiments for the time being, but informed him if he went to Kansas and made it rain "at will" he would get a contract.  With plenty of money in his pocket, he planned to visit Kansas soon.  Not everyone in Kansas may have been as anxious for him to arrive.  One Kansas newspaper offhandedly commented: "If Frank knows a good thing he will postpone his visit to Kansas until he is sent for.  Nature's rain machine supplies all the wetness that is demanded in Kansas at present."5
Rain materialized, although not according to his promised schedule.  In an interview with the Cincinnati Enquirer, Melbourne stated the rain had been "booked for Tuesday but owing to the condition of the atmosphere it came a day sooner than was expected."  When asked how he produced the rains, Melbourne declined to divulge much except to say it involved the "infusion of certain chemicals in the air through a machine of my invention."6
Part of the reason for his reluctance to discuss specific details was, according to reports, that he hadn't yet secured a patent for his machine (or probably more accurately, he hadn't found a buyer).   Melbourne charged three hundred dollars and didn't expect to be paid until rain was produced.  His next "interference with the weather" was scheduled for July 11.
Melbourne was an extremely busy man as word spread and inquiries poured in.  The Middlesex Courier (London, England, 10 Jul 1891, p. 7) wasn't much interested in the production of rain, presumably because they had more than enough.  Rather, they were interested to know if he had devised "a way of stopping as well as of producing it.  If so, he would be a welcome guest in our own country."
The July 11th rainstorm was delayed due to mechanical failure of his machine, and it was unnerving.  He was hard at work in his laboratory, built on top of a cow shed measuring about thirty-six square feet with an entrance through the cow shed's roof – and still refusing to divulge any secrets.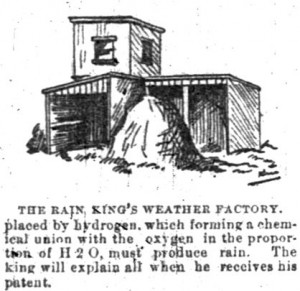 One young man, however, couldn't resist and after Melbourne retired one night, climbed on top of the shed, bored two holes in the side of the wall and peeked through with the aid of a lantern.  All he could see "was something that looked like a glass generator of electricity.  There was an instrument that had a funnel-shaped hopper and a collection of wheels and cogs."  It was known that the machine produced some sort of gas, but until his patent was approved, no official details were offered, although in general terms some were already speculating as to how the machine might work.
Inquiries and offers continued to pour in, and in a late July interview he was concerned with public perception of his ability to make it rain.  He stated, "I have set no dates for rain in this country.  The time has always been determined by newspaper men.  That time the bit rain came in May was set by a Cincinnati paper."7  All he would say about the machine was its dimensions were about ten by fifteen inches and operated by a crank, the gases emitted through a four-inch pipe which extended above the roof about twelve feet.  About the size of a "tinker's stove" it was used to mix certain chemicals which would bring rain.  Since his late-night "peeper" had succeeded in espying his machine, it was now locked in a safe each night.
If the United States government wasn't forthcoming in dealing with him (he wanted one million dollars for his machine from the feds!), he was thinking of creating a fresh water lake in Africa.  In the interview he claimed, "I can make a lake where there is now a desert along the boundary of California and Nevada.  There is an immense tract known as the Death Valley.  It is lower than the sea level and can easily be filled with water.  I am thinking of going out there, and that may be my next step.  The government should give me a chance to demonstrate my power."8
Just days later, the man who hoped to literally create streams in the desert, was called "an exploded phenomenon" – his stock "below par."9  Instead of rain, there was unbearable heat with nary a cloud in the sky.  "He may be able to produce rain in Australia, but his machine is of no avail at Canton."10
Melbourne's brother had taken bets in July, so confident was he of rain.  The rain came on time, two showers, and one newspaper surmised "he is either a good guesser or has mastered nature's secrets."11  Whatever his secrets for supposedly conjuring up precipitation, he appeared to have been a diligent worker.  Melbourne would enter his laboratory before daybreak and remain until 9:00 o'clock at night.
One Cincinnati journalist had reported some recent "queer experiences" while hiding in the grass and observing the laboratory:
There was a rumbling, fluttering sound from the pipe for some time and then all the surrounding air moved in irregular currents, swaying the grass in all directions.  The pure air of the morning (the vigil began long before daylight) suddenly became sultry and was so loaded with vapor that the watcher sank into a sort of stupor.  In a few minutes the air resumed its purity, the rumbling noise ceased, there was no more breeze and the experiment was over for that occasion. 12
On August 27, Melbourne arrived in Cheyenne, Wyoming and it immediately began raining heavily, although he didn't claim responsibility for it.  Several landowners had contracted with him to conduct experiments, but some ranchers were wary of his presence, fearing heavy storms would damage their crops.  Still, Melbourne was determined to remain until he had convinced residents of his ability to make it rain.  He also hoped the evidence would clearly demonstrate he could sell his invention to not only the federal government but to western states.  The same day he arrived in Cheyenne it was reported that on the highest peak of the Socorro Mountains of New Mexico large quantities of dynamite were exploded, followed by drought-busting heavy rains.
Frank and his brothers again wagered bets, and sure enough it rained, creating "a profound sensation" – people were totally amazed.  While skeptics capitulated, Melbourne remained cool and calm as ever.  The federal Agricultural Department had predicted only mist, nothing of consequence.  Melbourne, undeterred, told reporters it would rain.  On September 1 around two o'clock there were only light, fleecy clouds visible on the horizon.  A half-hour later black, heavy clouds were spotted near the laboratory while the rest of the sky was clear.
At 2:45 a shower of rain started and at 4:30 a severe shower began, sending residents indoors.  The rain extended to an area twenty-five miles in every direction from his laboratory.  The men who brought Melbourne to Wyoming were satisfied and were planning to make arrangements for a state-wide service to be utilized by owners of large parcels of land.
J.C. Hamm of Evanston, Wyoming proclaimed Frank Melbourne "the greatest man the world has ever produced."13  The possibilities seemed endless, that it could be made to rain "at the will of finite man" without the "intervention of such violent agencies as exploding bombs in the upper atmosphere."  No more drought, no more crop failures and no more famine.
By late September he arrived in Goodland, Kansas to began experiments there.  His only objective was to keep experimenting until the United States government took notice and offered to buy his secrets.  Kansas seemed as good a place as any to set up shop and the government had promised to take notice if he made it rain there.
Investors were lining up as well, believing the scheme was a "sure winner".  Why worry about irrigation when for five hundred dollars rain will fall over an area of eight thousand square miles?  No one yet knew either what exactly Melbourne used to produce rain, nor did they care.  Goodland, Kansas was "all in."  Fair Week was coming and large crowds were expected.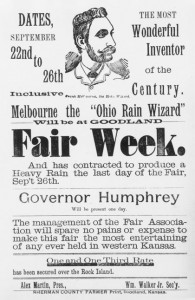 Only light rain was produced during Fair Week, blamed by Melbourne on winds and cold nights which counteracted his daytime work, although more rain had fallen since he arrived than was normally recorded at that time of the year.  Faced with those conditions, and citizens satisfied with his explanations, he prepared to leave – but not before being asked to provide a proposal for watering the forty counties of western Kansas.  He offered to do it for ten cents per cultivated acre (in 1891 there were two million cultivated acres in that region).
He signed a contract to produce crop rain in northwestern Kansas during the months of June, July and August of 1892.  At ten cents an acre for two million acres, he would receive $200,000 if he produced rain.  Some were still skeptical, however.  In a Topeka State Journal article first reported in the Chicago Tribune, he was called the "rain doctor" and described as a mystic:
[Melbourne] appears to have had a falling out with his partner in business, Jupiter Pluvius.  The rain doctor, as will be remembered, carries his apparatus, which is a secret, in four small gripsacks.  All that he requires in addition to his occult machinery is a barn with a peep-hole in the roof.  Eliminating the mystic elements, his modus operandi is simple.  He enters the barn, locks the door, opens the hole in the roof, and proceeds with his magic incantations to Jupiter Pluvius.
The highly-skeptical Tribune fully expected that Kansans were about to be taken for a ride and wouldn't be surprised if they were "left with a lot of barns with holes in the roofs and the rain doctor, meanwhile, will shake off the dust from his feet as he skips away with $200,000 and his four gripsacks."
The sources for this article are taken from 1891 newspapers and other historical accounts.  Was Frank Melbourne really "The Rain Wizard" or a weather charlatan?  More about that in Part Three.
Have a GREAT day . . . someday it will be HISTORY!

© Sharon Hall (Digging History), 2015.
Footnotes: