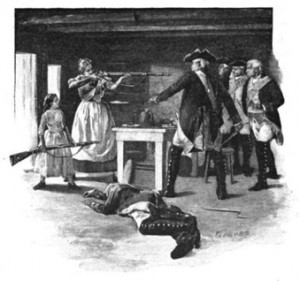 One biographer describes today's "Feisty Female" as "a woman entirely uneducated, and ignorant of all the conventional civilities of life, but a zealous lover of liberty."  (The Women of the American Revolution, Volume 2 by Elizabeth Fries Ellet).
She was born Nancy (or Nancy Ann) Morgan, date uncertain (perhaps as early as 1735 or as late as 1747), and later married Benjamin Hart, Sr.  She and Benjamin migrated from North Carolina to Georgia in the early 1770's, settling in the Broad River valley (Wilkes County).  According to historical records, Nancy and Benjamin had eight children, six sons and two daughters: Morgan, John, Thomas, Benjamin, Lemuel, Mark, Sarah and Keziah (one of the daughters apparently called "Sukey").
This article is no longer available at this site.  However, it will be enhanced and published later in a future issue of Digging History Magazine, our new monthly digital publication available by individual purchase or subscription.  To see what the magazine is all about you can preview issues at our YouTube Channel.  Subscriptions are affordable, safe and easy to purchase and the best deal for getting your "history fix" every month.