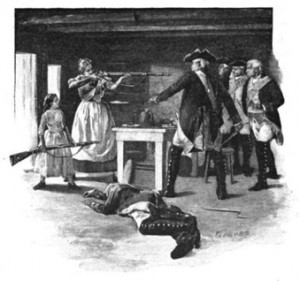 One biographer describes today's "Feisty Female" as "a woman entirely uneducated, and ignorant of all the conventional civilities of life, but a zealous lover of liberty."  (The Women of the American Revolution, Volume 2 by Elizabeth Fries Ellet).
She was born Nancy (or Nancy Ann) Morgan, date uncertain (perhaps as early as 1735 or as late as 1747), and later married Benjamin Hart, Sr.  She and Benjamin migrated from North Carolina to Georgia in the early 1770's, settling in the Broad River valley (Wilkes County).  According to historical records, Nancy and Benjamin had eight children, six sons and two daughters: Morgan, John, Thomas, Benjamin, Lemuel, Mark, Sarah and Keziah (one of the daughters apparently called "Sukey").
NOTE: Digging History is now a monthly digital (PDF) magazine.  This article will be included in a future edition of Digging History Magazine. Check out the latest issue here:  www.digginghistorymag.com or try a subscription here.