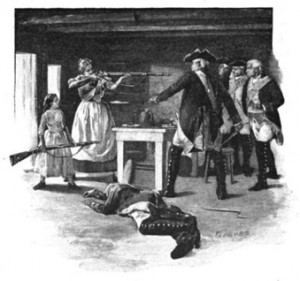 One biographer describes today's "Feisty Female" as "a woman entirely uneducated, and ignorant of all the conventional civilities of life, but a zealous lover of liberty."  (The Women of the American Revolution, Volume 2 by Elizabeth Fries Ellet).
She was born Nancy (or Nancy Ann) Morgan, date uncertain (perhaps as early as 1735 or as late as 1747), and later married Benjamin Hart, Sr.  She and Benjamin migrated from North Carolina to Georgia in the early 1770's, settling in the Broad River valley (Wilkes County).  According to historical records, Nancy and Benjamin had eight children, six sons and two daughters: Morgan, John, Thomas, Benjamin, Lemuel, Mark, Sarah and Keziah (one of the daughters apparently called "Sukey").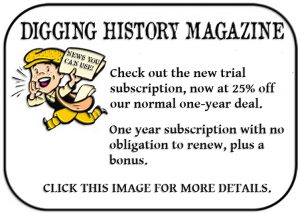 She is said to have regarded her husband as a "poor stick," perhaps because he was not as fiercely patriotic. It is believed that she might have "worn the pants in the family," so to speak. Although illiterate she well knew how to survive on the frontier, being an expert herbalist and, despite the fact she was cross-eyed, an excellent shot.
In physical appearance she was said to have "a broad, angular mouth," a towering figure of six feet in height, red hair and a smallpox-scarred face. One account described her as having "no share of beauty – a fact she herself would have readily acknowledged had she ever enjoyed an opportunity of looking into a mirror."
Politically, she was with the "liberty boys," her term for the Whigs of Wilkes County. She was not a friend of the Tories of Wilkes County, who, even though intimidated by her, scarcely missed an opportunity to taunt, tease or annoy her. The local Indians referred to her as "Wahatche" which some believe meant "war woman."
Her exploits as a patriot and spy are legendary in Georgia history. Benjamin was frequently was away serving in the Georgia militia and it was up to her to protect their home and family. She would often disguise herself as a simple-minded man and wander into Tory camps to gather information for the patriots. On February 14, 1779 the Battle of Kettle Creek was a narrow victory for the patriots and some historians believe that Nancy was present there that day.
The more legendary acts of courage occurred at the Hart cabin near the Broad River. One night a Tory crept up to their home and peeked in through a crack between the logs. One of the children noticed the eyeball and secretly informed Nancy. At the time she was making soap around the hearth – she scooped up a ladle-full and flung it in the direction of the would-be spy. Disabled, the Tory was hog-tied and turned over to the local militia.
The most famous story of Nancy Hart's feistiness and courage occurred when a group of five or six Tories stopped by her home while looking for a Whig leader. The man had just come through Nancy's house where she directed him to hide in the nearby swamp. When the Tories arrived she mis-directed them, and when they realized they had been duped returned and demanded a meal after shooting her prized turkey.
The Tories stacked their weapons in the corner, demanded wine, which Nancy provided, and began to become intoxicated. Meanwhile, Nancy sent her daughter Sukey to the spring for water. Not only was Sukey to fetch water but blow a conch shell which would signal to those working in the fields that Tories were nearby.
As Nancy began to serve her guests, she passed repeatedly between them and their stacked weapons, secretly passing them one by one through a chink in the wall to Sukey. The Tories began to realize what was happening and one of them jumped up and moved towards her even though she threatened to shoot. The man ignored her warning, stepped forward and was shot dead by Nancy. She grabbed another gun and sent Sukey to bring help. The other men were held off by Nancy until her husband and neighbors arrived. According to The Women of the American Revolution, Nancy demanded they surrender "their damnatory carcasses to a whig woman." The men wanted to shake hands upon their surrender but she would have none of it.
When Mr. Hart and his neighbors arrived, they wanted to shoot the Tories, but Nancy insisted they had surrendered to her. At this point she had reached the boiling point apparently, swearing that "shooting was too good for them." Instead of shooting them, the remaining Tories were taken outside and hung. The story was later validated in 1912 when railroad workers unearthed a row of six skeletons, buried about three feet underground in a spot near the location of the old Hart cabin.
The Harts continued to live in the Broad River area following the Revolutionary War. Sometime in the 1790's Nancy found religion and joined the Methodists. Former Georgia governor George R. Gilmer, whose mother knew Nancy, remembered that she "went to the house of worship in search of relief. She . . . became a shouting Christian, [and] fought the Devil as manfully as she had [once] fought the Tories." (New George Encyclopedia)
Shortly after the Harts moved to Brunswick in the late 1790's, Benjamin died. Nancy returned to Broad River only to find a flood had washed away the cabin. She instead settled with her son John in Clarke County near Athens. John Hart migrated with his family to Henderson County, Kentucky around 1803. Nancy would remain there until her death in 1830.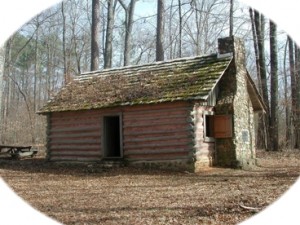 The Daughters of the American Revolution later erected a replica of the Broad River cabin, using chimney stones from the original structure. She has been memorialized by Georgians in numerous ways over the years. Hart County with its county seat of Hartwell were both named for Nancy Morgan Hart. Nearby are Lake Hartwell and the Nancy Hart Highway (Georgia Route 77).
Inspired by her courage, several women in LaGrange, Georgia formed a militia named the "Nancy Harts" to defend their town from the Yankees during the Civil War. More about the Nancy Harts later . . . stay tuned.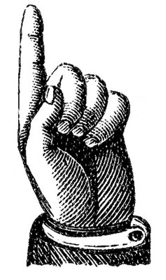 Did you enjoy this article?  Yes? Check out Digging History Magazine.  Since January 2018 new articles are published in a digital magazine (PDF) available by individual issue purchase or subscription (with three options).  Most issues run between 70-85 pages, filled with articles of interest to history-lovers and genealogists — it's all history, right? 🙂  No ads — just carefully-researched, well-written stories, complete with footnotes and sources.
Want to know more or try out a free issue? You can download either (or both) of the January-February 2019 and March-April 2019 issues here:  https://digging-history.com/free-samples/
Thanks for stopping by!