Last year I wrote a couple of blog articles about pricing for my custom-designed family history charts:
The purpose of this article is to point out a few things about how the process works and how you don't have to wait until you've found all your ancestors back to Adam (just kidding!).
What is the chart size?
The charts I create are more often than not 36 x 24 for which I can fit up to 8 (or 9) generations.  Usually that means 6 generations in the "boxed" area of the chart which, if beginning with yourself, includes through third great-grandparents.  The additional generations (children, grandchildren, perhaps great-grandchildren) are included at the bottom the chart, outside the boxed area).
Are there other sizes?
I have also done smaller charts (20×30 or 16×24), depending on how many generations are included in the boxed area.  Each project is unique and the final size will reflect the number of generations and the items you want to include on the chart.
Ancestors of Note
Clients often want to highlight their ancestors of note.  For instance, I have clients whose ancestor signed the Declaration of Independence or was a passenger on the Mayflower.  Those ancestors are distant great-grandparents.  However, there's plenty of room to highlight those family history facts around the perimeter of the boxed area.
What other items can I include?
There is plenty of room in the boxed area for a picture of your ancestor.  If you don't have one, an image called a "flag map" is inserted to represent the state (or nation) where they were born.  This makes for a colorful chart!  Included for each ancestor in the boxed area is their birth and death dates, as well as signatures.

The items placed around the box perimeter might include news clippings, short patriot bios (Revolutionary War, War of 1812, Civil War, World War I and II, etc.).  When I can locate them, I like to lift county names off old maps to show where my client's ancestors owned land.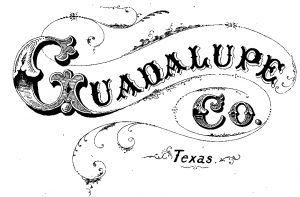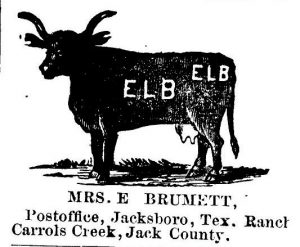 Cattle brands, if they can be found, make great items to display.
The purpose of selecting these types of historical items is to make each one conversation-worthy — a way to get your family interested in their history.  What a client selects for their chart is obviously unique to their own family's history.
Depicti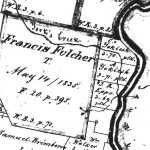 on of an ancestor's land is a great conversation starter.  For instance this client's ancestor (Francis Fulcher) was an early Texan.  What kind of challenges must he and his family have faced in the early days of Texas?
What about brick walls?
For genealogists "brick walls" are a fact of life.  Many of us have searched diligently for years on end to fill as many gaps in our tree as possible.  However, there are some ancestors who left little in the way of a paper trail.  Most charts that I have created have blank boxes, and I might add that most clients, even after having their chart designed, are still actively researching their family history.
What if you eventually find that elusive ancestor, or want to add something else to your chart?  I currently use Walgreens Photo for printing charts up to 36 x 24.  They run specials every week, sometimes up to 50% off which means the larger charts cost less than $20 to print, so reprinting is not cost-prohibitive.
I'm on a tight budget
As are we all!  I offer a number of ways to pay for all my services, charts included.  If you only have so much to spend per month, then a recurring payment can be set up.  For instance, $25 purchases one hour of chart work.
For Digging History Magazine subscribers, the rate drops to $20 per hour (20% off all services for subscribers).  If you want to package a certain number of hours per month that can be customized to fit your budget.  I'm very flexible!
These are just a few questions you might have.  If you have more questions or you're ready to get started with a custom-designed family history chart, don't hesitate to contact me at seh@digging-history.com.   Other chart samples here:  https://digging-history.com/charts/.