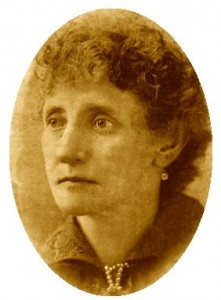 When she died in 1926 Sarah Jane Ames was hailed as one of Boone County, Illinois's "most virile, energetic, and withal most interesting citizens".1
She was born Sarah Jane Hannah in Montreal, Canada on December 4, 1843, and in 1854 migrated to Belvidere, Illinois with her parents (Thomas and Jane) and two brothers. Save for a few years she spent pioneering in South Dakota, Sarah remained in Boone County the remainder of her life.
Sarah married Albert T. Ames in December of 1865. The couple adopted a son, Earl Theodore, and her obituary mentions a woman, Mrs. Esther Hickey (née Peterson), a Swedish immigrant who lived as a daughter in their home for several years. While Albert engaged in various pursuits such as farming, auctioneering, cattle buying, "groceries, crockery, tin and stoves",2 Sarah was an entrepreneur, a milliner.
Sarah was a well-known horsewoman who regularly took the top prize in local competitions. During a competition held in Chicago she rode the horse belonging to General Phillip Sheridan, winning the first prize of a gold medal encircled by diamonds. In 1868 she was recognized at the county fair for her "taste and skill". As an astute businesswoman she regularly made buying trips to New York and Chicago to stock her shop with the latest styles.
She actively participated in various civic affairs in Belvidere as a member of the Ladies Union, Universalist Society and the First Baptist Church. Neither did she shy away from politics, "an enthusiastic Republican always",3 this despite the fact women weren't allowed to vote until the nineteenth amendment to the United States Constitution was ratified in 1920.
In 1878 Albert ran for (and won) the office of sheriff, having previously served as a constable. The following year Sarah competed in a prestigious Chicago equestrian contest, taking home the top prize – a gold medal valued at $100. At the end of his first two-year term as Sheriff, Albert ran successfully for re-election, serving the maximum number of terms allowed until 1886.
It was noted in the local newspaper in late 1886 that Albert has discharged the duties of his office efficiently, possessing an "uncommon ability as a detective officer, while his wife has kept the court house and jail always neat and tidy, and has been complimented many times, both officially and privately, upon her good management."4 So popular was Albert, had the law permitted his re-election he would have won hands-down.
They planned to move to their farm just south of Belvidere; by this time it appears Sarah had closed her millinery shop. The couple took in a local insane pauper, a woman by the name of Mary Ralston, under their care. In late August of 1887 Mary slipped away while the family was having their home moved from the farm into town. Sarah rushed by buggy to search for Mary, finding her just after a couple of men had rescued her from the path of an oncoming train.
After relocating their home to Belvidere, they continued to expand and improve it and Sarah decided to open another shop. By 1890 Albert decided to run for sheriff once again on his record of "nabbing lawbreakers",5 having executed a good piece of police work early in his career by capturing the notorious Dr. Cream, a Canadian serial killer once thought to have been the infamous "Jack the Ripper". By the end of 1894, however, Albert was considered only the nominal sheriff of Boone County as Sarah had essentially taken over his duties, serving alongside him (in addition to running her business and participating in civic affairs and presumably the continued care of Mary Ralston).
Her exploits as Albert's "deputy" were well-noted in newspapers around the country between 1892 and 1894:
Boone County, Ill., has a woman sheriff, Mrs. Ames, who discharges her duties, it is said, in a perfectly satisfactory manner, being both self possessed and determined.6
Milwaukee, Wis., March 22. – The interesting spectacle of a woman sheriff with male prisoner in tow was beheld here when Mrs. T.A.[sic] Ames, wife of the sheriff of Boone county, Ill., departed for Belvidere with Benjamin Hilt, a man charged with robbery. Hilt agreed to accompany Mrs. Ames without requisition papers, and to make sure of him the lady sheriff quietly clapped a pair of handcuffs on him before leaving the city jail.7
At the end of Albert's term, despite pleas for her to run for the office in 1894, Sarah hung up her handcuffs, ceased carrying a gun and handed the jail keys over to the newly elected sheriff. She had just as faithfully carried out the duties of sheriff as had her husband done for many years. In the mining town of Leadville, Colorado they called her "Valiant Sarah Jane",8 noting she had executed more arrests than any man ever connected to the sheriff's office ever had, arresting several criminals at the point of a pistol, tracking fleeing criminals into adjacent counties and states, unraveling the mysteries of several crimes and arranging for the execution of one condemned felon. The governor, however, had commuted the sentence and saved the felon from death.
Advertisements had continued to appear in the local newspaper, so presumably she continued to run her business while packing heat and faithfully executing the duties of sheriff – oh, and she organized a ladies' cavalry club and her home was said to have been a model to the housewives of the neighborhood. What a gal!

In January 1896 Godey's Lady's Book published an article extolling her exploits, or rather allowed her to "toot her own horn". In response to a question – "How can women administer such offices?" – Sarah replied with a letter:
I will give you a couple of instances where combat might have been expected, and no strength was required. Once a very large darkey broke jail in the afternoon, during a severe thunder-storm. I was alone at the jail when it occurred. He was a few rods ahead of me when I discovered him. I had no time to arm myself, or even put on my hat, as he was making for a large cornfield and I knew it would make us an all-night hunt did he succeed in reaching it. We both ran our liveliest. I being much lighter, gained on him, and when I finally reached him I wondered if he would turn, and with one blow from his big strong arm, knock me over. He looked at me with murder in his eye. I said, "Aleck, is this the way you treat a woman who is trying to help your case? Now, get back into jail with you as soon as you can, and I will try and not let the public get hold of this to injure your case." He went without a word, and gave me the tools he effected his escape with. His run (he being very fleshy) made him severely ill, and when my husband came hurriedly home, having just heard of the escape, he found me busy trying to ease the poor fellow's pain.
Albert disagreed with her treatment of the man, admonishing his wife to let him suffer, undeserving was he of her kindness. Still she decided to make the man think of her as his friend and eventually secured a jail sentence (versus a prison sentence). She knew as a member of the colored race he could not expect mercy.
Another incident occurred on a Sunday morning in Albert's absence. Someone rushed up to her room and announced that a jailed murderer was killing another man. Having no time to fully dress, she put a skirt on over her night robe and with revolver in hand, rushed to the jail. As she came upon him his back was toward the jail door. Unaware of her presence, he was choking the other man whose face had already turned black.
Sarah expected a struggle and an attempt to disarm her. She thought later she should have shot him while she had the chance. Instead, she grabbed him by the shirt collar and jerked him off the victim. Immediately, his face turned ghost-white. Having not known of her presence and in such a violent state himself, the sight of a woman in disheveled hair and wearing a white waist, he later told a fellow prisoner he believed he was seeing a ghost. Upon her order he returned to his cell and a potentially violent incident turned out to be a "tame affair".
Sarah Jane Ames was definitely not the shy and retiring type. She was also actively involved in the Farmers' Institute, establishing a domestic science department. Near the end of her life she worked to make sure her cherished dream of a home for the aged was fulfilled, not surprising given her benevolent care of insane pauper Mary Ralston.
Inexplicably, Albert was enumerated as a boarder in 1910 with the Hanson family – no sign of Sarah. However, in 1920 the couple was residing in Indian Creek, South Dakota with their boarder/daughter Esther Peterson, aged twenty-eight. It appears Albert and Sarah had traveled back and forth to South Dakota for some time before moving there. In July of 1903 she had returned from South Dakota, "brim full of enthusiasm over the country and its prospects".9
In September the couple decided to move to Mitchell, South Dakota and take up permanent residence. After closing out their affairs in Belvidere they were looking forward to striking out with new prospects in their new home. Something must have occurred to change their plans because Sarah decided to build a two-story brick building in downtown Belvidere and reopened her millinery in early 1904. The store would occupy the first floor and living quarters the second.
Albert continued to work as an auctioneer, struggled with his health, yet continued to travel back and forth to South Dakota to look after his interests there. Sarah was as busy as ever. When they finally made the move to South Dakota, Sarah again worked alongside her husband, yet continuing to keep an eye on her business interests back in Illinois.
At the age of seventy-two she was still a feisty, hard-working and fearless woman, evidenced by two sets of rattles attached to the back of a photograph mailed to the folks back home in Illinois. While assisting Albert in the hayfield she had deftly killed two rattlesnakes with a pitchfork.
Even though their South Dakota farm had been doing well enough, Albert's health continued to decline and they returned to Belvidere in early April of 1920. Albert was an invalid, nearly blind and they would again reside in the flat above the store. Tragedy struck on November 25, 1920 when he took a tumble down the outside stairs of their residence. Sarah found him at the bottom of the stairs, severely injured.
Near the end of the year Albert's health was gradually ebbing away, by then unable to recognize anyone. He died on January 26, 1921. Meanwhile, Sarah's brother Robert had passed away two days later in San Diego.
Would Sarah, then seventy-seven, finally slow down and live out the rest of her life as a grieving widow? Not hardly, for after all there were still crusades to be fought and won. Seven months after her husband's death she penned an editorial entitled "Am I My Brother's Keeper?". In the last year three people had lost their lives in auto-train accidents. She called on her fellow citizens, at whose feet she placed the blame for allowing the dangerous intersections to remain unprotected, to rise up and demand signals be placed at said dangerous intersections forthwith.
Later, in honor of her two brothers Robert and John who served in the Civil War, she served one term as president of a regimental association of veterans of the Ninety-Fifth Illinois Volunteer Infantry, perhaps the one and only woman to ever serve a male-only organization. Following the passage of the Nineteenth Amendment giving women the right to vote, she worked even more tirelessly in support of the Republican Party, undertaking the job of organizing the county's National Republican league.
It's no wonder she was eulogized as a "Woman of Many Strong Traits of Character" following her death on May 8, 1926 – "Ever a Forceful Character in Circles Where Her Lot Was Cast".10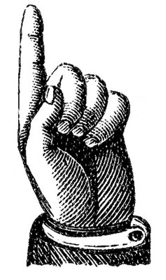 Did you enjoy this article?  Yes? Check out Digging History Magazine.  Since January 2018 new articles are published in a digital magazine (PDF) available by individual issue purchase or subscription (with three options).  Most issues run between 70-85 pages, filled with articles of interest to history-lovers and genealogists — it's all history, right? 🙂  No ads — just carefully-researched, well-written stories, complete with footnotes and sources.
Want to know more or try out a free issue? You can download either (or both) of the January-February 2019 and March-April 2019 issues here:  https://digging-history.com/free-samples/
Thanks for stopping by!