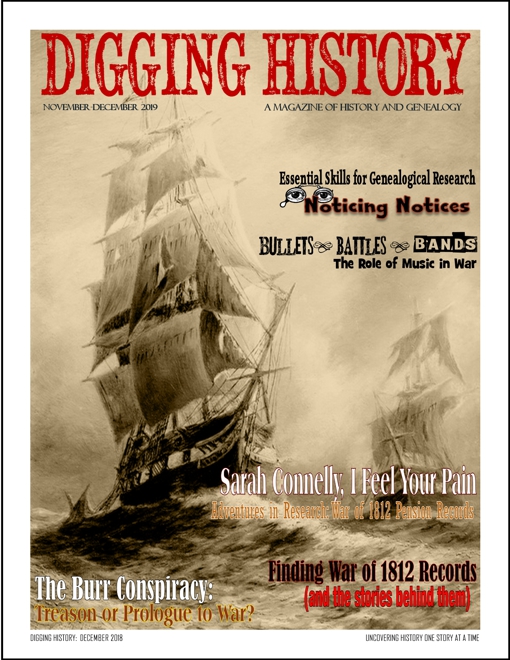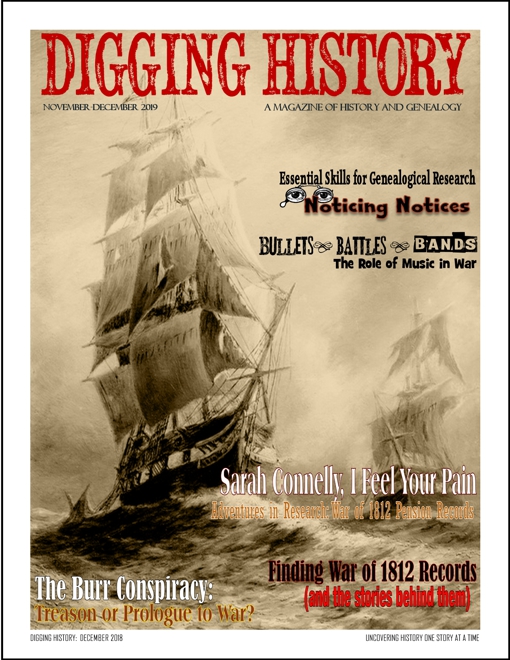 Description
Specifications
Customer Reviews (0)
This issue of Digging History Magazine features (among others) stories related to the War of 1812, one of American's "forgotten wars":
The Burr Conspiracy:  Treason or Prologue to War - Most Americans, this writer included, know very little about America's first declared war, sometimes referred to as the "Second Revolutionary War". At best, our textbooks gloss over the War of 1812 before skipping ahead to the war America declared against itself. There may be a reason for that, according to Pulitzer Prize-winning historian Gordon Wood who wrote, "the war was so ill conceived and ineptly run that the government wanted to forget the whole embarrassment almost from the moment it ended." . . . Aaron Burr was serving as Vice President to President Thomas Jefferson, having lost the 1800 election by a whisker – a single vote propelled Jefferson forward to the highest office in the land while Burr took the number two spot, an honor famously referred to as "not worth a bucket of warm spit" by John Nance, Franklin Roosevelt's first Vice President.  Was Aaron Burr guilty of treason, attempting to establish his own empire?
Finding War of 1812 Records (and the stories behind them) - Unfortunately, most Americans have only heard bits and pieces about the War of 1812, and as New York Heritage points out, "the War of 1812 is barely acknowledged in American social studies textbooks."1 The story of our nation's (eventual) anthem, The Star Spangled Banner, is a familiar one, as is the story of Dolly Madison saving George Washington's portrait as she fled the White House in advance of a British raid on Washington City.  Having a War of 1812 veteran ancestor doesn't typically engender the same patriotic prestige as that of a Revolutionary War veteran, and that's unfortunate because it was patriotic service, albeit for an ill-conceived war. Ill-conceived or not, there are records from which we can glean more information about our ancestors through various bounty land and military records.
Sarah Connelly, I Feel Your Pain (Adventures in Research: War of 1812 Pension Records) - I hadn't looked at this particular line for some time, but after someone saw this particular surname on my family's pedigree chart (with an interesting story of someone with the same surname) I decided to take another look. I suspect I set it aside some time ago because, at least circumstantially, it appeared I had the correct parents for my third great grandmother Mary Ann Connelly, yet I couldn't locate absolute proof. So, a little more digging was in order. Curiously, I had several hints for Mary Ann's mother but not her father, Henry Connelly. After realizing I had mistakenly input an incorrect birth location — dang auto-correct(!) — I registered several hints for him. After clicking on the new hints I found previously posted bits and pieces of War of 1812 Pension and Bounty Land Warrant application files. These were actually part of an extensive package (41 pages) of what turned out to be a EUREKA! moment for researching this family line.
Essential Skills for Genealogical Research:  Notice Notices - Admittedly, I am a genealogist-in-training – have been and always will be honing my skills as a researcher. Whether it's research for a client looking for an elusive ancestor or some record of their existence, or diligently researching an article for Digging History Magazine, I am constantly stumbling across new ways to make connections. . . An obituary is a kind of notice and a well-written one can honor the memory of the deceased, as well as provide vital information for future genealogists. Legal notices usually follow soon after as the family begins the process of probating the estate. However, an estate may not be completely settled until years later.
Such was the case for Bird Bowker Smith who descended from two early Virginia Anglican ministers, Guy Smith and Ralph Bowker.
Bullets, Battles and Bands:  The Role of Music in War - Since ancient times a call to war has meant all able-bodied men (and now women) of a certain age were summoned to go forth and conquer the enemy, defending their local community, province, state and country by forming militias and mighty armies. Strong leadership and soldiers skilled in weaponry were essential for success in battle – and don't forget the musicians. . . Joshua and his army of horn-blowers may have elicited snickers and guffaws from the mighty Canaanites ensconced inside the walls of Jericho, but when the priests blew their horns in unison it served as psychological warfare which "fired up his warriors and weakened the Canaanites' will to resist."1 Colonial and American armies of the eighteenth and nineteenth centuries especially depended on hundreds of fifers and drummers to communicate orders in battle, as well as provide music for marching, military discipline, various ceremonies and morale.
Feisty Female Sheriffs: Who Was First? - 2019 marks the 100th anniversary of United States women winning the right to vote. By the time the Nineteenth Amendment to the Constitution was enacted, women had already begun to make headway in various states. Some had already voted and even ran for office prior to 1919. Kansas women were granted the right to vote in school elections a mere thirteen years after the first woman's rights convention in 1848. The phrase "petticoat rule" began appearing in American newspapers around mid-century. Nearing the end of the century it seemed unlikely women would be holding major elected office any time soon – or was it? . . . One Kansas town elected (see July-August issue of Digging History Magazine article, "The Land of Odds: Kwirky Kansas") a woman to serve as mayor in April 1887. Presiding over a town's civic affairs was one thing, but what about a female sheriff?
The Dash:  Bigger Family (Bigger and Better Story) - This article constitutes a major re-write of an early "Tombstone Tuesday" blog article. Back then I didn't yet have access to the major subscription newspaper archive sites, and I struggled to find details about a man named Lycurgus Dinsmore Bigger and his family. Apparently I didn't do a very good job of utilizing genealogical records either – boy was I green! This re-write is another great example of how vital newspaper research is to genealogists. I refer back to the original article in excerpts highlighted in a different color.
Lycurgus Dinsmore Bigger was born September 19, 1843 in Blue Ball, Warren County, Ohio to parents James and Elizabeth (McCandliss) Bigger.1  I wouldn't pretend to know the origin of his first name.  Lycurgus is a common name in Greek mythology and in Greek the name is derived from "lycos urgos" or "he who keeps the wolves away."  Dinsmore appears to be a family name which was used for either a forename or middle name – perhaps to honor a notable ancestor.
Plus book reviews and more essential tools and tips for genealogical research!
Keywords:  War of 1812, The Burr Conspiracy, Aaron Burr, Andrew Jackson, Zebulon Pike, General James Wilkinson, Finding War of 1812 Records, Sarah Connelly, War of 1812 Bounty Land Warrants, The Role of Music in War, The Drummer Boy of Chickamauga, John Clem, Mary Draper Ingles, William Ingles, Freedom Notice, Legal Notices for genealogical research, Lycurgus Dinsmore Bigger, John Dinsmore Bigger, Sarah Jane Ames, Feisty Female Sheriffs, Emma Daugherty Banister, Mollie Latty, Claire Helene Ferguson, Drummers and Fifers
There are no reviews yet, submit yours in the box provided.
Submitting Your Review, Please Wait
Your Review Has Been Submitted Successfully
Add a review for November-December 2019
You must include a title, rating, and message in your review.
Your Review Title
Your Rating
Your Review