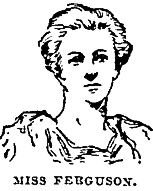 This headline introduced some fearless and celebrated women to the readers of the Milwaukee Journal in 1899: "What Man Has Done Women Can Do".  The author had written a recent article "about dependence being an old fashioned virtue and that the clinging ivy type of women were no longer considered the highest ideal."1.  Exhibit number one for the premise of her article was one of the most celebrated women of that time, Miss Claire Helena Ferguson.
This article is no longer available at this site.  The Digging History blog is now a monthly digital (PDF) publication, available by single issue ($2.99) purchase or by subscription at the Digging History Magazine site.  To see what the magazine is all about you can preview issues at our YouTube Channel.  Subscriptions are affordable, safe and easy to purchase and the best deal for getting your "history fix" every month.
Claire Helena Ferguson, member of a well-known Utah family, had two years prior received a commission as deputy sheriff of Salt Lake City. Her father William Ferguson, a Scotsman, and her English mother Ellen arrived in Utah in 1876 where they became members of the Mormon Church. Ellen co-founded the Utah Conservatory of Music in 1878, and following William's death devoted herself to the practice of medicine.
Ellen spent her career working in hospital clinics in both New York City and Salt Lake and drew up the plans for an L.D.S. hospital in 1882. She organized the Women's Democratic Club in 1896 and was a Utah delegate to the national convention that year when William Jennings Bryan was nominated.
Claire's sister Ethel was an actress and Claire, born in Utah in February of 1878, was accomplished and highly educated. Was she a rough and tumble sort of gal? It doesn't appear so – Claire Ferguson was quite feminine.
She declared herself "fond of pretty clothes and beaux" and strongly domestic. Newspaper articles, however, depicted her as the "Daring Woman Sheriff of Utah".2 The Deseret Evening News reported in early 1900 her duties included "serving papers, civil and criminal; notifying jurors and caring for insane women on their way to the state asylum. She does not make arrests."
Claire wrote of her experiences while visiting family in New York in 1899. Her columns in the New York Journal were recounted in numerous articles around the country, and according to one report, "thousands of columns of sketches and pictures innumerable"3 had been published. She had been "written up in every language of the world in which a newspaper or magazine is printed." However, one newspaper reported Claire's thrilling experiences " Beats a Dime Novel Heroine."4
Here is her account (and more than a few opinions) first published in the New York Journal and re-published in the Fort Worth Morning Register:
Women make good sheriffs. Every sheriff's office should have women in it.
Because they have a keen sense of honor, keener than that of men. Because they are devoted to duty. Duty will nerve the most delicate of women to the most horrible of tasks. Because there are humane offices for women criminals that only women can perform. Because women understand women, and men, be they never so wise, do not. Only a woman can interpret a woman. Set a woman to catch a woman always.
A woman may serve her city or county or state in any honorable capacity and be a womanly woman still. I am as fond of pretty clothes and beaux and home as I was before I became a sheriff's assistant. I love my friends as well and I do as much "fancy work" as before. I am as strongly "domestic" as ever. I care as much for my complexion and brush my hair quite as often.
If a woman has that form of courage known as "nerve" and wants the liberal education that comes with mingling with her kind and other kinds, she would do well to become a sheriff's assistant. I was just 21 when, two years ago, I was appointed one of Sheriff T.P. Lewis' deputies at Salt Lake City. The prospect did not frighten me. You must remember that I was born in the grand, free West, where we breathe freedom of thought and action with the air.
Then, too, I am a physician's daughter, and I helped my mother in many an operation. I believed that my supply of the American quality of "nerve" was sufficient. I have taken 106 women to the insane asylum. I have served 200 summonses. I have taken a dozen children to the reform school. I have escorted six women criminals from jail to court and from court to jail and sat with them through the trials. I prevented the escape of a desperate burglar and saved a woman from suicide. What I did any woman of determination may do. My opportunities, rather than my exploits, were extraordinary.5
Clearly, Claire believed she was eminently qualified, perhaps even called, to serve as a deputy sheriff. She continued:
When Sheriff Lewis handed me the big legal document, "my commission," he said it was his duty to tell me all I might be called upon to do. He said he would never executed a man himself. If he knew that an execution was likely to occur he would leave town and turn the duty over to a deputy.
"But, Miss Ferguson," he said gravely, "it is my duty to point out to you what you may have to do. If you are assigned to an execution you canot [sic] afford to fail. You should commence target practice at once."
In Utah the condemned may choose whether they shall die by hanging or shooting. If they choose the more merciful method of shooting they are taken to some lonely spot in one of our valleys. The executioner is hidden in a tent. The condemned man is placed at a distance of a few paces, with a square of white paper pinned over his heart. Guards stand near him.
This scene was constantly before me. I rehearsed it again and again while practicing my target shooting. I practiced on the military reservation that adjoins Salt Lake City, but instead of a conventional bull's eye I always saw the white paper pinned over a man's heart. I practiced three times a week until I became an expert shot. While I was learning to shoot I was accustoming myself to the thought of shooting to kill. Capital punishment seemed a cruel and needless thing to me, but I said over and over again to myself: "It is my duty. It is my duty. It is what I have promised under oath to do." Two years of this kind of self-communion has taught me what I never understood before, how Brutus, the judge, could condemn his son to death, and how the chief of gendarmes in "Les Miserables" knew but one thing – his duty. Official life gives a new and strange perspective.6
Claire Ferguson wasn't a Calamity Jane or Stagecoach Mary. Instead, she was a proper and educated lady who was called to serve no matter what, when or where duty called. She continued by describing some of her personal experiences:
My most thrilling experience occurred early in my term as deputy sheriff. I was alone in the office one afternoon when Andy Burke, the most fearless of the deputies, one who afterwards distinguished himself with Torrey's Rough Riders, came in. With him was a remarkably handsome man. I noticed how stalwart he was, what a grand breadth of shoulders and what a massive, well-moulded head he had. "A visitor Mr. Burke is showing through the building," I thought, and went on with the letter I was writing.
Mr. Burke left the room and the gentleman took a seat. Deputies came into the office and went out again on various errands. I sat with my back to the stranger and had forgotten him when he coughed and asked me to get him a glass of water. I carried the glass to him and when he lifted his hand to receive it I saw that he wore handcuffs. The glass fell form my hand and crashed upon the floor. The prisoner looked at me with an evil smile. I knew then who the "visitor" was. Mr. Burke had told me that he was on the trail of "Handsome Gray," the burglar, who had served five terms in the state prison, and was one of the most desperate men in Utah.
I was alone with him, and was at a distinct disadvantage, for he had seen that I was frightened. I brought him another glass of water and took up my letter again. In a few seconds I heard an odd, sharp sound like the irregular ticking of a clock. I looked at the big clock on the wall. The pendulum was swinging away peacefully. A street car whirled past and the noon whistle uptown shrilled for a moment and drowned the sound. When the noise died out I heard the sound again.
Click! Click! Click! I glanced into the mirror at my right and could see the prisoner plainly. With a bit of wire he was picking the lock of his handcuffs. Should I scream? The roar of the cars and whistles would drown my voice. He was sitting near the low railing of the office, and could jump over it and be gone before help could come. Already he was stirring stealthily in his chair. Mr. Burke's desk was between the prisoner and myself. On it lay a Colt's revolver No. 44. I must reach the desk before he did.
I walked quietly over to it and looked at the prisoner. "Mr. Gray," I said, "you are picking the lock." "I am not," he snapped, but he started from his chair. The chain that bound the handcuffs fell to the floor. I raised the big revolver. "If you take another step, I'll shoot," I said.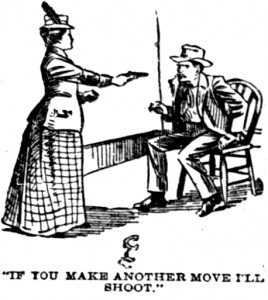 The look of a fiend flamed into his eyes. He laughed harshly and leaned forward like a wild beast ready to spring. Even then I thought: "How mistaken we were! How could any one call him "Handsome Gray"? My fear had passed. My hand was steady again. A click louder than that of the lock-picking wire showed that I had cocked the pistol. We were not four feet apart. He might spring upon me at one bound and wrench the revolver from me. The quiver of a muscle and I must pull the trigger.
"One step," I said calmly. "Gray!" somebody shouted. Brave Andy Burke stood in the door. "Sit down, Gray!" he roared. "What is the matter, Miss Ferguson?" he asked. I admit that my laugh had a touch of hysteria in it. "He was trying to get away," I said.
We went to the court with "Handsome Gray." Mr. Burke told Judge Norrell the story of the last half hour. "I'll give you the limit, Gray," said the judge. "I would have given you a light sentence, but for this. Five years at hard labor." The prison missionaries say they are making a preacher of "Handsome Gray". I have no doubt he will preach – until he gets out.7
Claire Ferguson's most trying experience, however, involved transporting a dangerous lunatic to the Utah asylum in Provo, about fifty miles from Salt Lake City. It was a two-hour trip that she had made more than one hundred times. Lunatics were always bound by a leather muff which held their hands and a strap around their waist.
It was a woman named Hannah who gave her the most trouble, even more harrowing than her standoff with "Handsome Gray". Hannah had become insane by hypnosis and wanted to hypnotize everyone on the train. To humor her Claire had removed the muff and bands from her hands and put them on Hannah's feet.
Hannah attempted to put a spell on a male lunatic, making mysterious passes over his head. He wasn't fazed at all by her attempts, so she slapped his face repeatedly. Claire intervened, only to have Hannah attempt to hypnotize her. She closed her eyes if only to pretend to be mesmerized by the woman's "spell". Hannah suspected Claire's pretence and slapped and scratched Claire, tearing her hat – until Claire looked more insane than the lunatic attacking her.
The woman was quite large and Claire, weighing only about one hundred pounds, was outmatched. "Matter had a tussle with mind, and matter almost won," Claire wrote. Hannah scratched her own wrists, digging her long nails into her own flesh. Under great strain Claire held the woman's wrists during the last hour of the journey.
After delivering Hannah to the care of the asylum's doctor, and as soon as the door closed, Claire fainted. Upon recovering consciousness, the doctor smiled at Claire and declared her duty as an officer done.
Claire wrote about one instance of insubordination when she refused to take a woman to the asylum because she was certain the woman wasn't insane. She implored the judge to reverse his sentence: "Her husband has abused and neglected and deceived her until he has broken her heart." Claire won over the judge and had the satisfaction of seeing the woman released.
She had seen it happen more than once probably. One woman had been committed by her husband – railroaded – to the asylum. The woman had calmly and carefully testified in court but her husband's account prevailed. She was unaware she would be transported to an asylum, and upon arrival was literally shocked to death.
The most unique event of her term was an invitation from a band of cattle thieves who hid out in the mountains at "Robbers' Roost". Like Robin Hood they stole for the rich and gave to the poor. The sheriff and his other deputies appeared to have looked the other way, however.
Still, Claire thought the gang might not be as tame as her colleagues supposed. She believed if they visited the Roost blood would be shed — their own. The robbers heard reports of her comments and sent her an invitation, promising the "finest horse on the range as a souvenir". Clearly, the gang feared no retribution from law enforcement. Ellen would not, however, allow Claire to visit.
One prisoner, Flora Hutchinson, an alleged kleptomaniac, tried to slash herself to death with broken glass. Claire took the glass away only to be cursed out. Women criminals often begged Claire to stop the carriage to let them escape – clever and cunning, they "required twice as much watching as a man."8 Her only arrest had been a man mistreating a horse – the man went to jail and the horse to the crematory to be shot.
She dressed like other girls and was opposed to "so-called dress reforms." The only thing differentiating her in appearance from any other woman was the badge, her "star", which she usually wore under a ribbon or in the fold of her dress. When the occasion called for it she would "flash" her badge – "an effective silencer of several noisy crowds".
During her brief law enforcement career she had received no fewer than fifteen marriage proposals, ranging from a South Dakota cowboy to a Chicago lawyer to a Johannesburg diamond miner. She had written in her account, "men are impressionable things" – they weren't in love with a woman they had never been with, but instead had fallen in love with her "romantic career".
I'm not exactly sure when she ended her career as a deputy sheriff. In 1900 she was living in New York with her mother Ellen and sister Ethel, employed as a stenographer. In 1905 she was enumerated as Claire H. Wright, the wife of William L. Wright, a salesman, this despite the fact newspapers were still calling her a Utah deputy sheriff – having "won renown by her fearlessness in suppressing disorder."9 I suspect stories continued to be circulated about her stint as a deputy sheriff to bolster the cause of women's suffrage.
The last record I could locate of Claire Ferguson or Claire Wright was the New York 1905 state census and she was mentioned in Ellen's 1920 obituary. I do wonder after all her adventures as a deputy sheriff how she lived out the rest of her life. Perhaps she joined the suffrage movement and continued fighting for women's rights. Her time as a deputy sheriff had taught her:
Many a person goes to an insane asylum who belongs in a hospital. Women are more cunning and more dangerous criminals than men. A woman is treated as chivalrously in business as in society. A good woman may always be relied upon to do her duty as she sees it.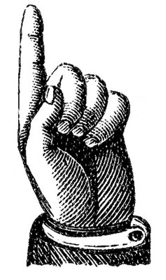 Did you enjoy this article?  Yes? Check out Digging History Magazine.  Since January 2018 new articles are published in a digital magazine (PDF) available by individual issue purchase or subscription (with three options).  Most issues run between 70-85 pages, filled with articles of interest to history-lovers and genealogists — it's all history, right? 🙂  No ads — just carefully-researched, well-written stories, complete with footnotes and sources.
Want to know more or try out a free issue? You can download either (or both) of the January-February 2019 and March-April 2019 issues here:  https://digging-history.com/free-samples/
Thanks for stopping by!