Those who regularly read the Surname Saturday articles know that there are usually multiple theories as to a surname's origin.  Such is the case again today with the Kitten surname.
According to House of Names, the Kitten surname is of Anglo-Saxon origin, possibly residents of a village in Durham or Rutland called Ketton.  Alternatively, there was also a place called Keaton in County Devon.  Therefore, this source proposes that Kitten is a habitational name.  Spelling variations include: Keaton, Keeton, Ketton, Keton, Ketyn and Keetyn and more.
One early American immigrant to Maryland, Theophilus Kitten, is said to have changed his name to Caton. According to the Patronymica Britannica:
CATON. Until the close of the XVI. cent., Catton and De Catton; from the manor of Catton near Norwich, which in Domesday is spelt Catun and Catuna. The family were located in Norfolk from time immemorial till the middle of the last century. The latinizations Catonus, Gathonus, and Chattodunus occur in old records.
In 1736, Stephen Kitten (parents Edward and Mary) was baptized in the St. Faiths District of Norfolk and his sister Ruth was baptized in 1742. According to 1891 England and Wales census data, Norfolk had the highest concentration of families with the Kitten surname (29% or 4 of 14).
Another theory (Ancestry.com) suggests Kitten is a "reduced form of Irish or Scottish McKitten, of uncertain etymology; perhaps a variant of Mac Curtáin (or McCurtain)". New York passenger lists verify that a significant number of Kitten immigrants came from Ireland, followed by England, Germany, Prussia, Denmark and Bavaria – which leads to the third theory.
Again, Ancestry.com theorizes that the surname may also be a variant of the German name "Gitten" or "an altered spelling of German Kütten". Some family historians believe that the name possibly derives from various locations in Germany:
Possibly the name of a farm near Ibbenbueren in the Steinfurt district (North Rhine-Westphalia) region.
The Kittendorf Castle was built in 1853, approximately one hundred kilometers north of Berlin.
In the Bavarian district of Oberallgäu, there is a village by the name of Kutten.
In Saxony, another village by the name of Kütten.
With the last theory in mind, following is the story of German-born Florenz Kitten, whose family fled the political upheaval in Prussia and settled in Ferdinand, Indiana after arriving in America in either the late 1840's or 1850.
Florenz Kitten
Gerhard Florenz Kitten, the son of Henrich and Theresia (Heeke) Kitten, was baptized on September 4, 1840 in Katholisch, Ibbenbueren, Westfalen, Prussia. This is according to records of German baptisms which occurred between 1558 and 1898. Curiously, however, most family researchers record October 25, 1840 as his birth date with sources coming from other ancestry family trees. If he indeed was baptized on September 4, perhaps he was born on August 25 rather than October 25(?).
The political upheaval in Prussia began the same year of his birth when King Frederick William III died. His oldest son, Frederick William IV, ruled from 1840 until 1861, a reign that was marked by disastrous economic conditions and political revolution. According to the Encyclopedia of 1848 Revolutions:
Most German historians of the nineteenth and early twentieth century negatively characterized Frederick William IV as gifted but mercurial and contradictory, an artist and aesthete rather than a hard-headed politician, a "Romantic on the throne" who was out of step with his times. . . .The young crown prince was less martially inclined than his younger brother and eventual successor, Prince William. Rather, he possessed a fertile artistic imagination, strong religious feelings, a passion (and a real talent) for architecture, an attachment to Romantic literature (especially the medieval fantasies of Fouqué), and an overabundant emotionalism. . . . After his father's death in June 1840, Frederick William responded to pressures for change in Prussian society by embarking upon a series of experiments (the United Committees of 1842, the Evangelical General Synod of 1846, and the United Diet of 1847), to transform state and church on the basis of his organic-corporative ideals.
With the instability came uprisings and the inevitable bloodshed, all this eventually compelling the Kitten family to leave their homeland and immigrate to the United States for the hope of a better (and more peaceful) life. Heinrich (Henry) was a wooden shoemaker whose craft, in the mid-1800's, would have been most needed in a German-populated area. That place turned out to be Dubois County, Indiana in the town of Ferdinand.
Ferdinand had been established on January 8, 1840 by Father Joseph Kundek who had served as a missionary to about forty German Catholic families settling the area in 1839. He acquired the land and planned the town's grid. Not only would the town be a place for German Catholics to settle when they arrived in America, but lot sales would also fund the construction of the church.
To compel more German settlers to come to Dubois County, advertisements were placed in neighboring states' newspapers. The town's name was originally Ferdinandsstadt (a very German name) in honor of Ferdinand, the emperor of Austria at the time. Eventually the name was simplified and shortened to Ferdinand.
The German settlers were hard-working, honest folks. The Illustrated Historical Atlas of the State of Indiana (1876) stated that "Ferdinanders are a happy and industrious people." It would be a perfect fit for the Kitten family.
Florenz was mostly likely around the age of ten when they arrived in Ferdinand. There he attended school, and like most children of the day, worked on the family farm. He was also a "tinkerer". The Industrial Revolution had brought changes to manufacturing, farming, transportation and more, but "tinkering" wasn't a recognized trade so Florenz worked on the family farm until the age of nineteen, when he began to work as a carpenter.
On June 29, 1869 he married Maria Katherina Luegers. Following their marriage, Florenz purchased a lot and built a house in Ferdinand. The second floor of their home was his workshop, where he began tinkering again, this time with steam. After a few years, he began to build steam engines and threshers around 1880. For the 1880 census he was enumerated as a manufacturer of threshing machines. He and Katherina (Catherina) had one son, Joseph, aged nine.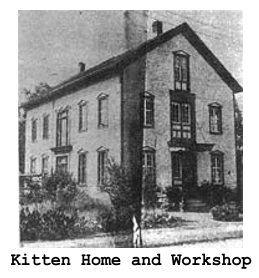 After his inventions found a solid market, Florenz built a two-story factory next to his home – The Kitten Machine Shop. He applied for and received a patent improvement for his threshing machine straw carrier, and in 1889 was granted a patent (#409,594) for his improved steam engine design. In 1882 Florenz had begun building traction engines. These engines no longer required "horse" power, representing one of the greatest improvements to date for engine machinery. The engine, however, weighed over seventeen thousand pounds and most were sold within a short radius of Ferdinand. His traction engines were unique and stood out with yellow and red paint.
In 1900, Joseph, unmarried, was working as a foreman at the foundry alongside his father. Six years later Florenz stepped aside and handed the business over to Joseph. In 1908 Joseph sold the business to John Hassfurther and John P. Reinecker and the name was changed to Ferdinand Foundry and Machine Works.

By 1910, Joseph was married with a young family of three children, enumerated at the same residence as his parents. He took the business back in 1914 and he and his wife Elizabeth had three more children before his death in 1918. Just over two months after the 1920 census, Florenz died on March 22 at the age of seventy-nine.
Following Joseph's untimely death, Elizabeth and her father managed the company until Elizabeth and Joseph W. Bickwermert bought the company. Bickwermert became the sole owner in 1935 and changed the name to Ferdinand Machine Company. The company changed hands again in 1945 and by the 1950's had entered a new market: woodwork finishing.
A man by the name of Deere had designed a tractor and gradually the steam engine had gone the way of the dinosaur. To remain viable, the machine company added new products and in 1952 was incorporated as DuBois County Machine Company, Inc. Over the years the company changed hands several times and moved some of its operations elsewhere, although the Ferdinand shop remained open. In 1997 the machine company employed seven engineers.
Today the company, Dubois Equipment Company, Inc. is headquartered in Jasper, Indiana and proclaims itself a leader in the "wood finishing industry for over 50 years and has been the primary producer of complete flat line finishing systems for prefinished wood flooring for the past 25 years." It's unfortunate, however, to note the company's history doesn't include a mention of the man who founded the original machine shop in 1868.
A great resource for all things Kitten can be found at Amazon (The Whole Kitten Caboodle).  I utilized this book and other resources recently to create a custom-designed family history chart for a Kitten family member.  Want a chart of your own?  Contact me:  seh@digging-history.com for more information on pricing and ongoing special promotions.  More chart samples here:  https://digging-history.com/charts/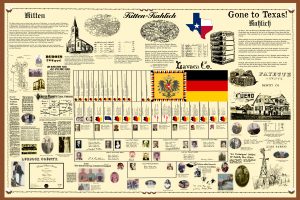 Note: All pictures are from the Ferdinand Historical Society collection.
Other article sources: Farm Collector (here and here), Ferdinand Historical Society.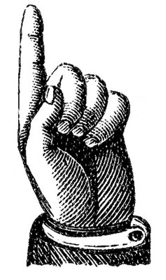 Did you enjoy this article?  Yes? Check out Digging History Magazine.  Since January 2018 new articles are published in a digital magazine (PDF) available by individual issue purchase or subscription (with three options).  Most issues run between 70-85 pages, filled with articles of interest to history-lovers and genealogists — it's all history, right? 🙂  No ads — just carefully-researched, well-written stories, complete with footnotes and sources.
Want to know more or try out a free issue? You can download either (or both) of the January-February 2019 and March-April 2019 issues here:  https://digging-history.com/free-samples/
Thanks for stopping by!