One of the West's most effective lawmen, Henry Andrew "Heck" Thomas, was born on January 3, 1850 in Athens, Georgia to parents Lovick and Martha Thomas.  When the Civil War broke out, Heck's father and two of his uncles joined the Confederate Army.  Heck was twelve years old and he accompanied them as a courier, traveling to the battlefields of Virginia.
Heck was present at the Second Battle of Bull Run.  When Union General Philip Kearny was killed, General Robert E. Lee personally ordered Heck to return Kearny's horse and belongings to his widow.  Years later he recounted the story to his brother Lovick:
One evening while the fight was going on or, rather, just before dark, a soldier came to the rear where Uncle Ed's baggage and the darkies and I were, leading a black horse with saddle and bridle. He brought also a sword. Just after this, Stonewall Jackson crossed over into Maryland and captured the city of Frederick; that was after taking Harper's Ferry (now West Virginia) and about 14,000 federal prisoners. These prisoners were held by Uncle Ed's brigade, while the army was fighting the Battle of Sharpsburg. We could see the smoke and hear they cannon from Harper's Ferry. While we were at Harpers Ferry, General Lee sent an order to uncle Ed for the horse and equipments. I carried them forward, and it was one of the proudest minutes of my life when I found myself under the observation of General Robert E. Lee. Then General Lee sent the horse and everything through the lines , under a flag of truce, to General Kearney's [sic] widow. I had ridden the horse and cared for him up to that time, and I hated to part with him.
In 1863 Heck contracted typhoid fever and was sent home. When the war ended, Lovick became the first city marshal of Atlanta and Heck joined the police force at the age of seventeen. Early in his career, he gained notoriety as a fearless fighter. In 1871, Heck married his cousin, Isabelle Gray, daughter of an Atlanta minister.
In 1875 Heck migrated with his family to Galveston, Texas where he had secured a job as a railroad guard for the Texas Express Company. He guarded the route that ran between Denison and Galveston which was known for frequent robbery attempts. On March 18, 1878, Heck was on a train stopped at Hutchins, Texas by the Sam Bass gang. Heck's brother Jim, also a guard, had been robbed by the same gang a month before. Thinking ahead and hoping to prevent another robbery, Heck hid a large amount of cash in an unlit stove. Although Heck was injured in the shootout, the gang didn't find the cash.
He later worked for a Fort Worth detective agency and pursued cattle rustlers Jim and Pink Lee. The two were pursued by Heck and Deputy U.S. Marshal Jim Taylor and killed in September 1885. Heck and Taylor split the $2,500 reward. Heck later became a Deputy U.S. Marshal in Fort Smith, Arkansas, working for Isaac Parker, a.k.a. the "Hanging Judge". Heck soon gained a reputation for being an effective lawman and often apprehending criminals alone. On his first roundup he single-handedly brought in eight murderers, a bootlegger, a horse thief and seven outlaws.
He was frequently away for long periods of time, and two years after taking the job in Fort Smith, Isabelle had grown tired of the frontier life. She soon divorced him and took their five children back to Georgia. In 1889 Heck married Mattie Mowbray, a school teacher and minister's daughter, in Arkansas City, Kansas. By this time, Heck had joined two other Deputy U.S. Marshals, Chris Madsen and Bill Tilghman, and the team became known as the "Three Guardsmen". Their job was to bring law and order to the Indian Territory which would later become the state of Oklahoma.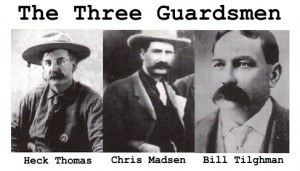 Thomas and Madsen pursued the Dalton Gang in 1892, who had been terrorizing the Territory with train robberies and gunfights. The gang attempted the robbery of two banks in Coffeeville, Kansas on October 5, 1892. Four members of the gang were killed and Heck traveled to Coffeeville to identify the bodies.
Following the September 16, 1893 land run, Perry, Oklahoma sprang up overnight – with 25,000 people and 110 saloons it soon became known as "Hell's Half Acre". The Three Guardsmen were assigned the job of taming Perry, while also pursuing the Doolin Gang. On August 25, 1896 they caught up with Bill Doolin on a road near his father-in-law's home. Doolin was caught by surprise, and although offered surrender, he began firing at the lawmen. They returned fire and shot Doolin to death.
In those days, lawmen could be rewarded handsomely for apprehending dangerous criminals. The more dangerous the criminal, the higher the reward. Over the years the Three Guardsmen worked together they apprehended or killed over three hundred outlaws and fugitives. While the job could potentially produce significant financial reward, there were also great physical risks. Heck was wounded at least six times. His hometown of Atlanta touted one of his apprehensions in a 1896 Atlanta Constitutional article: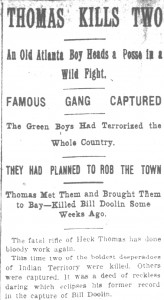 In 1902, Thomas took the job of Lawton Police Chief and served in that capacity for seven years. After a heart attack in 1909 he retired at the age of 59. Just three years later he died of Bright's Disease on August 15, 1912.
Some believe that Heck Thomas was the inspiration for John Wayne's Rooster Cogburn character in True Grit, although others such as Cal Whitson and Bass Reeves also had legendary careers during that era. Heck's career as a lawman spanned three states and you can find glowing references of him in the annals of Texas, Arkansas and Oklahoma histories.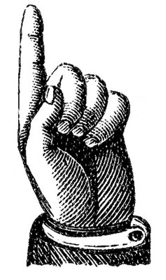 Did you enjoy this article?  Yes? Check out Digging History Magazine.  Since January 2018 new articles are published in a digital magazine (PDF) available by individual issue purchase or subscription (with three options).  Most issues run between 70-85 pages, filled with articles of interest to history-lovers and genealogists — it's all history, right? 🙂  No ads — just carefully-researched, well-written stories, complete with footnotes and sources.
Want to know more or try out a free issue? You can download either (or both) of the January-February 2019 and March-April 2019 issues here:  https://digging-history.com/free-samples/
Thanks for stopping by!