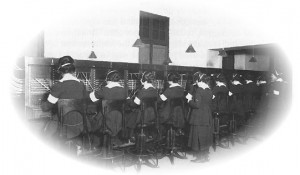 During World War I they were officially known as the Signal Corps Female Telephone Operators Unit, but more informally known as "Hello Girls".  The United States had been reluctant to join its European allies in the conflict, but when Germany began an all-out effort in early 1917 to sink American vessels in the North Atlantic, President Woodrow Wilson's hand was forced.  He asked Congress for a declaration of war, "a war to end all wars".  On April 6, 1917 Congress officially did so, engaging the Germans and hoping to make the world once again safe for democracy.
The British had been at war with German for nearly three years when the United States joined the effort.  With their men away fighting the war, large numbers of women were working in munitions factories throughout Britain.  Their work was dangerous as explosives and chemicals caused deaths.  The greatest single loss occurred in early January 1917 when a munitions factory in Silvertown, England exploded due to an accidental fire – seventy-two women were severely injured and sixty-nine perished.
This article is no longer available at this site.  However, it will be enhanced and published later in a future issue of Digging History Magazine, our new monthly digital publication available by individual purchase or subscription.  To see what the magazine is all about you can preview issues at our YouTube Channel.  Subscriptions are affordable, safe and easy to purchase and the best deal for getting your "history fix" every month.