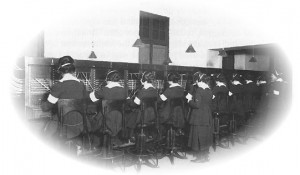 During World War I they were officially known as the Signal Corps Female Telephone Operators Unit, but more informally known as "Hello Girls".  The United States had been reluctant to join its European allies in the conflict, but when Germany began an all-out effort in early 1917 to sink American vessels in the North Atlantic, President Woodrow Wilson's hand was forced.  He asked Congress for a declaration of war, "a war to end all wars".  On April 6, 1917 Congress officially did so, engaging the Germans and hoping to make the world once again safe for democracy.
The British had been at war with German for nearly three years when the United States joined the effort.  With their men away fighting the war, large numbers of women were working in munitions factories throughout Britain.  Their work was dangerous as explosives and chemicals caused deaths.  The greatest single loss occurred in early January 1917 when a munitions factory in Silvertown, England exploded due to an accidental fire – seventy-two women were severely injured and sixty-nine perished.
President Wilson's cousin John Wilson was in England at the time and described it as a "terrific crash, accompanied by a red glow in the sky."1  Another American observed that London was shaken from one end to the other – windows within a twenty-mile radius were shattered.  Perhaps this catastrophic event compelled British officials to find a safer way for women to contribute to the war effort.
By early March the decision had been made to find ways for women to serve in other capacities such as cooking, mechanical and clerical tasks.  The women were paid less than men for the same skilled and unskilled labor and a woman could only take the job if a man was released to enter military service.
When the Women's Auxiliary Army Corps was established in the summer of 1917 it marked the first time British women were uniformed and sent to the war front to serve as clerks and telephone operators.  While women weren't allowed to rise in rank they could achieve status as administrators.  By war's end approximately eighty thousand British women had served in the WAAC.
When General John J. Pershing arrived in France and observed the efficiency of the WAAC he petitioned the War Department to create a similar American unit.  After finding the French communications system woefully inadequate, Pershing immediately required one hundred civilian bi-lingual (English and French) telephone operators.
Newspapers of the day were already filled with advertisements for telephone operator positions, targeting "refined young ladies".  In early November the West Coast was experiencing a telephone operator strike.  After the War Department advertised in newspapers around the country more than seven thousand women responded, although the vast majority didn't qualify because they didn't speak French.
Training was provided by telephone companies like Bell and AT&T and the women were required to pass both physical and psychological tests, as well as background checks conducted by the Secret Service.  One hundred and fifty were initially selected with four hundred others held in reserve.  By the time the war ended in November of 1918, 450 women had been trained and 223 had been sent to France.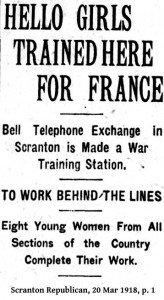 In Scranton, Pennsylvania the local Bell exchange was training eight young women, two of whom were French-Canadians (and among the first to offer their services).  One young woman, a Californian, was highly educated and spoke French.  A quick learner, she had already been elevated to chief operator.2
Twelve University of Washington sorority co-eds were "bubbling over with joy,"3 anxiously awaiting the day they would don a uniform, board a ship bound for France and wave good-bye to the good old United States for a season of service.  Their French professor would miss them, but happy his students had the chance to go.  One girl's brother had been turned down by every branch of the service and now she was determined her family would be represented in the war effort.

Of course, not everyone who applied was accepted and even fewer actually sent overseas.  Still, newspapers touted their hometown gals who were "waiting the call".  Pay rates would range from $60 a month for operators to $125 for chief operators, with allowances for rations and quarters if none were specifically provided by the army.  The women, however, were expected to purchase their own uniforms – a regulation colored skirt and blouse, dark blue hat and the orange and white cords of the Signal Corps.
By the end of March 1918 the first unit of thirty-three "Hello Girls" departed for the war front in France.  Serving under General Pershing, they would be directly attached to the Signal Corps.  American officers were more than pleased to hear English instead of French.  French operators were in awe of their American counterparts – "surprised at the rapidity with which they take down connections, the American frequently putting up one connection with the thumb and forefinger and at the same time taking down another with the little finger of the same hand."4
Their superior dexterity notwithstanding, the women were providing an important service on or near the front.  Since the telephone's invention in the 1870's, the Army had made increasing use of it for transmitting orders – much more direct than telegraphic transmission, it was advantageous to actually hear the commander's voice and detect its tone.
Stars and Stripes explained how some of the women were serving at the front, subject to the same dangers and discomforts as the men.  Those chosen for front-line service considered it an honor – and those left behind were jealous!  Some would later remember hearing German planes flying overhead, along with bullets and flying shrapnel.
On October 30, 1918, with the war's end approaching, the American headquarters burned.  Although officers had ordered the Hello Girls to evacuate the building, they ignored the command and continued to field calls even as flames grew close.   Only when threatened with disciplinary action did they reluctantly leave.  An hour later the flames were extinguished and the operators were back to work.  Seven women later received Distinguished Service Medals.  Chief Operator Grace Banker's citation read:
For exceptionally meritorious and distinguished services. She served with exceptional ability as chief operator in the Signal Corps exchange at General Headquarters, American Expeditionary Forces, and later in similar capacity at 1st Army Headquarters. By untiring devotion to her exacting duties under trying conditions, she did much to assure the success of the telephone service during the operations of the 1st Army against the St. Mihiel Salient and to the north of Verdun.5
The Armistice was signed on November 11 and many Hello Girls were ordered to Paris in support of the peace talks.  Some were sent to Germany to support the occupation forces.  General Pershing regularly praised their service and in General Orders issued in 1919 assured them their role had been a vital one.
Unfortunately, upon their return home many felt betrayed after requesting discharge papers and promised service medals.  Official Army regulations stipulated soldiers must be male, and in the era of women's suffrage (the right to vote was on the horizon) found yet another disadvantage for being female.  Apparently, the Army's rationale was that it wasn't possible for women to serve in the Army and therefore they couldn't be discharged.  In addition, since the women weren't officially soldiers they were in fact civilians who weren't eligible to receive service medals.
Many of the women were determined to fight the regulations and provided affidavits to Congress stating that Signal Corps officers had considered them soldiers.  One had been threatened with court martial after divulging too much information while stationed at Pershing's headquarters.  Why wouldn't they have assumed they were classified as soldiers and eligible for official discharge and service medals?
For those who chose to defend their service as soldiers, the battle would take some sixty years.  For 82-year-old Oleda Joure Christides, May 28, 1979 would be the first Memorial Day she spent as an official World War I veteran.  At that advanced age she didn't expect to receive any benefits but was appreciative of being eligible for a veteran's plaque on her grave and a little flag on Memorial Day.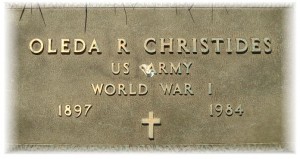 Oleda, like all the other Hello Girls, had received a notice of termination rather than discharge papers, making her ineligible for any sort of pension.  Her husband later wrote dozens of letters to congressmen asking for help.  In May of 1979, following the official recognition of the women pilots of World War II (see related articles here and here), the Hello Girls of World War I were officially recognized as veterans as well.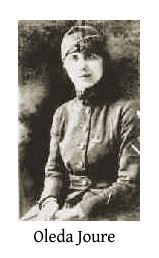 Oleda was twenty years old in the summer of 1918, living in Marine City, Michigan with her French-Canadian parents.  She had been taking French lessons from a Jesuit priest when the call for volunteers was issued.  She remarked, "I love my country and I'd go again at my age if they'd take me."6  In 1979 between forty and fifty operators were still alive and eligible to apply for recognition as veterans.
Speaking of women's suffrage, President Wilson used the service and sacrifice of women during World War I to urge legislators to follow through and give women the right to vote: "We have made partners of the women in this war; shall we admit them only to a partnership of suffering and sacrifice and toll and not to a partnership of privilege and right?"7
Despite the brush-off received following the war, the enduring legacy of the Signal Corps Female Telephone Operators Unit, a.k.a. the "Hello Girls", may be seen as paving the way for women to serve in the military.
Have a GREAT day . . . someday it will be HISTORY!
 © Sharon Hall (Digging History), 2016.
Footnotes: