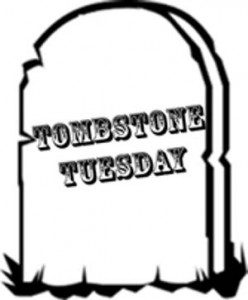 I came across this interesting person recently while researching the two-part series on Chedorlaomer "Lomer" Griffin (Part One, Part Two), who for many years was believed to have been born in 1759 when in fact he was born in 1772.  At the time of his death he was actually one hundred and six years old.  Lomer's obituary was published in 1878 around the country and several mentioned another centenarian, Christopher Mann of Independence, Missouri, who at the time was well over one hundred years old.
Christopher Mann was born on September 15, 1774 in Virginia, within a few miles of George Washington's homestead, to parents Jonas and Agnes (Williams) Mann.  Jonas, born in New Jersey and one of thirteen children, was the grandson of German immigrants.
When Christopher was around two years old Jonas took his family to Kentucky, becoming some of the first settlers.  In 1881 he recounted the journey:
When my father crossed the Alleghany [sic] Mountains from Virginia to Kentucky, they had one pack horse to carry the small children and household goods.  My sister and myself were tied to a bed, which was thrown over the old gray horse, and thus we traveled day after day, father ahead leading the horse and mother walking behind carrying some articles on her shoulders.1
Reared in Kentucky, Christopher remembered the numerous times he saw Daniel Boone hunting with his three sons and six dogs.  Despite Jonas' objections, he enlisted in "Jackson's war", but his father instead paid another man $110 to go in his place.  At the age of twenty-four Christopher left Kentucky for good and moved to Ohio where he married Elizabeth "Betsie" Rusk.  In The History of Jackson County, Missouri, Christopher stated he and Betsie had seventeen children together (although only sixteen are listed):  Peggy, Ann, Peter, Jonas, David, John, James, Sallie, Nancy and George Washington (twins?), Andrew Jackson, Christopher, Elson, Samuel, Betsey and Julia.
Following his marriage Christopher moved to Indiana where he farmed and shipped his produce to New Orleans on a flat boat.  He briefly served during the Black Hawk War and received thirty dollars and one hundred sixty acres of land.
Years later he remembered an encounter with then General William Henry Harrison which he claimed prejudiced him against presidential candidate Harrison.  One night he stopped by Harrison's tavern seeking lodging for the night.  However, because it was so crowded he was required to sleep on the floor, yet still pay the full rate.  "Never since then have I liked 'Bill' Harrison.  He was a good fighter, though and he did whip old Tecumseh powerful bad at the battle of Tippecanoe."2
In 1838 his family left Indiana and moved to Jasper County, Missouri, before settling in Jackson County five years later.  He first purchased a 1,440-acre plot of land and farmed there for many years before moving to another farm near Wayne City.  In 1844, Betsie died and Christopher, at the age seventy-three, married Lydia Ann Dean on March 24, 1848.  With Lydia he fathered nine more children:  Mary (died at age two), Frances Jane, William Franklin, Wilson, Louisa, Sallie, James, Alice and Lydia Anora.
During the Civil War Missouri was one of four states which supported slavery but did not secede from the Union.  Christopher, a member of the Home Guards, was strictly a Union man who paid dearly for his stance.  On August 5, 1863 a group of so-called "bush-whackers" robbed him, turned the family out and burned their home to the ground.
When asked whether he was a black Abolitionist, Christopher told them he was a Union man, whereupon one of the bush-whackers struck him with a revolver and broke out two of his teeth.  Following the war, Christopher purchased another parcel of land, located about one and one-half miles northwest of Independence.
In 1881, at the age of one hundred and seven, Christopher's health was good and he expected to live "a long time yet."  He claimed to have never taken a dose of medicine in his life, although often used tobacco.  "He had been habituated to the use of liquor since his boyhood, although he claimed that he had never been under its influence."3  A "hard shell Baptist", he detested both drinkers and gamblers.
Christopher had voted "for every President of the United States at every election since the time of Washington."4.   He had voted for the eventual winner in all but two elections during his lifetime (Harrison's was one).  At the time of his interview for the Jackson County historical book, Christopher had cast his presidential vote for James A. Garfield in 1880.  A staunch Republican, he proudly proclaimed, "I shall always vote the Republican ticket for President if I live a hundred years longer."5
He had always been a hard worker, "put[ting] up as many as six cords four foot wood in one day.  I have cut and split 500 rails in a day", he claimed.6   With little or no education, Christopher could not read but was able to spell several common words.  When interviewed for the historical book he clearly recounted the most minute details of his life:
My height is just one quarter of an inch less than six feet and my average weight has been one hundred and sixty-five pounds.  I have weighed one hundred and ninety, but now weigh one hundred and fifty pounds.  I could hold my breath one minute and a half, and can yet.  I use no spirits, but use tobacco.  I could walk to Independence, and I think I could walk to Kansas City.  I can do light work on the farm even now.  I never had a decayed tooth, but have had some drawn by a dentist, though never had the toothache.7
In 1881 he was called "a hearty, healthy, and intelligent man, possess[ing] a complete command of his mental faculties, and can remember all the important incidents of his long and eventful life.  He talks readily and intelligently on all subjects.  He has a full head of hair, walks with a firm and steady step . . . he appears as an ordinary man of about sixty or seventy years."8
Christopher wanted his last days to be his best days.  Stories about him began appearing in newspapers around the country in the late 1870's, around the time of his birthday each year when family members gathered to celebrate.  In 1879 when he celebrated his 105th birthday, Christopher (or as he was called, "Uncle Chris") still had several living children, the youngest, a daughter, was thirteen years old.  He had forty-two grandchildren, eleven great-grandchildren and six great-great grandchildren – oh, and one great-great-great grandchild.   Interestingly, he predicted he wouldn't live until his next birthday, when in fact he lived to celebrate several more, always worthy of a mention in newspapers across the country.
Like Lomer Griffin he continued to live a full and useful life, and up until a few years before his death, could still walk four or five miles a day, carry himself erect, never riding if he was able to walk.  Although extremely deaf, he had never needed spectacles.9
Christopher Mann died on July 11, 1885 at the age of one hundred and ten years, nine months and twenty-six days.  His wife Lydia died the following year on December 24, 1886 at the age of sixty and both are buried in the Woodlawn Cemetery in Independence.
Have a GREAT day . . . someday it will be HISTORY!

© Sharon Hall (Digging History), 2015.
Footnotes: