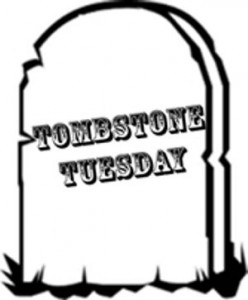 I came across the obituary of someone named "Somer Griffin" while researching another recent Tombstone Tuesday article.  At the time of his death he was thought to have been the oldest man in America.  But, you know what?  I couldn't find any additional information on "Somer Griffin".  Obviously, I did a little digging and found more information (or else I wouldn't be writing this article!).
Here's the obituary as printed in newspapers across the country (this one was printed in the October 10, 1878 issue of The Observer, Raleigh, North Carolina):
THE OLDEST MAN DEAD – The death of Somer Griffin, at Lodi, Ohio, at the age of 106, has already been mentioned.  The local journals give some interesting particulars about the man.  He died at last from the effects of a fall while splitting wood in his back yard – a vigorous occupation, surely, for a man of his age.  But for this accident, it is thought he would have lived five or six years longer.  He was a native of the village of Simsbury, Hardford [sic] county, Conn., and resided there until he was 46, when he started West in mid-winter with his family, carrying his worldly goods in a box on an old sled, accompanied by his wife and five children.  In ten weeks he reached Medina county, Ohio, put up a log cabin, and made it his home for many years, removing at last to Lodi, 10 miles distant.  He was thrice married, and 12 children by his three wives.  He was 72 when he took his last wife, who was 40 years his junior, who bore him three children, and who survives him.  He always used liquor until a short time before his death, and drank tea and coffee, though he never smoked or chewed tobacco.  He was never ill a single day in his very long life until after his fall, when he was confined to his bed five or six weeks.  In politics he had always taken a warm interest, having cast his maiden vote for Washington on his second accession to the Presidency, in 1793.  First he was a Federalist; then a Democrat; then a Whig, and finally a Republican, in which faith he died.  He is said to have been the oldest man in America, having been born April 22, 1772.
This article is no longer available for free at this site. It was re-written and enhanced, complete with footnotes and sources and has been published in the July 2018 issue of Digging History Magazine.  Should you prefer to purchase the article only, contact me for more information.