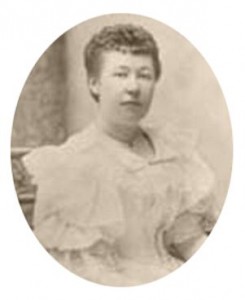 Lillian Heath was born in Burnett Junction, Wisconsin on December 29, 1865, the daughter of William and Calista Hunter Heath.  Her father later moved the family steadily west, first to Aplington, Iowa and in 1873 to Laramie, Wyoming.
The Transcontinental Railroad was completed in 1869 and William worked for the Union Pacific as a baggage handler.  In 1877 he moved the family a bit farther west in Wyoming to Rawlins where he worked as a decorator and a locomotive and house painter.
NOTE: This article is being re-purposed and may be included in a future edition (or Special Edition) of Digging History Magazine. After January 1, 2018 it can also be purchased as an individual article. If interested, please subscribe to the blog (to the right of this post) and you will be notified when the new Digging History Magazine web site is launched.