Let's face it folks, weather patterns are cyclical – always have been, always will be.  One of my favorite quotes, originally attributed to George Santayana in his book The Life of Reason (1905), is: "Those who fail to learn from history are doomed to repeat it."  One only needs to review history and discover that man's attempts to modify the weather have been at best hit-and-miss and often outright failures, eventually exposed as hoaxes.  The purpose of this series of articles isn't necessarily meant to debunk current-day climate change mania (although that's how I've always skeptically viewed it — as mania), but rather to take a look back at a period in history when climate hucksters preyed on farmers in desperate need of a drought solution.
The Storm King
James Pollard Espy, a nineteenth century meteorologist, developed a convection theory of storms.  The idea he proposed, burning forests to create more rainfall, was laughed and scoffed at by climate skeptics of the day.  Even in Philadelphia, his hometown, the newspapers and critics were many.
One Philly newspaper stepped forward, however, and supported Espy.  After his successful presentation before the French Academy of Sciences in 1841, the Public Ledger (20 Apr 1841) was crowing a bit and casting aspersions on their fellow journalists, referring to their "limited comprehension" and tendency to pronounce anything they didn't understand as "humbug."
The skeptics had taken to calling Professor Espy the "Storm King" and were increasingly critical of his theories, openly mocking him in newspapers across the country.  When an unusual weather event, a violent tornado, occurred in February of 1842, The Evening Post (New York) wanted to know "What says Professor Espy?"
A question posed in the New Orleans Times-Picayune (24 May 1842), provides further evidence of the public's skepticism: " If Espy, the storm king, can draw down rain over a section of two hundred miles by burning up every thing combustible in another region of two hundred leagues, what amount of fuel would be requisite to get up a modern deluge?"
Meanwhile, the United States War and Navy Departments hired Espy.  Nutty theories aside, he devised the means to use telegraphy to assemble weather data across the country, which eventually led to more accurate and scientific weather forecasting.
Most newspapers, however, continued to use "storm king" as a derisive term.  Whenever an unusual or devastating weather event occurred, it was the fault of "Storm King".  Even the short death notices printed across the country following his death on January 24, 1860, continued to cast aspersions on his "peculiar theory in relation to storms."
Blasted Skies, Come on and Rain!
Edward Powers wrote a book entitled War and Weather, first published in 1871 just before the great Chicago fire.  The devastation left the city in ruins and the stereotype plates for his book perished as well.  Powers later re-published the book in 1890 amidst growing concerns over the lack of rainfall in certain parts of the country.
He opened his book with these words: "The idea that rain can be produced by human agency, though sufficiently startling, is not one which, in this age of progress, ought to be considered as impossible of practical realization."1
At the time there were already multiple theories regarding weather patterns as well as prediction techniques, but Powers was sure that his own was purely factual.  He strongly believed that the firing of heavy artillery somehow influenced the weather and tended to be followed by rain.  His sources included anecdotal accounts provided by officers who served in the Civil War and log books of the United States Navy.
Reaching back in military history, Powers used the example of the Battle of Buena Vista in 1847 during the Mexican-American War.  The battle took place during what was generally known as the dry season – in fact there hadn't been any rain for several months prior to the battle on February 22-23, 1847, nor for months afterwards.
Following the first day of battle it began raining heavily and violently.  The rainfall seemed timed to begin following heavy artillery fire.  Powers was sure this phenomenon was proof positive that the concussive effect of heavy artillery caused it to rain.
He cited several other examples during the Mexican-American War and then turned to address the numerous accounts he had gathered from Civil War veterans.  These accounts included not only battle engagements on land but on the rivers and seas as well.  Whether these Civil War veterans realized at the time there might be some connection to drenching rains following major battles is unclear, however.
Interest in his theories was rekindled in the late 1880's and early 1890's as vast sections of the country were experiencing drought.  In the years following the Civil War, European immigrants were coming to America for a better life and many of them migrated to the Great Plains.  Accounts of immigrants finding it difficult to adjust to the differences between the landscape and climate of their homelands are numerous.
In the 1890's drought conditions worsened and towns across the Great Plains were abandoned as farmers departed to find "greener pastures" (wherever those were).  Texas was one of many states affected and became the focus of a series of experiments initiated by Edward Powers' writings and lectures.  Powers convinced the United States Congress they should invest $2,000 to test his theories (they reportedly later increased the "investment" to $7,000).2
The man in charge of those experiments was known variously as Professor, Dr., Colonel or General R.G. Dyrenforth, but according to the Texas Co-op Power web site, he was neither a colonel or general nor a rainmaker as it turned out.  His official title was "concussionist" or one who makes it rain by blasting the sky with explosives.  And what better place to test their theories than Midland, Texas in the summer?
Dyrenforth was certainly determined to make it rain, arriving with railroad boxcars full of dynamite, canons, as well as kites and balloons which would be sent up with explosives.  So confident was he of success, Dyrenforth believed that his methods would soon be commonly used throughout the country.
After arriving in early August 1891, Dyrenforth reportedly went right to work and was met with great success.  On August 10, he had reportedly fired off explosives high in the air resulting in torrents of rain.  Did you notice I have repeatedly used "reportedly"?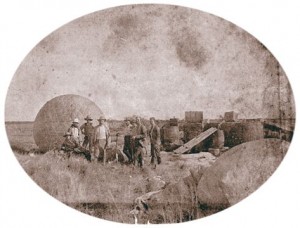 According to Texas Co-op Power, newspapers around the country were reporting favorable results, but none of them had actually sent reporters to verify them.  Apparently they were taking Dyrenforth's word as gospel.  There were two agricultural publications, Farm Implement News and Texas Farm & Ranch, represented, however:
The ag writers had a much different take on the proceedings and their results than Dyrenforth's press releases.  They saw a group of people who mostly didn't know what they were doing, ill and forlorn, watching their gizmos go off at the wrong times and catching all manner of things on fire.  Flimsy kites, no matter how well-armed, were no match for the West Texas winds.  Scientific American magazine followed up on the ag writers' reports and deemed Dyrenforth's experiments "an expensive farce."
The experiments were in actuality a complete bust, but King Ranch also employed Dyrenforth, who would be eventually be referred to mockingly as "General Dryhenceforth".  It did, perhaps coincidentally, rain around the time of his experiments, but after his visit to San Antonio the whole thing was deemed a complete failure – "after nearly seventy-two hours of continuous bombarding not enough rain fell to lay the dust."3   The Austin Weekly Statesman article headline blasted:  "A GOVERNMENTAL FAKE".
The truth was coming to light as actual reports revealed there were no torrential rains.  In El Paso they only received a "heavy dew precipitation" which could, of course, occur at any time, the presence or absence of heavy artillery notwithstanding.
Dyrenforth had been feted upon his arrival in San Antonio in early October.  The Brooklyn Eagle (o4 Oct 1891) called it "Internal Irrigation":
General Dyrenforth went down to Texas to supply the farmers with rain water.  At San Antonio they gave him a banquet with lots of champagne.  It is the public opinion of Texas that the irrigation of Dyrenforth was a much better job than Dyrenforth's irrigation of the farms.
As disastrous and a total waste of government money those experiments turned out to be, Dyrenforth was not the first nor the last person to attempt to make it rain.  There were others using well-guarded, secret techniques preying on farmers across the Great Plains.  Come back soon for a continuation of this series.
Have a GREAT day . . . someday it will be HISTORY!

© Sharon Hall (Digging History), 2015.
Footnotes: