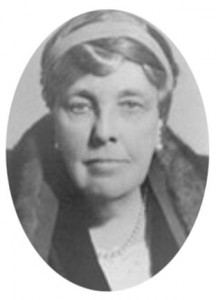 Today's feisty female, Theodate Pope Riddle, dared to be different.  She was born at the stroke of midnight on  February 2 (or 3), 1867 in Salem, Ohio to well-to-do parents Alfred Atmore and Ada Lunette (Brooks) Pope.  Her birth name was Effie Brooks, but despising it so much and refusing to answer to it, at the age of nineteen she changed it to her grandmother's first name (Theodate Stackpole).  In part, she chose the name to honor her grandmother's strong "belief in the Quaker principle of emphasizing the spiritual over the material."1
Her family lived on Euclid Avenue in Cleveland, also known as "Millionaires' Row", but she wanted nothing to do with the path young women born to wealth were expected to travel from debutante to society matron.  Alfred and Ada were so busy with their lives – he as an iron tycoon and she as a societal matron – that there was scarcely any family time together.  Theodate once wrote that she had no memory of ever sitting on her mother's lap.
NOTE: Digging History is now a monthly digital (PDF) magazine.  This article will be included in a future edition of Digging History Magazine. Check out the latest issue here:  www.digginghistorymag.com or try a subscription here.