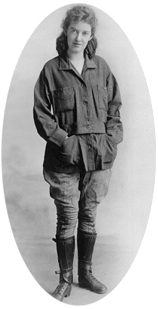 When Amelia Earhart wanted to learn how to fly an airplane, the deal she struck with her parents required she be taught by a woman pilot.  That pilot, Neta Snook, was a woman of many "firsts" – one of the first female aviators, she was the first woman accepted into a flying school, the first to run a commercial airfield and the first woman to run her own aviation business.
Mary Anita "Neta" Snook was born in Mount Carroll, Illinois on February 14, 1896 to parents Floyd and Adella Snook.  At an early age Neta was fascinated with machinery and shared her father's love of automobiles.  Her father allowed her to sit on his lap at the age of four and steer his Stanley Steamer and taught her the inner workings of the car as well.
At the age of nine Neta and her father took apart a car and put it back together.  Most girls played with dolls – Neta took clocks apart and repaired them.  During her high school years she took the required home economics courses, but "her sidelines were mechanics and shop courses", according to the Ames Daily Tribune.
After her family moved to Ames, Iowa in 1915, Neta enrolled at Iowa State College (now University) and studied mechanical drawing, combustion engines and farm machinery repair – after quickly fulfilling her 17-hour home economics requirements.  Neta spent hours in the library reading about aeronautics and by her sophomore year of college was interested enough in aviation to apply for the Curtiss-Wright Aviation School in Newport News, Virginia.  At that time females were not allowed and her application was rejected.
The following year, however, she saw an advertisement for the Davenport Aviation School and returned to Iowa, applied and was accepted, the first woman to attend the school.  She later recalled the first flight she took in her autobiography, I Taught Amelia to Fly: "We raced down the field, the engine roared and all eight cylinders firing in perfect time.  I felt the tail lift but scarcely knew when we left the ground . . . I had no feeling of height, only of complete security with those long, sleek wins on either side which seemed almost a part of me."  She was born to fly.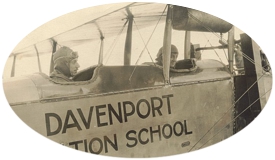 In June of 1917 Neta began assisting in the building and maintenance of the planes used by the school.  However, just a few months later on September 9, one of the planes crashed and killed the school's new president.  The school closed and some students were then headed to the Curtiss school in Virginia, promising to recommend Neta for admission.
By the end of September she was finally accepted, only to see the program halted just a few months later when the United States entered World War I.  A notice from the government shutting down the school's operations came before Neta had a chance to fly solo.  Their reasons for shutting down the school included fear that German spies would enroll and then take aerial photographs of U.S. military facilities.
The school's planes were dismantled and sent to another Curtiss school in Florida.  There Neta continued her training beginning in early 1918 only to have it interrupted again (before her solo flight) by President Woodrow Wilson prohibiting all private flying until the war's end.  Disappointed, Neta returned to Iowa with a letter of reference.
After a brief time back in Iowa, Neta received an invitation, upon the recommendation of a friend who also attended the Davenport school, from the British Air Ministry to work as an expediter.  At that time, airplane parts and engines were being built in the United States and shipped to England for the Royal Air Force.
The assignment took Neta to Elmira, New York, where her job was to improve or "expedite" the delivery of those parts.  She also tested metals and engine parts and inspected the training plane engines.  When the war ended in November 1918, she received a commendation from the British War Mission.
Eager to return to her aviation pursuits, Neta purchased an old wrecked Canuck, the Canadian version of the Curtiss JN-4 Jenny and had it shipped back to Iowa.  For the next two years she rebuilt the plane in her parents' backyard, and when finished dismantled the plane and towed the fuselage to a nearby pasture and reassembled the plane.  In the spring of 1920 she flew her solo flight in the Canuck and received her pilot's license.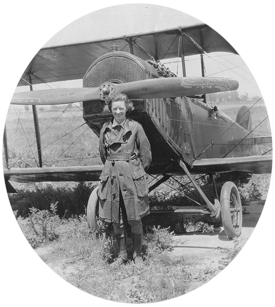 She later barnstormed across the Midwest, selling fifteen-minute rides in her plane for $15.  Her United States license for flying civilian aircraft showed she wasn't allowed to carry any passengers or "none".  Undeterred, Neta erased the "n" and made it read "one" instead.  When she acquired a license from the Fédération Aéronautique Internationale, Neta became, in her words, "a recognized pilot before all the world."
On June 1, 1920 she caused a bit of a stir in Ames by taking her mother for a ride in her plane.  As far as the newspaper could tell, it was the first time "a girl flier took her mother for a spin."  A week earlier, Neta had crash- landed the plane, damaging the propeller, but was uninjured.
Iowa winters were challenging for aviation so she dismantled the Canuck and shipped it to Los Angeles.  She heard about Winfield "Bert" Kinner's airfield in Huntington Park where he built Kinner Airsters.  In exchange for test-flying his planes, Neta had full use of his airfield and set up her own business teaching, flying passengers, and doing aerial advertising.
She also hunted deer from her plane, "scaring them out of hiding into the trails and then flying in ambush to kill them," according to the Ames Daily Tribune (03 May 1954).  In another first, she became the first woman on the Pacific coast to attempt an altitude record, reaching fifteen thousand feet.
One Sunday in December of 1920, Amelia Earhart arrived at Kinner Field with her father and said to Neta, "I want to fly.  Will you teach me?" On January 3, 1921 Amelia Earhart received her first twenty-minute lesson.  While using Neta's Canuck, her student paid one dollar per hour for the first five hours, but when Earhart purchased her own Kinner Airster, the next fifteen hours were unpaid.  In July student and teacher were flying together when Earhart crashed the Airster at Goodyear Field.  Neither was hurt but the plane would need a new propeller and repairs for the landing gear.
The plane had been too slow to gain enough altitude to clear a grove of eucalyptus trees.  Neta later remarked that she would have handled the situation the same had she been in the pilot's seat, but had thought perhaps she had misjudged Amelia's abilities.  Of course, that was disproved when Amelia Earhart began to make a name for herself in the field of aviation.  The two became friends and remained so for years to come.
In February of 1921 she entered a race, pitted against forty men, at the Los Angeles Speedway and finished in fifth place.  She remarked to reporters, "I have to fly for the whole sex, as it were, and I'm going to show the world that a woman can fly as cleverly, as audaciously, as thrillingly as any man aviator in the world."  In just over a year later, however, Neta's life was quite different, more sedate.
In the spring of 1922 she had married William (Bill) Southern and was expecting a baby.  She wrote, "I wanted that baby above everything, and I made a vow that if I could just have a healthy baby, I would give up flying forever."  Her healthy baby boy was named after his father and Glenn Curtiss, William Curtiss Southern, and true to her word she sold her business and gave up flying.  Amelia invited her to join the Ninety-Nines, a group of women pilots, a few years later but Neta declined.
Another letter sent by Earhart ended with a fond remembrance of their friendship: "Sometime our paths may cross again, and we may be able to have a few words about the old days."  That would be the last time Neta heard from Amelia – Earhart disappeared while flying over the Pacific Ocean in July of 1937.
Neta, however, was interviewed at her home in Los Gatos, California and refused to admit her friend was dead.  According to the Riverside Daily Press, Neta said, "She was so alive, so practical and competent.  I can't and won't believe she's lost until they find the remnants of her plane, and not even then."
Neta remained in contact with Amelia's family and later became a lecturer, speaking about her own career achievements as well as her friend's.  In 1962 Neta was among the promoters advocating for a special twenty-fifth anniversary commemorative stamp marking Amelia's disappearance.
In 1974 she published her memoir, I Taught Amelia to Fly, and dedicated the book to her sister Vivian, who had learned to fly in 1929 following her older sister's retirement from aviation.  Neta hadn't flown a plane in over fifty years.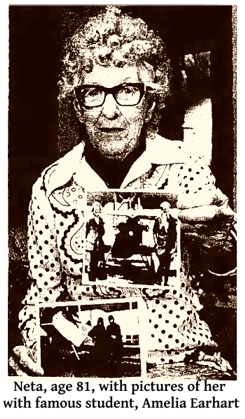 When interviewed in 1977 at the age of eighty-one she had been asked whether women should be allowed to fly jumbo jets.  She responded, "Why not?  I saw the instrument panel of one last week, and it isn't all that different from the planes I flew."
Still, she wasn't ready to whole-heartedly endorse the idea of "women's lib", a hot topic at the time.  Neta wasn't interested in women's lib and remarked, "The Bible says the man is the head of the family.  I did things because I wanted to.  I didn't want to be portrayed as a hippie."
Neta Snook Southern died on March 23, 1991 at the age of ninety-five.  The following year she was inducted into the Iowa Aviation Hall of Fame.
Have a GREAT day . . . someday it will be HISTORY!

© Sharon Hall (Digging History), 2015.