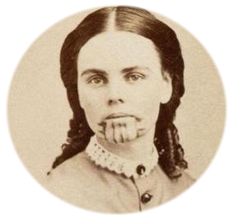 Her story was sensationalized in 1857 by a Methodist minister named Royal B. Stratton, who used what the Arizona Republic called "purple prose" to exaggerate and fabricate the experiences of young Olive Oatman.  As the Republic pointed out, there was no need for such fabrication because her actual experiences were more than harrowing enough.
Olive Ann Oatman was born in Illinois in 1837 to parents Roys and Mary Ann Oatman.  Her family, members of the Church of Latter Day Saints, decided to migrate west.  In 1850 Royce and Mary Ann and their seven children departed from Independence, Missouri in a caravan led by James Colin Brewster.
Brewster had fallen out of favor with the LDS church after claiming himself a prophet after been visited by the Angel Moronit.  Following Joseph Smith's death in 1844, Brewster sought to become the new leader and he and Hazen Aldrich co-founded what they called the Church of Christ, the successor to Smith's own Church of Christ.  His followers were called "Brewsterites."
NOTE:  This article is being enhanced and re-purposed and will appear in a future issue of Digging History Magazine.  In the meantime, check out the digital version of Digging History — Digging History Magazine.  Subscriptions (you won't miss an issue!), individual issues, special editions, samples and more are available in the Magazine Store.