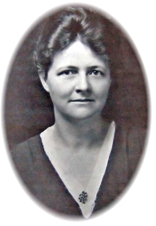 Today's article closes out the month of February, also known as Black History Month, with a story about an anti-lynching activist Southern white woman, Jessie Daniel Ames.  She was also the founder of the Texas League of Women Voters in 1919 and served as its first president, believing that it was the role of various women's organizations to help solve the country's racial problems.
Jessie Harriet Daniel was born on November 2, 1883 in Palestine, Texas to parents James and Laura Daniel.  Her father was a railroad worker, and after the family moved to Georgetown in 1893 Jessie enrolled in the Ladies' Annex at Southwestern University at the age of thirteen.
NOTE: Digging History is now a monthly digital (PDF) magazine.  This article will be included in a future edition of Digging History Magazine. Check out the latest issue here:  www.digginghistorymag.com or try a subscription here.