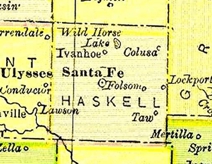 The town of Santa Fe, Kansas was officially platted on July 31, 1886 at 4:00 p.m. and named for the Santa Fe Trail which was situated about five miles north of town.  It wasn't long before several business sprang up – two grocery stores, a restaurant and hotel, a bakery, laundry and two lumber yards.
The town was first located in Finney County, but about nine months later on March 5, 1887, Haskell County was formed and named for Congressman Dudley C. Haskell.  In July of 1887, Santa Fe, located at the geographic center of the county was chosen as the temporary county seat.  On November 7 it became the permanent county seat.

NOTE: This article has been SNIPPED.  Why?  Digging History is now a monthly digital (PDF) magazine.  This article will be included in a future edition of Digging History Magazine. Check out the latest issue here:  www.digginghistorymag.com or try a subscription here.  Want to TRY OUT the magazine?  Click the magazine link in the previous sentence, then scroll to the bottom of any page and provide your email and Subscribe.  A free issue will be coming your way soon!