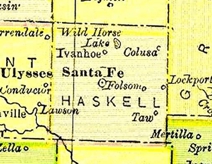 The town of Santa Fe, Kansas was officially platted on July 31, 1886 at 4:00 p.m. and named for the Santa Fe Trail which was situated about five miles north of town.  It wasn't long before several business sprang up – two grocery stores, a restaurant and hotel, a bakery, laundry and two lumber yards.
The town was first located in Finney County, but about nine months later on March 5, 1887, Haskell County was formed and named for Congressman Dudley C. Haskell.  In July of 1887, Santa Fe, located at the geographic center of the county was chosen as the temporary county seat.  On November 7 it became the permanent county seat.
NOTE: This article is being re-purposed and will be included in a future edition of Digging History Magazine. Please check out our new site:  www.digginghistorymag.com.  Go to the Magazine Store and see what's available.  Don't miss an issue — subscriptions now available, as well as single and special edition issues and individual articles formerly posted here at the Digging History Blog site.