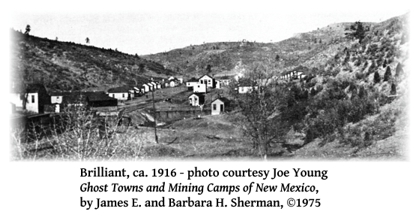 Unfortunately, there is probably little left to see, if any, of this once-bustling coal mining town in northern New Mexico.  You could perhaps view the location of the old town site if you shell out $450 per night to stay in media mogul Ted Turner's hunting preserve.  The sites that were once the towns of Gardiner, Brilliant, Blossburg and Swastika (see my article about Swastika here) are all part of the Vermejo Park Ranch.  Most of the existing structures are said to have been bulldozed, although one might occasionally see an old coke oven here and there.
However, in the early twentieth century around 1905 the St. Louis, Rocky Mountain and Pacific Company was organized and the first coal mine opened in January of 1906.  Brilliant was company-owned and located on the Atchison, Topeka and Santa Fe Railway, supplying coal for the railroad's locomotives as well as coke for the nearby ovens in Gardiner.  It is believed the town got its name from the unusual sheen of the coal in nearby Tin Pan Canyon.
This article is no longer available at this site.  However, it will be enhanced and published later in a future issue of Digging History Magazine, our new monthly digital publication available by individual purchase or subscription.  To see what the magazine is all about you can preview issues at our YouTube Channel.  Subscriptions are affordable, safe and easy to purchase and the best deal for getting your "history fix" every month.