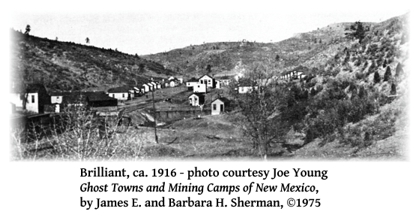 Unfortunately, there is probably little left to see, if any, of this once-bustling coal mining town in northern New Mexico.  You could perhaps view the location of the old town site if you shell out $450 per night to stay in media mogul Ted Turner's hunting preserve.  The sites that were once the towns of Gardiner, Brilliant, Blossburg and Swastika (see my article about Swastika here) are all part of the Vermejo Park Ranch.  Most of the existing structures are said to have been bulldozed, although one might occasionally see an old coke oven here and there.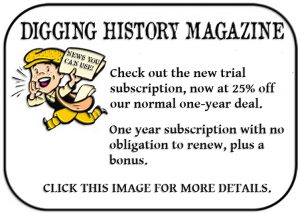 However, in the early twentieth century around 1905 the St. Louis, Rocky Mountain and Pacific Company was organized and the first coal mine opened in January of 1906.  Brilliant was company-owned and located on the Atchison, Topeka and Santa Fe Railway, supplying coal for the railroad's locomotives as well as coke for the nearby ovens in Gardiner.  It is believed the town got its name from the unusual sheen of the coal in nearby Tin Pan Canyon.
In 1907 three hundred and fifty residents lived there and the town had quite a few businesses and services, including, according to Ghost Towns and Mining Camps of New Mexico, a telephone company, school, Japanese Hotel, Brilliant Hotel, Brilliant Electric Company, Blossburg Mercantile, a boarding house, recreation hall, Brilliant & Raton Stage Line, saloons, a sheriff and one doctor.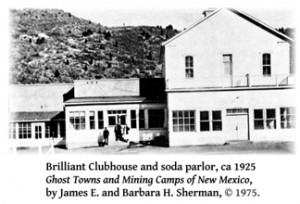 The schoolhouse served as a church on Sundays and the sick in need of hospital services were transported to Gardiner or Raton. There was plenty of low-rent housing available and the company held a yearly Christmas party with presents for every child in the school.
In the fall of 1907, however, the nation began experiencing what came to be called the Panic of 1907. Starting in mid-October and continuing for three weeks, the New York Stock Exchange fell almost fifty percent from the previous year's numbers. A recession had been underway, and when runs on banks and trust companies began occurring, the panic soon spread across the nation.
Some financial aspects of the Panic centered around the United Copper Company and the collapse of the Knickerbocker Trust Company in New York City. Fear spread to other city banks and trusts and then on to regional banks and soon hundreds of people were withdrawing their money from those regional banks.
J.P. Morgan stepped in and pledged his own money and somehow convinced New York bankers to do the same; this would shore up the banking system enough to stem the tide, at least temporarily. Another crisis occurred in November when a large brokerage firm, which had leveraged its holdings against Tennessee Coal, Iron and Railroad Company as collateral, began to collapse.
Morgan again came to the rescue, and his company, U.S. Steel Corporation, executed an emergency takeover. Before the Panic of 1907 there was no central banking system like we have today, but as a result of the teetering financial system during that period, the Federal Reserve System was created in 1913.
As a result of these financial machinations and uncertainties, the Brilliant mines closed in early 1908. In September of 1912 the camp re-opened and continued to boom well into the 1920's. According to Ghost Towns and Mining Camps of New Mexico, during the early 1920's the "history of Brilliant began to merge into that of Swastika, another coal town owned by the St. Louis, Rocky Mountain and Pacific Company".
For a time the two towns operated side-by-side until the Brilliant post office closed in 1935, although at one point many thought Brilliant would turn out to be the largest mining town in northern New Mexico. Not long after the post office closed, the Brilliant mine ceased operations.
During World War II, for obvious reasons, Swastika changed its name to Brilliant II. In 1939 very few residents remained in Brilliant. As noted above, there is little, if any, evidence of the town site today. However, most of the area has been returned to its original state by Mr. Turner, with the wildlife population (bears and coyotes) dramatically increasing.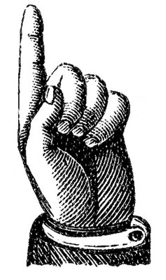 Did you enjoy this article?  Yes? Check out Digging History Magazine.  Since January 2018 new articles are published in a digital magazine (PDF) available by individual issue purchase or subscription (with three options).  Most issues run between 70-85 pages, filled with articles of interest to history-lovers and genealogists — it's all history, right? 🙂  No ads — just carefully-researched, well-written stories, complete with footnotes and sources.
Want to know more or try out a free issue? You can download either (or both) of the January-February 2019 and March-April 2019 issues here:  https://digging-history.com/free-samples/
Thanks for stopping by!