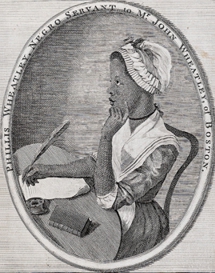 Today's "Feisty Female" came to America as a slave, and during her all-too-brief life, made history by becoming the first African American woman to have her own book of poetry published.  Most scholars believe she was born in Senegal around 1753.
In 1761 the young girl was sold into slavery and placed on a North American-bound ship named Phillis.  She was said to have been a frail female child whose health the ship's captain believed so precariously close to death that he wished to sell her quickly to gain a profit before she died.
NOTE: Digging History is now a monthly digital (PDF) magazine.  This article will be included in a future edition of Digging History Magazine. Check out the latest issue here:  www.digginghistorymag.com or try a subscription here.