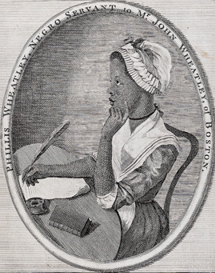 Today's "Feisty Female" came to America as a slave, and during her all-too-brief life, made history by becoming the first African American woman to have her own book of poetry published.  Most scholars believe she was born in Senegal around 1753.
In 1761 the young girl was sold into slavery and placed on a North American-bound ship named Phillis.  She was said to have been a frail female child whose health the ship's captain believed so precariously close to death that he wished to sell her quickly to gain a profit before she died.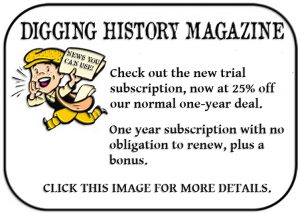 She was purchased by the Wheatley family of Boston as a personal servant to Susanna, the wife of John Wheatley. According to the Poetry Foundation, Phillis Wheatley, named after the ship that brought her to America, was "pampered" in the Wheatley household, although not entirely excused from domestic duties.
Eighteen year-old Mary Wheatley and her brother Nathaniel helped educated her, and within sixteen months Phillis could read passages from the Bible. At the age of twelve she began studying Latin and English literature and studied the works of noted poets like Alexander Pope, John Milton, Homer and Ovid. The family recognized how gifted she was and, of course, a slave receiving such a liberal education was unheard of at the time.
Her first poem, entitled An Elegiac Poem, on the Death of that Celebrated Divine, and Eminent Servant of Jesus Christ, the Reverend and Learned George Whitefield, was published in 1770. Many scholars once believed that poem to have been her first published work, but in 1969 another poem, On Messrs. Hussey and Coffin, was discovered to have been published in 1767.
By the age of eighteen, Phillis had written twenty-eight poems and Susanna helped her place advertisements for subscribers in the Boston newspapers in early 1772. They found, however, that colonists would not support the work of an African. In May of 1771 Nathaniel had accompanied Phillis to London because Susanna thought she might find better opportunities to have her work published there.
While in England she met with the Lord Mayor of London and other prominent members of British society, and found an enthusiastic supporter in Selina Hastings, the Countess of Huntington. The Countess wrote a letter of introduction to bookseller Archibald Bell who helped her publish her first book of poems entitled Poems on Various Subjects, Religious and Moral.
Another reason for the journey to London in 1771 was Phillis' health. According to the Poetry Foundation she suffered from a chronic asthmatic condition. As she was on her way back to America, the first edition of her poetry book was being circulated. It was the first book of poetry ever published by a Negro slave.
More than a third of her poems were about the deaths of prominent people, her friends or sometimes strangers. She was a regular correspondent with George Washington and had met Benjamin Franklin while in London. Other admirers of her work included John Hancock and Dr. Benjamin Rush, signers of the Declaration of Independence.
In 1774, three months before Susanna Wheatley died on March 3, Phillis Wheatley was manumitted. The British, who had abolished slavery, had been disapproving of the Wheatleys keeping her as a slave, although she was never really exposed to the harsh life most slaves experienced.
John Wheatley and his daughter Mary both died in 1778 and the only family she had ever really known had slipped away. On April 1, 1778 Phillis married John Peters, a free black who called himself "Dr. Peters". He was apparently an ambitious entrepreneur, purported to have practiced law, operated a grocery store, worked as a baker and barber and had at one time applied for a license to run a bar.
Peters wore a wig, sported a cane and played the part of gentleman. To Boston society, however, this was viewed as evidence of a "shiftless" and arrogant black man. During and following the Revolutionary War it was particularly difficult for free blacks to compete with whites for jobs. After moving to Wilmington, John struggled financially and Phillis took work as a charwoman while he tried to fend off creditors and find work.
After the couple returned to Boston, they lived in a rundown section of the city where Phillis again struggled with her health. Her closest friends hadn't been pleased with her decision to marry John Peters in the first place, and now the first African American woman to have a published book of poetry was living in poverty.
Even during those years of financial and physical challenges, Phillis Wheatley continued to write and publish her poems. During the fall of 1779, in an attempt to raise funds for her family, she ran advertisements for subscribers to a new work she had dedicated to Benjamin Franklin. Again, however, her work was rejected by Americans.
Phillis Wheatley's life ended on December 5, 1784, alone and uncared for, since John, deeply in debt, had been jailed. The couple had children, but none survived to adulthood. Three and-a-half hours following her death, Phillis Wheatley's last surviving child died and was buried with her.
Scholars believe that she wrote one hundred and forty-five poems. Ironically, the first American edition of Poems on Various Subjects wasn't published until two years following her death. As the title of her first volume implies, she wrote on a variety of subjects, but historians have long puzzled over why she, an African slave, never wrote much about slavery.
Some believe that slavery was a conundrum of sorts for her, for it was what brought her to America. Yet, after being purchased by the Wheatley family and educated, that same institution led her to Christianity. That sentiment is noted in her most well-known poem, On Being Brought from Africa to America:
'Twas mercy brought me from my pagan land,
Taught my beknighted soul to understand
That there's a God, that there's a Savior too:
Once I redemption neither sought nor knew.
Some view our sable race with scornful eye,
"Their color is a diabolic dye."
Remember Christians; Negroes, black as Cain,
May be refin'd, and join th' angelic train.
Recently, scholars have discovered other poems and letters which prove that she did in fact associate with eighteenth century abolitionists. The more scholars today study her work, the more convinced they are that Phillis Wheatley despised the institution of slavery. While a patriot and a strong advocate for America's independence, she dared to chide fellow patriots in a poem eulogizing General David Wooster:
But how presumptuous shall we hope to find
Divine acceptance with the Almighty mind
While yet o deed ungenerous they disgrace
And hold in bondage Afric: blameless race
Let virtue reign and then accord our prayers
Be victory ours and generous freedom theirs.
Clearly, Phillis Wheatley held strong opinions regarding slavery and had no fear of possibly offending even revered patriots. Feisty Female, indeed!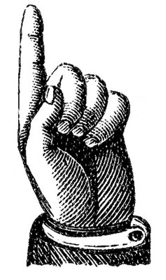 Did you enjoy this article?  Yes? Check out Digging History Magazine.  Since January 2018 new articles are published in a digital magazine (PDF) available by individual issue purchase or subscription (with three options).  Most issues run between 70-85 pages, filled with articles of interest to history-lovers and genealogists — it's all history, right? 🙂  No ads — just carefully-researched, well-written stories, complete with footnotes and sources.
Want to know more or try out a free issue? You can download either (or both) of the January-February 2019 and March-April 2019 issues here:  https://digging-history.com/free-samples/
Thanks for stopping by!