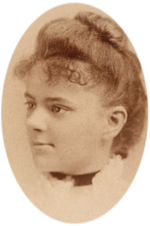 On January 23, 1849, Elizabeth Blackwell became the first woman in U.S. history to receive a medical degree at New York's Geneva Medical College.  Today, a momentous first of any kind would be trumpeted all over the world in a series of instant tweets.  In 1849 it registered barely a mention six days later in New York's Evening Post, squeezed between random news tidbits like "The harbor is clear of floating ice" and "Capital punishment for murder in the first degree has been restored in Michigan."

Elizabeth Blackwell was born in Bristol, England on February 3, 1821 to parents Samuel and Hannah Blackwell.  She was their third child and third daughter, followed by six more siblings in years to come.  Elizabeth's remembrances of her childhood were happy ones in a large rambling house.  Samuel, though deeply religious, wasn't a particularly stern disciplinarian.  He did, however, believe his children should receive the best education possible.
The family was well-off enough to employ governesses and tutors for the children; Elizabeth noted in her autobiography, Pioneer Work in Opening the Medical Profession to Women, that she and her siblings rarely attended school.  Nevertheless, each child developed a passion for reading and learning – the gift of a book brought great delight.
Following a period of unrest in 1831, referred to as the Bristol Riots, the family immigrated to America in 1832 where Samuel founded the Congress Sugar Refinery in New York.  The family joined the Laight Street Church where Samuel Cox, a well-known abolitionist, was the pastor.  Samuel Blackwell joined Cox and other noted abolitionists like William Lloyd Garrison and Theodore Weld in their attempts to abolish the institution of slavery.
The refinery burned to the ground in 1836, and even though it was rebuilt, Samuel never recovered from it.  He decided to move his family to Cincinnati, Ohio to make a fresh start.  As an abolitionist he sought to find a way to cultivate sugar beets for his refinery rather than sugar cane, which of course, required slave labor.  Tragically, on August 7, 1838, just a short time after relocating to Ohio, Samuel died suddenly from biliary fever.  He not only left behind a widow with nine children, but a mountain of debt.
The family quickly dismissed the help and the three oldest daughters, Anna, Marian and Elizabeth, opened a day and boarding school to educate young women.  Their sister Emily would also join them later as a teacher at the school.  Elizabeth and her family joined the Episcopal church and she later drifted over to the Unitarians after hearing the teachings of transcendentalism.  Samuel had raised his children as liberal, independent thinkers and the influence of the Unitarians made Elizabeth decide to pursue a career in education, with reform in mind.
However, after moving to Henderson, Kentucky in 1844 and experiencing, in her words, "the crude civilisation of a Western slave state", she decided to move back to Cincinnati.  She had found conditions at the school and the surrounding community deplorable and went home to pursue something more fulfilling.  Elizabeth found her family busy with their various pursuits, but she wanted something more.
A friend of hers had been stricken with a painful disease, for which the treatment itself caused great pain and suffering.  Her friend suggested, "You are fond of study, have health and leisure; why not study medicine?  If I could have been treated by a lady doctor, my worst sufferings would have been spared me."  Elizabeth immediately rejected the idea, declaring that she hated anything connected with the human body "and could not bear the sight of a medical book."
Her favorite subjects were history and metaphysics, and even though the thought of studying medicine repulsed her, she couldn't forget her friend's words.  At the same time she was struggling with another issue – marriage – and her desire to avoid it at all costs.  She must have come to the conclusion that pursuing a career in medicine and devoting herself to caring for others would somehow negate the necessity of finding a soul mate for life.
Apparently the thought of marriage sent waves of panic over her, as she wrote in her journal during "an acute attack":
I felt more determined than ever to become a physician, and thus place a strong barrier between me and all ordinary marriage.  I must have something to engross my thoughts, some object in life which will fill this vacuum and prevent this sad wearing away of the heart.
Still, she had no idea where or how to begin her pursuit, keenly aware that given the attitudes of the day it would an arduous journey, referring to it as her "Rubicon".  Everywhere she inquired she was told what a great idea it was, but it was impossible for a woman to accomplish it.  To Elizabeth, however, this "was rather an encouragement than otherwise to a young and active person who needed an absorbing occupation."
In New York she had read of Madame Restell, an abortionist, who made a fortune for her services, all the while known as a "female physician", a term used to describe those who carried out the "vile occupation" as Elizabeth called it.  She believed that conferring the title of physician (a common practice in that day for abortionists who were not in fact medically trained) on women such as Restell was abhorrent.
She considered traveling abroad to Paris to pursue medical studies there but was warned by a Cincinnati doctor that she wouldn't last six weeks as an American or English lady.  Harriet Beecher Stowe, a fellow abolitionist, believed her idea was impracticable, although she thought if Elizabeth could find a way to make it happen it would be "highly useful."  Another friend offered to help fund her education, but it would not be nearly enough.
The responsibility for funding her education would fall to Elizabeth, so she decided to take a teaching job in North Carolina to save money for medical college.  She was also planning to pursue concurrent and independent study of medicine – the principal of the school was a former doctor and she would avail herself of the resources in his library.
She was warmly received in North Carolina and began to borrow books from Dr. Dickson's library.  A fellow teacher, aware of her interest in medicine, "laughingly came to [her] with a dead cockchafer, which had been smothered between her pocket-handkerchiefs, and offered I to me as a first subject of dissection."  Elizabeth took her "gift" and attempted to dissect it using a hair pin and her mother's pearl-handled penknife.  She was repulsed but pressed on and finally made the incision – and from that point, never to be repulsed again.
When the school closed in 1846, she decided to remain in the South and pursue her medical career there.  She traveled to Charleston, found another teaching job and continued to save for medical school.  By the following summer she had enough money set aside to begin her pursuit in earnest.  At that time, Philadelphia was the best place to receive a medical education, with esteemed physicians like Dr. Thomas Dent Mütter, professor of surgery at Jefferson Medical College and a pioneer in plastic surgery (see recent book review about his life here).
Not one to sit idly by, Elizabeth again pursued anatomical studies at a private school while making application to Philadelphia medical schools.  Her efforts, however, were fruitless and she was advised by one of her advisers, a Quaker: "Elizabeth, it is of no use trying.  Thee cannot gain admission to these schools.  Thee must go to Paris and don masculine attired to gain the necessary knowledge."  It wasn't the first time someone had suggested she disguise herself as a man, however.
By that time she was more inclined to remain in America and continue her pursuits and began to look at smaller schools in the North.  She applied to Geneva Medical College and her application was not only scrutinized by the school's administration and faculty, but by the students as well.  Had one member of the student body black-balled her, Elizabeth would have been denied admission.  As the story goes, the students thought the whole thing was a joke and voted unanimously to admit her to the school.  Joke or no joke, her soon-to-be fellow classmates had just opened the door for history to be made.
Be sure and stop by tomorrow for the conclusion of Elizabeth Blackwell's story as part of the Surname Saturday article.
Have a GREAT day . . . someday it will be HISTORY!

© Sharon Hall (Digging History), 2015.