Today, this would be considered an unfortunate name for a town, ghostly or otherwise.  Believe it or not, years ago the swastika symbol was widely used.  It was also used by Native American tribes like the Navajos, Hopis, Apaches and others (although later abandoned).  The 45th Infantry Division of the United States military used the symbol until the 1930's.  Apparently, it was in wide use in the state of New Mexico, and not just by the Native Americans.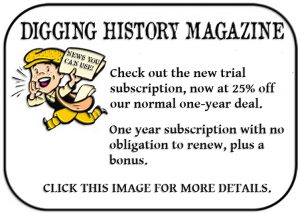 Across the United States, government buildings (post offices, etc.) included the symbol in floor tiles.  The Albuquerque federal building constructed in 1930, and now on the National Register of Historic Places, featured radiator grates in the foyer which consist of several swastika blocks.
Interestingly, the New Mexico State yearbook was named the Swastika, beginning in 1907. In May of 1983 the Board of Regents officially voted against the symbol's use and the name, saying, "It is the responsibility of the board when an issue becomes of this magnitude . . . not because of logic but because of the impact on the university."
This area around Colfax County, New Mexico had long been known for its coal mining operations. On October 22, 1913 a massive explosion occurred at the Dawson mine, killing two hundred and fifty.
Following the end of World War I, the St. Louis, Rocky Mountain & Pacific Company purchased land and coal rights from the Maxwell Land Grant Company. Its products, coal and coke, were marketed through a subsidiary called the Swastika Fuel Company — proudly displaying a swastika as its trademark.

The company's offices were located in Raton and its products were distributed throughout Texas, Oklahoma and Kansas. The coal was also used by the Atchison, Topeka and Santa Fe railway company, and gradually other uses were found, expanding the market to include a large portion of the Southwest.
Swastika first started out as a camp and grew into a company town. In 1919 a post office was established and as workers arrived, plots were laid out and homes began to be built for the miners and their families. Many of them, like those working mines throughout that area, were immigrants – Italians were prominently represented.
According to Ghost Towns and Mining Camps of New Mexico by James E. and Barbara H. Sherman, the Italians brought their love of soccer and challenged neighboring camps to play against them. With increased oil exploration in Texas came the need for more coal to provide steam power for the drilling operations. By 1929, Swastika had reached a population of around five hundred – oh, and Raton had built the Hotel Swastika (later renamed the Yucca), "at the foot of beautiful Raton Pass".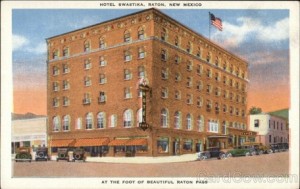 There was another mining town in the area named Brilliant (more on this ghost town in another article). When Brilliant closed in the mid-1930's, and with Hitler and his Nazi regime beginning to make itself a menace throughout Europe, the name Swastika no longer seemed appropriate. Instead the town was renamed Brilliant (or Brilliant II or New Brilliant). By 1940, however, the post office had closed and by the early 1950's the town of Swastika/Brilliant was completely abandoned.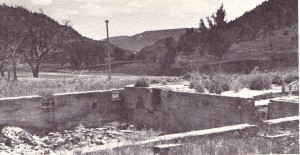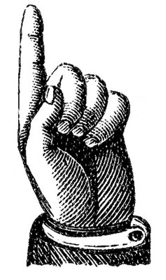 Did you enjoy this article?  Yes? Check out Digging History Magazine.  Since January 2018 new articles are published in a digital magazine (PDF) available by individual issue purchase or subscription (with three options).  Most issues run between 70-85 pages, filled with articles of interest to history-lovers and genealogists — it's all history, right? 🙂  No ads — just carefully-researched, well-written stories, complete with footnotes and sources.
Want to know more or try out a free issue? You can download either (or both) of the January-February 2019 and March-April 2019 issues here:  https://digging-history.com/free-samples/
Thanks for stopping by!