Today, this would be considered an unfortunate name for a town, ghostly or otherwise.  Believe it or not, years ago the swastika symbol was widely used.  It was also used by Native American tribes like the Navajos, Hopis, Apaches and others (although later abandoned).  The 45th Infantry Division of the United States military used the symbol until the 1930's.  Apparently, it was in wide use in the state of New Mexico, and not just by the Native Americans.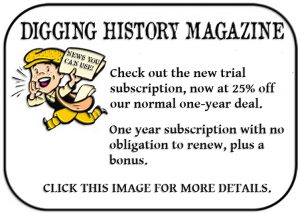 This article is no longer available for free at this site. It was re-written and enhanced with sources as part of an article entitled "Bullets, Barons, Boom and Bust:  The Ghost Towns and Storied History of Colfax County", published in the July-August 2020 issue of Digging History Magazine.  Should you prefer to purchase the article only, contact me for more information.
I invite you to check out Digging History Magazine.  Since January 2018 new articles are published in a digital magazine (PDF) available by individual issue purchase or subscription (with three options).  Most issues run between 70-85 pages, filled with articles of interest to history-lovers and genealogists — it's all history, right? 🙂  No ads — just carefully-researched, well-written stories, complete with footnotes and sources.
Want to know more or try out a free issue? You can download either (or both) of the January-February 2019 and March-April 2019 issues here:  https://digging-history.com/free-samples/
Thanks for stopping by!