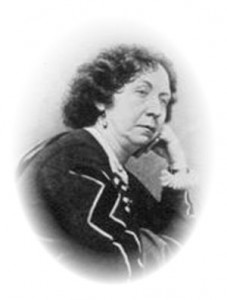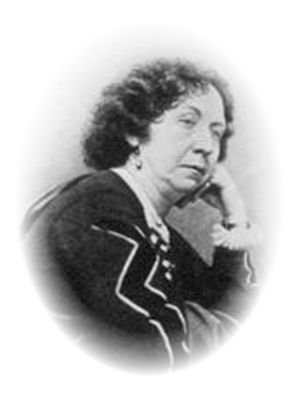 March is Women's History Month and what better way to kick it off than to highlight the accomplishments of first female newspaper columnist and highest paid nineteenth century newspaper writer Sara Payson Willis, a.k.a. "Fanny Fern".
Sara was born in Portland, Maine on July 9, 1811, the daughter of Nathaniel and Hannah (Parker) Willis.  Her parents had planned to name their fifth child after Reverend Edward Payson, pastor of Portland's Second Congregational Church (five years later they named a son after the reverend).  Instead, she was given the middle name of Payson.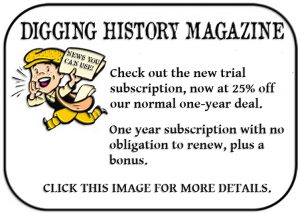 Six weeks following her birth Nathaniel moved his family to Boston where he founded the first religious newspaper published in the United States, The Puritan Recorder. As a deacon at Park Street Church and a strict Calvinist, Nathaniel frowned on dancing and other ungodly pursuits and worried about the soul of his free-spirited daughter Sara. Hannah, however, was the polar opposite of her husband and the parent Sara most identified with.
Her older brother Nathaniel Parker Willis experienced his own religious conversion at the age of fifteen, but after his rising success as a poet resulted in his being excommunicated from the Congregational Church, the elder Willis was more determined to see Sara embrace his faith as her own, sending her to Catherine Beecher's Female Seminary in Hartford, Connecticut.
Sara, however, had no intention of conforming to her father's strict faith. Years later Catherine Beecher would tell Sara she remembered her as the worst behaved child in the school – and the best loved! Harriet Beecher Stowe, a pupil-teacher at her sister's school, remembered Sara as a "bright, laughing witch of a half saint half sinner."1
While Sara struggled with arithmetic, she excelled in writing. Her compositions, full of satire and clever wordplay, were sought after by the editor of the local newspaper. After returning to Boston in 1830 or 1831 she edited and wrote articles for her father's publications, The Recorder and The Youth's Companion, without remuneration and not a thought of someday making a career of her talents as a writer.
In 1837 Sara married Charles Harrington Eldredge and together they had three daughters: Mary (1838); Grace (1841) and Ellen (1844). The first seven years of their marriage were happy and fulfilling until a series of tragedies changed the trajectory of Sara's life forever. In February of 1844 her sister Ellen died from complications of childbirth. When Hannah died six weeks following Ellen's death it created a life-long void for Sara. Sara had always had a special bond with Hannah, they being of similar temperaments.
One year later and six months following her youngest daughter Ellen's birth, Mary died of brain fever. Still more tragedy awaited Sara as Charles contracted typhoid fever and passed away in 1846. Charles had been involved in a lawsuit (which he lost) and after all accounts were settled, Sara found herself destitute without means to support herself and her two remaining daughters.
Nathaniel Willis provided a small portion of Sara's support following Charles' death, although he resented his son-in-law having been such a poor steward of his finances. The Eldredge family blamed their daughter-in-law, yet also reluctantly agreed to provide some support as well. Still, Nathaniel (who had soon remarried himself following Hannah's death) urged his daughter to remarry.
Sara capitulated and entered into an admittedly loveless marriage with Samuel P. Farrington, a widower, on January 15, 1849. Not surprising, it turned out to be a terrible mistake as Farrington relentlessly criticized her for just about everything – from her appearance to her friends to the memory of Charles. Although she tried to be a good parent to his children, Farrington used them to spy on their stepmother.
In January 1851 Sara reached her breaking point, and to the consternation of her family, contacted a lawyer and moved into a hotel with Grace and Ellen. Farrington publicly disparaged her, left Boston and later obtained a divorce in Chicago claiming desertion by his wife. Nathaniel was none too happy with the turn of events and refused to resume support.
Sara struggled for several months, working jobs too menial to allow her to put food on the table and adequately provide for her children. Grace was sent to live with her Eldredge grandparents while Ellen remained with her mother, both barely subsisting on bread and milk. In November of 1851 Sara decided to try her hand at writing again and published her first article in the Olive Branch, a new Boston newspaper. The article, entitled "The Governess" was soon followed up by short satirical articles in other publications under the pen name of "Fanny Fern".
She sent articles to her brother Nathaniel, by then a magazine publisher. He turned her down, believing her irreverent writings to have little appeal outside of Boston. Nathaniel couldn't have been more wrong as newspapers and periodicals began carrying the witty and irreverent columns of Fanny Fern. By the summer of 1852 she had been hired by publisher Oliver Dyer, becoming the first woman to have a regular column in a newspaper and doubling her previous salary. Little did Dyer know that one of his editors was Sara's brother Richard, a musician and journalist who wrote the melody for It Came Upon a Midnight Clear.
Meanwhile, James Parton, Fanny Fern admirer and Nathaniel's editor, had been clipping her articles and like other publications had been pirating them. Nathaniel demanded his editor stop clipping the articles but Parton refused and subsequently resigned.
Early in 1853 the publishing firm of Derby and Miller contacted Sara through her Fanny Fern column, offering to publish a book of her newspaper articles. She was offered the choice of payment by royalty of ten cents per book or one thousand dollars and an outright purchase of the copyright. Sara chose the royalty and was handsomely rewarded as the book, entitled Fern Leaves From Fanny's Portfolio, sold seventy thousand copies in the United States in less than a year. Another twenty-nine thousand copies sold in England.
With a much improved financial outlook, Sara was able to take back Grace from the Eldredges and moved to New York. She secured a regular column in the New York Ledger at a salary of $100 per week, then the highest salary of any columnist, male or female, in the country. The column appeared each week until her death in 1872.
Under her pen name she began to write novels, first publishing Ruth Hall, a fictional work based on her own life story, in 1854. The book depicted her happy first marriage followed by poverty and included some less-than-flattering "payback" for her disparaging and disapproving relatives. After her actual name was publicized some critics expressed disdain for her scathing portrayal of family members. Nathaniel Hawthorne, however, wasn't among her critics – rather, he quite enjoyed her style of writing.
Nevertheless, Sara took note of the criticism and set a different tone in her second autobiographical novel, Rose Clark. Never shy about her opinions nor immune to controversy, Fanny Fern defended Walt Whitman's controversial work, Leaves of Grass, in May of 1856. She had this to say about herself, her critics and the city she left behind:
And here by the rood, comes Fanny Fern! Fanny is a woman. For that she is not to blame; tho' since she first found it out, she has not ceased to deplore it. She might be prettier, she might be younger. She might be older and she might be uglier. She might be better and she might be worse. She has been both over-praised and over-abused, and those who have abused her worst have imitated and copied her most. One thing may be said in favor of Fanny: She was not, thank Providence, born in the beautiful, backbiting sanctimonious, slandering, clean, contumelious, pharasaical, phiddle-de-dee, peck-measure city – of Boston.2
At the age of forty-five Sara married her long-time admirer James Parton, living in New York City and later raising her granddaughter Ethel following Grace's death in 1862. In 1859 she purchased a Manhattan brownstone as she continued to write for the Ledger. As a long-time supporter of the women's suffrage movement, Sara co-founded Sorosis, following criticism directed at New York City's all-male Press Club. Sorosis was America's first professional club for women.
Sara Payson Willis died on October 10, 1872 following a six-year battle with cancer. Her close friends never knew she was ill until near the end of her life. After losing the use of her right hand she began writing her weekly column with the left. When that became impossible she dictated her column to Ellen or James, never missing a single column until the last one was published two days after her death.
She bucked the conventional Victorian ideas of how a lady was expected to conduct herself. Despite criticism of her unconventional and sometimes-coarse personality and writing style, her success as a writer proved that women could indeed make it in a man's world. Sara knew that if a woman could achieve financial independence it was entirely possible that someday all women would achieve full and equal rights. How right she was.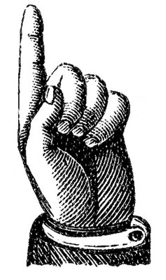 Did you enjoy this article?  Yes? Check out Digging History Magazine.  Since January 2018 new articles are published in a digital magazine (PDF) available by individual issue purchase or subscription (with three options).  Most issues run between 70-85 pages, filled with articles of interest to history-lovers and genealogists — it's all history, right? 🙂  No ads — just carefully-researched, well-written stories, complete with footnotes and sources.
Want to know more or try out a free issue? You can download either (or both) of the January-February 2019 and March-April 2019 issues here:  https://digging-history.com/free-samples/
Thanks for stopping by!