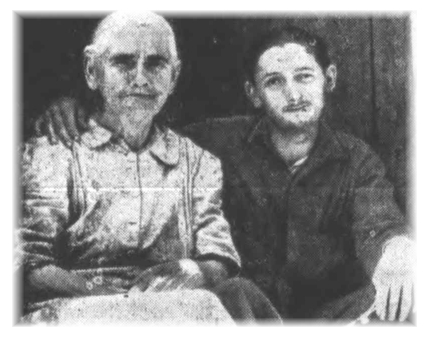 Their May-December marriage made headlines in early June of 1946, right along with worries over sky-rocketing milk prices (up one cent per quart!) and possible meat and bread shortages.  One newspaper article noted that mothers were thinking about feeding their children cake instead of bread that night (let them eat cake!).  However, for Mattie Large and her teenage husband, their marriage wasn't such a big deal to them in the hills of eastern Kentucky near Louisa.  It did raise eyebrows around the country though.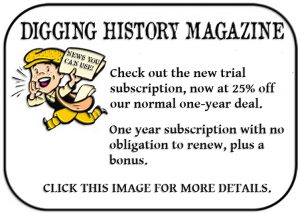 It wasn't a "shotgun wedding". In fact, the groom had to jump through some hoops to obtain the marriage license. At the age of eighteen, he had to get written permission from his family. The woman he was about to marry was Martha "Mattie" Lyons Large, a widow with seven living children and forty-nine grandchildren. Delbert Lee "Shorty" Sprouse wasn't marrying Mattie for her money either – as soon as the nuptials were solemnized, she would lose her thirteen dollar-a month pension.
Some in her community said Mattie was doing it "for spite". One of her grandchildren had been living with her and helping around the farm. When her granddaughter moved away, Mattie was left without a farm hand. So, she declared, "I'll just get me a man." And that she did. Shorty Sprouse was a neighbor and the same age as Mattie's youngest grandchild.
Shorty made three trips to the county clerk's office. The first time he found out he needed parental consent; the second time he discovered he didn't have enough money to pay the fee, so he had to borrow it from Mattie; the third time – success! The wedding would have occurred that day at Mattie's cabin, but Reverend Custer Bishop said he couldn't perform the ceremony in her tiny home. Time was of the essence, apparently, for Mattie remarked to neighbor Elmer Diamond, "we'll just go to town and let the county judge marry us… he has to."
After all the postponements, she was ready to get it over with and neighbor Diamond drove them to Louisa, about sixteen miles away. Shorty was asked whether he was looking forward to the wedding, and he replied, "well, sorta." Mattie said, "well, you never know."
They were required by law to take a blood test, something of an annoyance to Mattie. Dr. Carter asked her age and she gave it as forty. He asked whether she wanted him to record that; she then admitted to being seventy-nine. She was heard to complain about "new fangled laws" requiring the test.
Neither party appeared to be nervous. Shorty was dressed in "droopy, grayish work pants and shirt" and Mattie "was garbed in a striped blue yellow and rose cotton dress that almost touched the floor, a black straw hat and black shoes." The brief ceremony was conducted by Judge L.F. Wellman. There was no kiss, not even a handshake. Shorty rushed over to the clerk's office to "make sure it's all legal."

A crowd had gathered in town upon news of the wedding. Invitations for dinner were extended to the newlyweds, but Mattie declined. She was in a rush to return home "because the weeds are running away with our crops." She had been reluctant to talk about either the marriage or romance – they'd been talking it over for awhile and decided to get married, plain and simple.
Her friends and neighbors teased her, saying they'd be around later that night to "bell" the newlyweds. Customarily, neighbors would gather after dark and "serenade" the couple with cow bells, dish pans, or whatever they had to make noise. To disperse with the noisemakers, all the newlyweds had to do was pass out candy to the women and children and cigars to the men. In eastern Kentucky the tradition held that if candy and cigars weren't distributed, the couple got a "dunking". To the teasers Mattie quipped, "It won't do you much good. The crick's dry."
Some newspaper accounts noted that none of Mattie's children and grandchildren were seen in town, so perhaps they didn't approve. Nevertheless, Mattie had her man and they returned to her two-room log cabin to begin their married life together. The furnishings included a soft, comfortable bed, with a feather tick, a battery radio and some handmade furniture. When asked if the couple had any special future plans, Mattie replied, "we'll just stay out at the farm awhile unless we take a notion to leave."
A few weeks later Shorty and Mattie did venture out for a hundred mile trip to West Virginia and then on to New York. The two had become somewhat of a "celebrity couple" apparently, making four public appearances on June 24. The shows included a hillbilly band and around five thousand people were on hand that day. The crowd was "right smart" Mattie remarked, but "hill people are the best people."
Clearly, she was more at ease out of the limelight, saying she wouldn't want "to make a habit of this show business." Shorty was reported to have been a bit embarrassed by all the attention, but Mattie "fanned herself continually and kept a constant eye on Shorty." Their "honeymoon tour" continued to New York state where they made appearances at amusement parks. After their brief stint with celebrity, it was back to the farm.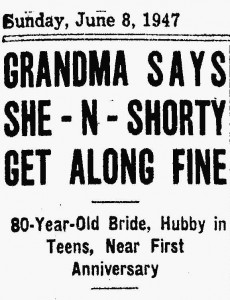 By the time their first anniversary rolled around in 1947, they were reported to be "gettin' along jest fine." Cat Hollow was their home and during that first year locals had had seen them only three times. There was plenty to do, with chickens and a garden to tend. Mattie, who always intended to do her share, did the cooking and mending, declaring herself "spry as a cat" at the age of eighty. Shorty had one year to go before he was out of his teens. Their one-year anniversary was just another day to Mattie and Shorty.
A "huckster" traveled throughout the area hawking his wares so there was little need for the two to leave their farm apparently. They were hoping for better roads and looking forward to a future rural electrification project which would allow them to dispense with the smoky lamps which lit their home.
By 1954 and their eighth anniversary, one newspaper noted that "cigar-smoking Grandma" (also known to chew and spit and smoke a pipe) turned down an invitation to appear on a Huntington, West Virginia television show. She didn't mind the attention they received eight years prior in New York, but television was "of the devil." Mattie was eighty-six and Shorty twenty-six.
She was still active but had begun to worry about what would happen to her young husband when she died. "He'll probably marry before my grave is cold, and even though it would be for the best, I never want him to have another," she said. Despite the sensation their marriage had caused in 1946, she and Shorty were "still happy as coons."
All Mattie Lyons Large Sprouse ever wanted out of life apparently was to be left alone. They were content to live in Cat Hollow, tend their farm and live like they pleased. Mattie was always considered the family "spokesperson" – Shorty rarely had anything to say when she was around. Their marriage was considered a happy one.
Mattie died on Christmas Eve of 1965. She and Shorty had been married over nineteen years. At the time of her death she was ninety-eight and he hadn't yet reached his forties. According to one family researcher, a woman from Louisville made a beeline for Louisa, determined to marry Shorty. The ceremony was derailed, however, when her husband showed up. Mattie's prediction almost came true.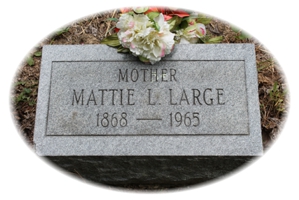 I was researching another woman named Mattie Large (Mattie Grace Grob Large) for a Tombstone Tuesday article. This story just tickled me so much I couldn't resist including it as a "Far-Out Friday" article.
Shorty died on January 24, 2007 at the age of seventy-nine, the same age as Mattie when she married him. According to his obituary he had been preceded in death by his second wife, Lillian Mae. Mattie had married him ostensibly to have a hired hand; almost sixty-one years later, his obituary simply stated "he was a laborer."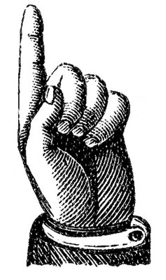 Did you enjoy this article?  Yes? Check out Digging History Magazine.  Since January 2018 new articles are published in a digital magazine (PDF) available by individual issue purchase or subscription (with three options).  Most issues run between 70-85 pages, filled with articles of interest to history-lovers and genealogists — it's all history, right? 🙂  No ads, just carefully-researched, well-written stories, complete with footnotes and sources.
Want to know more or try out a free issue?  That's easy if you have a minute or two.  Here are the options (choose one):
Scroll up to the upper right-hand corner of this page, provide your email to subscribe to the blog and a free issue will soon be on its way to your inbox.
A free article index of issues is available in the magazine store, providing a brief synopsis of every article published in 2018.  Note:  You will have to create an account to obtain the free index (don't worry — it's easy!).
Contact me directly and request either a free issue and/or the free article index.  Happy to provide!
Thanks for stopping by!