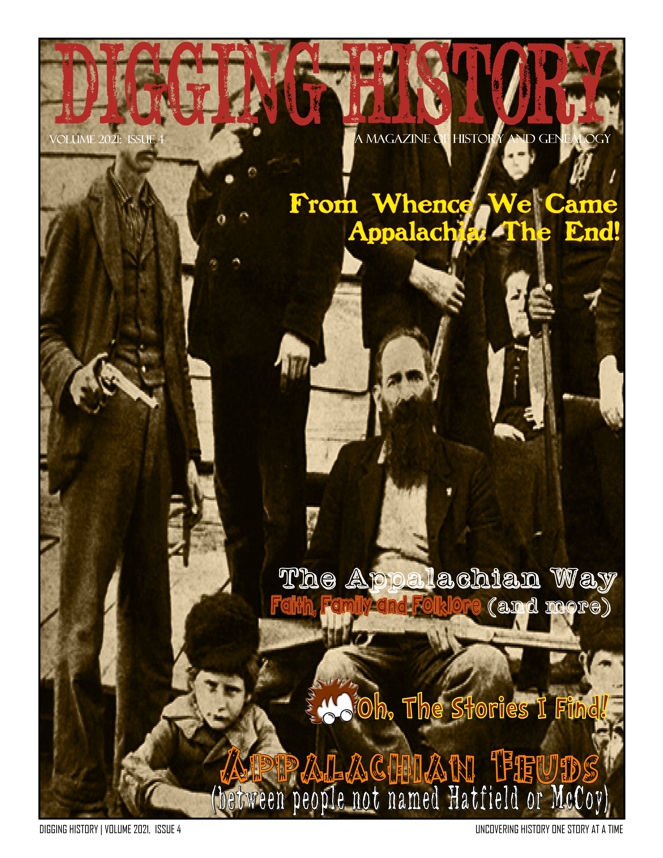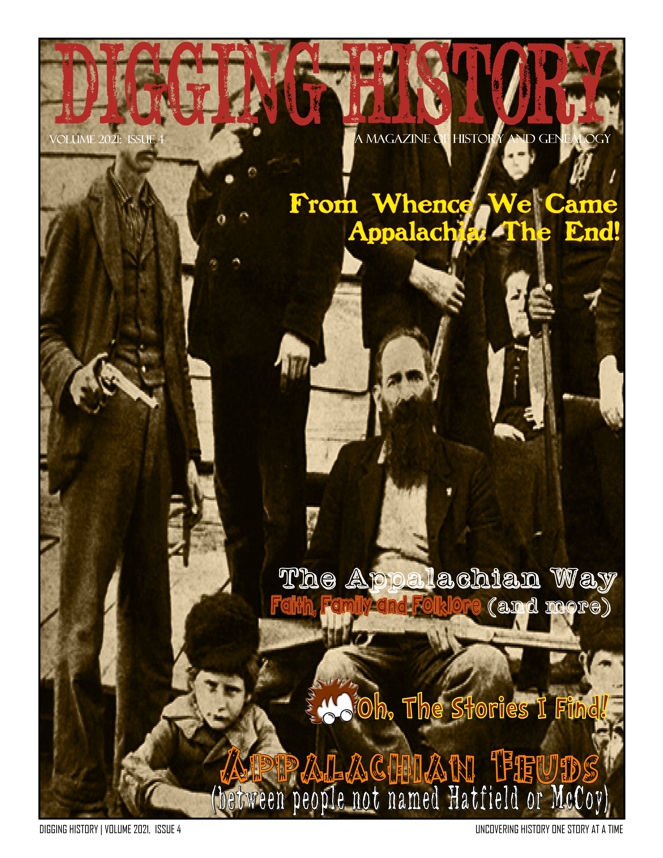 Description
Customer Reviews (0)
This issues closes out the "From Whence We Came: Appalachia" series with a wrap-up of some of the stories which didn't make it in the first three issues which covered Appalachian regions of Kentucky, Tennessee, North and South Carolina, West Virginia, Virginia, Georgia and Alabama.  It's been an interesting series and you can find the three previous issues in the Magazine Store.
Articles featured in this issue include:
The Appalachian Way:  Faith, Family and Folklore (and more):  As one might imagine the Appalachian region, rich in history, also abounds with folklore, folk customs and unique stories. Aside from the premise that knowledge of the region's "faith, family and folklore" may prove helpful for researching Appalachian ancestors, it's just plain fascinating to discover the history of these practices.  From folk medicine, folk magic and granny witches to snake handling and child brides -- it's all part of Appalachian culture and history.
Appalachia Feuds (between people not named Hatfield or McCoy):  Search for "Appalachian Feuds" and you will inevitably find the Hatfield-McCoy feud at the top of results. The feud, perhaps one of the most well-documented in American history, has been the subject of books, movies, documentaries and even a "Hatfield & McCoy Dinner Feud", staged in Pigeon Forge, Tennessee.  The Hatfield and McCoy clans were just one example of fierce Appalachian feuds.  Kentucky, in particular, was home to a number of long-running feuds.  This extensive article features two of the longest and bloodiest:  The Hill-Evans Vendetta and the Baker-Howard Feud.
Oh, The Stories I Find!:  I like to call this story "Honeymoon in the Corn Field".  Their May-December marriage made headlines in early June of 1946, right along with worries over sky-rocketing milk prices (up one cent per quart!) and possible meat and bread shortages.  One newspaper article noted that mothers were thinking about feeding their children cake instead of bread that night (let them eat cake!). However, for Mattie Large and her teenage husband, it wasn't such a big deal to them, their marriage, where they lived in the hills of eastern Kentucky near Louisa. It did raise eyebrows around the country though.  It wasn't a "shotgun wedding". In fact, the groom had to jump through some hoops to obtain the marriage license. At the age of eighteen, he had to get written permission from his family.  The woman he was about to marry was Martha "Mattie" Lyons Large, a widow with seven living children and forty-nine grandchildren. Delbert Lee "Shorty" Sprouse wasn't marrying Mattie for her money either – as soon as the nuptials were solemnized, she would lose her thirteen dollar-a month pension.
The Dash:  William Bibb Key:  This story features an ancestor of one of my clients and an example of a new service.
There are no reviews yet, submit yours in the box provided.
Submitting Your Review, Please Wait
Your Review Has Been Submitted Successfully
Add a review for July-August 2021
You must include a title, rating, and message in your review.
Your Review Title
Your Rating
Your Review