It's an historical fact that over ten thousand soldiers under the age of eighteen served in the Union Army during the Civil War.  Granted, many of them served as drummers and fifers, but their service was nonetheless invaluable.  Drummers set the marching pace and sometimes provided cadence for the firing of guns and cannons.  Fifers, on the other hand, were used for signaling line formation changes, as well as working in conjunction with drummers to set the marching pace.
One of the youngest "boy soldiers" to serve became known as "The Drummer Boy of Chickamauga". He was born John Joseph Klem to German immigrant parents Roman and Magdalene on August 13, 1851 in Newark, Ohio. By the 1860 census, however, the family had changed the spelling of their surname to "Clem".
On August 2, 1861, just a few days before John's tenth birthday, his mother passed away. Perhaps distraught over his mother's death, John ran away from home to join an Ohio regiment. After being rejected because of his age in Ohio, he later joined the 22nd Michigan Infantry as a drummer boy.
For years following the Civil War newspapers would spread the following legend of his service at The Battle of Shiloh. The problem, however, was that the 22nd was formed on August 29, 1862, over four months following one of the most devastating battles of the war on April 6-7.
He had lost his mother, and in May, 1861, before he was ten years old – when he was so small he might have been placed inside of a regulation drum – offered his service as a drummer to the 3d Ohio regiment; but was rejected on account of his size and tender age. The little hero went out on the same train with the regiment, and meeting the 22d Michigan regiment, offered his services to that and was again rejected; but with undaunted spirits and determination, he followed the fortunes of the regiment, until at length he was beating the "long roll" in front of Shiloh in April 1862, where his soldierly spirit so won the admiration and confidence of the officers of the regiment, that in June of July, 1862, he was enlisted in Covington, Kentucky, as a drummer, and served afterwards as a "marker."
At Shiloh his drum was smashed by a piece of a shell, which won for him the appellation of "Johnny Shiloh," as a title of distinction for his fearless manner in the bloody battle. (Bismarck Tribune, 24 Oct 1879)
This legend persisted for several years, perhaps until someone noticed that the dates didn't match. In addition, his mother died in August of 1861. Some believe that the legend of "Johnny Shiloh" may have been associated with a Civil War song, "The Drummer Boy of Shiloh" by William S. Hays and published in Harpers Weekly.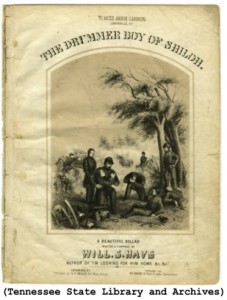 At some point John, an admirer of President Abraham Lincoln, changed his name to John Lincoln Clem. While he wasn't at The Battle of Shiloh, John did later distinguish himself at the Battle of Chickamauga on September 23, 1863 at the age of twelve. He was said to have "exchanged the 'long roll' of the drum for the 'brisk fire' of the deadly musket." The musket, presumably, had been shortened to match his diminutive size. Again, the Bismarck Tribune (and many other newspapers) reported:
The line being formed, he now took his position in the ranks, and with his true and trusty little musket began putting in the periods quite on his own account, blazing away close to the ground like a fire-fly in the grass. At the close of the day, when the army was retiring towards Chattanooga, the brigade to which little Johnny belonged was ordered to hold its position, but, being afterward surrounded by the rebels, a demand for its surrender was made directly after its charge had been repulsed, when a rebel colonel rode up to our little hero, who could not fall back as rapidly as the rest of the line, and made a special demand of him: "Halt! Surrender! You d—-d little Yankee son of a b—-h!" Still coming with his sword drawn upon little Johnny, who had now brought his musket to an "order arms," and, in doing which, slipped his hand down the barrel and cocked it while at "order," when our little hero, uninspired to obedience of the chaste summons he had just received, suddenly swung up his musket to the position of "charge bayonet" and fired, when lo! our Little David brought down the proud Goliah[sic], who fell from his saddle, his lips fresh stained with the reproachful epithet he had just flung upon a mother's grave in the hearing of her child.
(That has to be one of the longest sentences I've ever seen, but that is verbatim as printed in 1879!) This may or may not have been exactly what happened, for after all, this was the same newspaper edition which had reported the legend of "Johnny Shiloh".
The following month, at Chattanooga, while detailed as a train guard he was captured by a Confederate cavalry regiment. It was reported that his uniform and cap (with three bullet holes in it) were taken away – he was greatly upset about the cap being seized. "Having captured this galtant [sic] little prize, the rebels despoiled him of the companionship of his little, bullet-torn cap which he endeavored in vain to retain as a reminiscent in the future of the perils through which he has passed, taking also from his jacket and shoes." (Bismarck Tribune, 24 Oct 1879)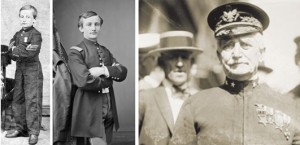 After his heroic conduct, he was promoted to Sergeant and then transferred to the Army of the Cumberland, attached to the staff of General Thomas. After joining this unit, he fought at other notable battles including, Kennesaw, Atlanta, Nashville and others. Besides the three bullets which passed through his cap at Chickamauga, he was also struck in the hip with a shell fragment and then again by a stray bullet which felled his horse. Again, as reported by the Bismarck Tribune:
Besides the three balls that passed through his little cap at Chickamauga, he was struck once with a fragment of shell upon his hip and once by a ball. Upon the latter occasion, he was in the act of delivering a dispatch from General Thomas to General Logan at Atlanta, when a ball struck his little pony obliquely near the top of his head, killing him and wounding his fearless little rider in the right ear.
John was discharged on September 19, 1864, returned home and completed his education in 1870. In 1871 President Ulysses Grant appointed him to the United States Military Academy at West Point, but he failed the entrance exam. Instead, Grant appointed him as 2nd Lieutenant in the 24th U.S. Infantry.
John Lincoln Clem married Anita Rosetta French in 1875, and after she passed away in 1899 married Elizabeth Sullivan of San Antonio, Texas in 1903. Interestingly, she was the daughter of a Confederate veteran and John would claim that he was "the most united American alive."
He had a long and distinguished military career at various posts. When he retired on August 13, 1915 at the mandatory retirement age of sixty-four, he was promoted to Brigadier General – customary for Civil War veterans retiring at the rank of Colonel. At that time he was the last Civil War veteran serving in the United States Army. The next year, and then on the retirement list, he was again promoted to Major General. The United States was then on the brink of entering World War I. John requested reactivation, but was turned down by President Woodrow Wilson.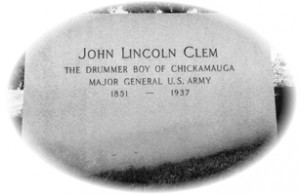 For a time following retirement he lived in Washington, D.C. but later returned to San Antonio. He died there on May 13, 1937 at the age of eighty-five and was buried in Arlington National Cemetery.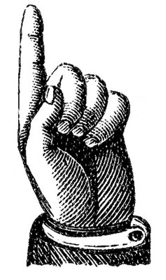 Did you enjoy this article?  Yes? Check out Digging History Magazine.  Since January 2018 new articles are published in a digital magazine (PDF) available by individual issue purchase or subscription (with three options).  Most issues run between 70-85 pages, filled with articles of interest to history-lovers and genealogists — it's all history, right? 🙂  No ads — just carefully-researched, well-written stories, complete with footnotes and sources.
Want to know more or try out a free issue? You can download either (or both) of the January-February 2019 and March-April 2019 issues here:  https://digging-history.com/free-samples/
Thanks for stopping by!