Cloverdale is believed to have been established sometime in the 1880's.  On May 2, 1882 The Critic (Washington, D.C.) had a story about an Indian fight at Cloverdale between Apaches and the Sixth Cavalry, led by Captain T.C. Tupper.  One soldier was killed in the battle, two wounded and fourteen Apaches were killed.  It was not the first battle with Indians in the area and certainly not the last – the war with Apaches continued until about 1924.
The Cloverdale Ranch was also established in the 1880's by either Bob Anderson or John Weames, but sold to the Victor Land and Cattle Company in 1889.  According to C.W. Barnum, a New Mexico genealogist, other ranches were established and the number of residents increased.  The name "Cloverdale" was chosen as the name for the spread-out community.  Said to have had as many as two hundred residents at one time, the town had a general store (built in 1918), post office, blacksmith shop, school and cemetery.  A stage line ran from Cloverdale to Animas.
In 1902 and 1903 the area suffered a severe drought, according to the oral interview of a former resident, George Pendleton. His parents, Thomas Maynard and Eva May Bass Pendleton (see yesterday's Tombstone Tuesday article on the Bass family), had married in Carlsbad in 1912 and moved to the area in 1914. In 1912 the post office was established, making it the southwestern-most in the state of New Mexico. More on the Pendleton family in a future article.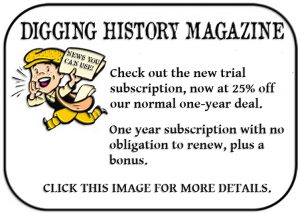 Beginning in 1913 the Cloverdale community held an annual camp meeting and picnic, drawing large crowds of ranchers and area residents. As mentioned in yesterday's Tombstone Tuesday article about the Bass family, the Mexican Revolution brought the likes of Pancho Villa to the area, as well as General Jack Pershing who pursued Villa in 1916. Such characters as the Clantons of OK Corral fame and Geronimo also roamed the area and made history in that part of the world.
The annual picnic continued to be held until 1962, although by 1943 the community had declined and the post office was closed. All that remains today is the deserted general store, a flagstone house belonging to Henry Sanford (see next week's Tombstone Tuesday article for more on Henry) and the remnants of a dance floor.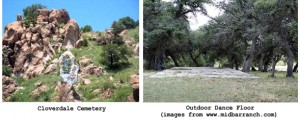 I found several stories about the Bootheel of New Mexico and Cloverdale which are fascinating, so watch for future articles about Cloverdale and the surrounding area – Military History, Wild West, Ranching History (a new article theme coming soon), as well as more Tombstone Tuesday articles on settlers who came in the late 1800's and early 1900's (Cousin Randy told me he saw another cemetery in the area!)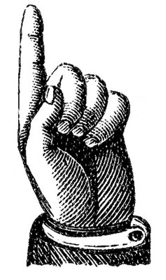 Did you enjoy this article?  Yes? Check out Digging History Magazine.  Since January 2018 new articles are published in a digital magazine (PDF) available by individual issue purchase or subscription (with three options).  Most issues run between 70-85 pages, filled with articles of interest to history-lovers and genealogists — it's all history, right? 🙂  No ads — just carefully-researched, well-written stories, complete with footnotes and sources.
Want to know more or try out a free issue? You can download either (or both) of the January-February 2019 and March-April 2019 issues here:  https://digging-history.com/free-samples/
Thanks for stopping by!