Historical accounts vary as to whether today's Wild West character came by his name via the middle name of "Xavier" or it was a family nickname, or he just adopted "X" as his name after becoming a well-known member of the Montana Vigilantes.  Following the big 1863 gold strike in Alder Gulch, waves of miners flooded the region and settled along an area known as the "Fourteen Mile City" – see last week's Ghost Town article here for more background.
The man who became known as "Vigilante X", John Beidler, was born on August 14, 1831 in Pennsylvania to parents John and Anna Hoke Beidler.  His father died in 1849 and his mother around 1850 before the census enumeration in August of that year.  That year John was eighteen and his occupation was that of shoemaker.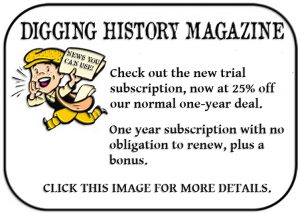 John was a supporter of abolitionist John Brown and sometime in the 1850's he made his way to Kansas to try his hand at farming. That means he would have been on hand during the period known as "Bloody Kansas". Following Brown's death by hanging for his part in the raid on Harper's Ferry, John left Kansas for Texas.
From Texas he moved on to Colorado, and then news of gold strikes in what would soon be Montana Territory compelled John northward in 1863. According to the Society of Montana Pioneers, John arrived in Virginia City on June 10, just days after the discovery made by a group of miners. As was the case all over the West during that era, very little formal law enforcement existed in the boom towns which sprung up, and Virginia City was no exception.
Minor legal matters were handled by informal miner's court proceedings, but for major crimes such as looting, robbery and murder there was no official law enforcement. One gang was led by Henry Plummer, who although a lawbreaker, somehow convinced the town of Bannack to elect him sheriff – History.com refers to him as a "charming psychopath."
In defiance of the lawlessness, a secret vigilance committee was formed with concerned citizens of Virginia City and Bannack. After joining the Vigilantes, Beidler became one of its most active members and in December of 1863, along with twenty-four men, swore a secret oath. Their mission was to hunt down, capture and hang as many of the criminals, Plummer included.
The Vigilantes thought the only way to restore law and order was to completely rid the area of Plummer and his gang. In January and February of 1864 twenty-one men were captured and hanged – no trials, no appeals and no time to put one's affairs in order.
Prior to the formation of the vigilance committee, one man, George Ives, did receive a jury trial after he was accused of murdering Nicholas Tbalt, a young man whose parents had been killed by Indians. During the trial Beidler stood guard over the proceedings. After Ives was convicted following a three-day trial, he pleaded for a stay of execution. From the rooftop above the proceedings, Beidler shouted out to the prosecutor, "Ask him how much time he gave the Dutchman!" George Ives was hanged that evening.
As more or less the face of the Vigilantes, Beidler or "Vigilante X" as he liked to be called, was accused of stepping over the line. Some lauded him as being trustworthy and fearless – others believed he was nothing more than a "pint-size bully" and braggart. As Jon Axline points out in his book Still Speaking Ill of the Dead: More Jerks in Montana History, he was a complex personality and all of those things, positive or negative, could be said of him.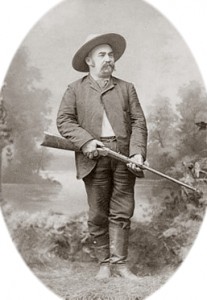 Another description of him from Frederick Allen's book A Decent, Orderly Lynching: The Montana Vigilantes: "John Xavier Beidler, known to one and all by his middle initial, "X," was an energetic little plug of a man, shorter than his rifle at five-foot-three." In his own words, Beidler described his penchant for impatience regarding delays, saying it would make him become "boiling, you bet, and indignant into the bargain." He often dressed in clothes too big for his "squatty-body" and Axline points out that he had the "less savory" trait of taking items, including clothing, from corpses for his own use.
Later in 1864, Beidler was appointed as a deputy U.S. marshal but continued his vigilante activities which led many to accuse him of overstepping the bounds of established law and justice. While serving as a law enforcement official he simultaneously helped to organize a vigilance committee in Helena. By 1867 he found plenty of work in Helena which was infested with a criminal element – practically every day there were reports of robberies and murders.
In 1870 his penchant for crossing the line almost resulted in his being arrested for murder. In January a Chinese miner by the name of Ah Chow had killed a man in Helena. When Beidler captured the Chinaman, he returned his prisoner to Helena and turned him over to the vigilantes who promptly hanged him. Beidler applied for Chow's bounty, which raised the ire of the local paper's editor:
We could not believe that any mere private citizens would engage in so lawless a proceeding and then have the temerity to acknowledge his guilt by applying for and receiving the reward.
Beidler claimed that he was thereafter threatened, allegedly receiving a note warning him, "We . . . will give you no more time to prepare for death than the many men you have murdered . . . . We shall live to see you buried beside the poor Chinaman you murdered."
John Beidler continued to served as deputy U.S. marshal until the late 1880s. In 1888 his health began to fail, and being destitute, relied on the charity of friends. On January 22, 1890 he died at the Pacific Hotel in Helena from complications of pneumonia. Hundreds of friends and associates attended his funeral, paid for by contributions. The Great Falls Weekly Tribune summed up his life: "He dies poor, having served his territory much better than he served himself. Peace to his ashes."
In 1903 his body was exhumed by the Montana Society of Pioneers and moved to Forestvale Cemetery. A "great rough boulder, emblematic of his rugged character" was later erected over his grave and inscribed with a plaque: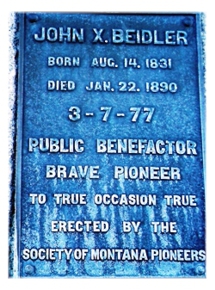 Even though he was known for his "extra-legal" vigilante activities, apparently the historical society and the annals of Montana history have chosen to honor him regardless. He was definitely one-of-a-kind.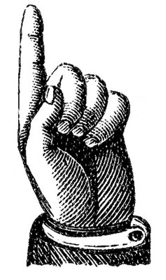 Did you enjoy this article?  Yes? Check out Digging History Magazine.  Since January 2018 new articles are published in a digital magazine (PDF) available by individual issue purchase or subscription (with three options).  Most issues run between 70-85 pages, filled with articles of interest to history-lovers and genealogists — it's all history, right? 🙂  No ads — just carefully-researched, well-written stories, complete with footnotes and sources.
Want to know more or try out a free issue? You can download either (or both) of the January-February 2019 and March-April 2019 issues here:  https://digging-history.com/free-samples/
Thanks for stopping by!