In 1833 two hundred men, women and children made their way from Illinois to Texas led by Reverend Daniel Parker.  They crossed the Mississippi and continued their journey southward through Missouri, Arkansas and Louisiana until in mid-November they reached the Sabine River in eastern Texas.  Camping near San Augustine on November 12, they witnessed a fearful and awesome sight which came to be known as the "Night the Stars Fell".
In the predawn hours of November 13, the sky lit up with huge shooting stars.  All of North America was witness to this phenomenal event.  No doubt some thought it might be God's judgment coming down on them.  Daniel Parker was troubled as well and no one could sleep after the event – the remainder of the night was spent in prayer.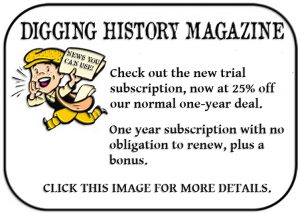 Hostile Indians still roamed the plains, and the Parker family was surely aware of the dangers they would face in Texas. James Parker was the first of his family to make the trek to Texas in 1831. He returned to Illinois with a good report, even though while in Texas one of his neighbors was shot and scalped. Nevertheless, Daniel, his sons and their families and members of their Illinois congregation set out to found a new colony in Texas.
Many of their group chose to settle near small towns and villages, but James and Silas Parker picked an isolated spot near the Navasota River to put down their roots. The area was surrounded by Indians who had lived there for hundreds of years – Caddos, Wichitas and Kichais who were primarily farmers and hunters. To the north and west were the more warlike Comanches, Apaches and Kiowas.
James and his wife Martha had six children and Silas and his wife Sarah had four, their oldest child a blond blue-eyed daughter named Cynthia Ann. It soon became apparent that the Indians, especially the more aggressive Comanches, would threaten their peace and safety. In 1835 they built "Fort Parker" – six cabins and two blockhouses surrounded by a twelve-foot tall fence. Later the Texas Rangers would use the fort as a base of operations and Silas secured a contract to hire twenty-five men to patrol the area and prevent Indian incursions.
Attempts to live peacefully with the Indians had been hit and miss. The winter of 1836 was harsh – hunger and disease were especially rampant among the Parker's Indian neighbors. One of the young Comanche warriors, Peta Nocona, blamed the white settlers for his people's woes and wanted revenge. In early 1836 the territory was beginning to stir with talk of independence from Mexico. Daniel Parker was one of the original signers of the Texas Declaration of Independence.
Following the Battle of the Alamo, the Parkers fled toward the Trinity River, fearful that the Mexicans and Indians would form an alliance and attack their settlement. Rains had been falling steadily and the Trinity River had risen so dramatically that it was impossible to cross. Instead they were forced to camp out along the western bank and wait out the storm. But, Sam Houston and his army had overcome and defeated Santa Anna's forces at San Jacinto. Settlers were then able to return and proceed with their spring planting.
Settlers had been warned by Houston about possible Indian attacks. Foolishly, James Parker, who thought he knew all there was to know about Indians, disbanded the Ranger company. He and his neighbors would defend themselves. Apparently he felt there was nothing to fear – how wrong he was.
On the morning of May 19, 1836 most of the men were out in the fields about a mile away from the stockade when a large group of Indians rode up to the fort on horseback carrying a white flag. No one seems to know exactly how many there were, perhaps hundreds by some accounts. Benjamin Parker asked what they wanted and the Indians demanded a steer. Benjamin went to Silas to tell him about the demands, and although Silas pleaded with him not to negotiate with them, Benjamin walked back to where the Indians were gathered. It proved to be a fateful walk.
Benjamin was surrounded, clubbed and left for dead. Pandemonium erupted and the women and children began to flee. Silas Parker took one shot and was then surrounded, clubbed and scalped. Other men were brutally killed and scalped in front of the women and children. The warriors raided and pillaged the stockade, and when the raid was concluded they had killed five and taken five captive – with no casualties of their own. One of the five captives was Silas Parker's nine year-old daughter Cynthia Ann.
Rescue efforts were begun to reclaim the captives, and James Parker would spend a great deal of time over the ensuing years to find them. Four of the captives would eventually be released, but Cynthia Ann became so inculturated into the Comanche tribe that she forgot how to speak English. A Comanche couple adopted her and raised her as their own daughter. In a strange twist, she married Peta Nocona who had stirred up the warriors to attack the settlers.
Some claim that in the mid-1840's she was asked by her brother John to return to her family but refused. She was happily married to Nocona and had children with him. One newspaper account on April 29, 1846 described an encounter Colonel Leonard Williams had while patrolling along the Canadian River. He offered a ransom for Cynthia Ann but the tribal elders refused to release her. It's highly doubtful she would have agreed to leave even if she had been approached directly by Williams. She must have been special to her husband since it is said that he forsook the Comanche tradition of having multiple wives — Cynthia Ann was his one and only.
On December 18, 1860, almost twenty-five years after her capture, Texas Rangers led by Lawrence Sullivan "Sul" Ross attacked Nocona's camp near Mule Creek, a tributary of the Pease River. Although Nocona was wounded he managed to escape with his two sons Quanah and Pecos. Imagine how surprised the Rangers were to find a "Comanche" with blue eyes. Cynthia Ann was "re-captured" along with her young daughter. She agreed to meet with her uncle Isaac Parker as long as her sons, if found, were returned to her.
By this time she claimed not to know her birth name nor where she originally came from. Still, those who were interviewing her suspected she was Cynthia Ann Parker. To the white man's world she was an oddity and people would gather to gawk at her. According to Glenn Frankel, author of The Searchers: The Making of an American Legend:
Medora Robinson Turner, a Fort Worth schoolgirl, recalled being let out of class one day and taken to a retail store, where a crowd had gathered to gawk at the celebrity captive. "She looked like a squaw," Turner recalled. "She stood on a large wooden box surrounded by the curious spectators. She was bound with rope. She wore a torn calico dress. She made a pathetic figure. Tears were streaming down her face, and she was muttering in the Indian language."
Attempts to inculturate her back into her birth family and the white man's world were largely unsuccessful. According to Frankel:
She had effectively reversed the narrative and subverted its meaning: instead of being abducted by Comanches, Cynthia Ann felt abducted by her white family. She was, in the deepest sense, a prisoner of war. The Parkers, as good Baptists, believed in the power of redemption. But what about someone who refused to be redeemed?
Her family continued to reach out to her, teaching her the Bible and praying with her but nothing seemed to change her, at least to their satisfaction. Frankel relates that one day a relative slaughtered a cow and Cynthia Ann and her daughter rushed out to the carcass. After it was opened they grabbed the kidneys and liver and started eating and dancing while blood was running down their faces – undoubtedly a disturbing sight to her family.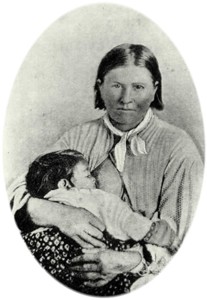 In February of 1861 a now iconic photo was taken of Cynthia Ann and her daughter. Glenn Frankel aptly described it:
In the photograph that has survived from that day, Cynthia Ann's expression is hard and raw as granite. Her face is flat, weathered, and heavyset. Her lips are sealed shut. Her dark hair had been hacked short in the manner of a Comanche in mourning. She is wearing a thin bandanna around her neck and a borrowed muslin dress unbuttoned where her raven-haired little girl suckles at her right breast. There is no comprehension; at best, there is resignation, and lurking behind it a palpable sense of fear.
After a time her name and fame faded into the background, the public perhaps believing her to be beyond help. Although her daughter Prairie Flower later attended school and learned to read and write English, Cynthia Ann still kept to her Indian ways. Her skills as a tanner provided a reliable income.
Prairie Flower either died of smallpox or influenza in 1863 or she was spirited away to New Orleans to be raised, her death faked and her name changed – depending on which account you believe (or disbelieve). No one seems to really now exactly what happened to her. The claim that she died in 1863 is followed up by another claim that Cynthia died not long afterwards. However, in 1870 the census enumerated Cynthia Ann Parker in the household of one of her relatives.
Frankel points out that it's more plausible to believe that Prairie Flower died around the age of nine of brain fever and was buried in the Fosterville cemetery. After that Cynthia Ann's own health and mental status began to deteriorate. Her family would later claim that she eventually returned to Christianity, insisting on being baptized by immersion into the Methodist church. In March of 1871 Cynthia Ann Parker died and was buried in the Fosterville cemetery next to her daughter.
Well over a hundred years later she would be hailed as a feminist role model. In 2003 an article in Texas Monthly declared:
Strong as buffalo hide, family-loving and high-spirited despite dire circumstances, Cynthia Ann demonstrated the same qualities that have ennobled iconic Texans from Mary Maverick to Barbara Jordan, Ima Hogg to Lady Bird Johnson. Maybe the reason we can't let go of Cynthia Ann is because she was the original tough Texas woman.
If one could interview Cynthia Ann today, I doubt she would look upon herself in the way she has been idolized. Her life was book-ended by two tragedies – seeing her white family massacred and later seeing her Comanche family torn apart. To the person experiencing such atrocities, it would hardly seem idyllic or even heroic to endure. One legacy, however, remained which she would never know about – her son Quanah Parker (he later took her English last name) survived the attack at Mule Creek and was later instrumental in his role as statesman in saving the Comanche nation.
Glenn Frankel's account of the Parkers and Cynthia Ann's capture and recapture was fascinating and well-researched. Look for a book review soon.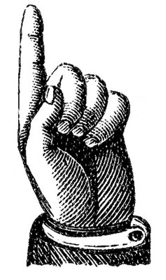 Did you enjoy this article?  Yes? Check out Digging History Magazine.  Since January 2018 new articles are published in a digital magazine (PDF) available by individual issue purchase or subscription (with three options).  Most issues run between 70-85 pages, filled with articles of interest to history-lovers and genealogists — it's all history, right? 🙂  No ads — just carefully-researched, well-written stories, complete with footnotes and sources.
Want to know more or try out a free issue? You can download either (or both) of the January-February 2019 and March-April 2019 issues here:  https://digging-history.com/free-samples/
Thanks for stopping by!