At the suggestion of my cousin, Terrie Henderson, I decided to check out some cemeteries in Catron County, New Mexico.  Several of the sites I perused had extensive details of both the lives and deaths on the individual Find-A-Grave web page.  For instance, the Boot Hill Cemetery has but 8 interments.  Initially I thought this might be a good one to research but since a lot of information has already been documented, I wanted to find something more challenging.
I continued looking through the Catron County cemeteries and came upon the Glenwood Cemetery.  I saw a picture of a sign with the name of the cemetery:
The name of the founder, A.E. Sipe, caught my eye and the fact that the precise founding date was noted.  Would I find A.E. Sipe himself buried in this cemetery?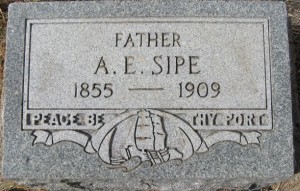 So, approximately twelve years after A.E. founded the Glenwood Cemetery, he himself is interred there. Noted on his Find-A-Grave page, is the death of his wife, Mary Jane, in 1897… HMMM – as well as links to a calculated relationship of two children who both died in 1888 just a few weeks apart (buried, however, in nearby Pleasanton, see below). The plot thickens.
Also on the Find-A-Grave page is information listing his date of birth as February 21, 1855 in Boone County, Arkansas (northern Arkansas, bordering Missouri). So backing up a bit I wanted to see if I could find anything about how A.E. came to settle in Catron County. He first appears in the 1860 Census as the five-year old son of Absolom and Mary M. Sipe – one child of seven – living in Carrollton Township, Carroll County, Arkansas. Carroll County is one county west of Boone County. The 1870 Census finds the Sipe family again in Carrollton Township, Boone County, Arkansas. Perhaps there was a Carrollton Township in both Boone and Carroll counties(?).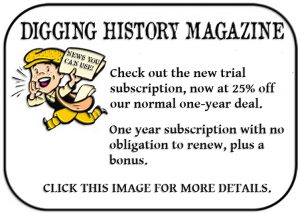 The next census, 1880, finds young Adolphus in Dry Town, Izard County, Arkansas – three counties east of Boone County – married to Mary Jane, who is 19. There are no children listed, so perhaps they have been married only a short time. According to New Mexico Early Birth Records, Mary Jane's maiden name was Killian. On January 22, 1889, daughter Leota Sipe was born in Pleasanton, New Mexico. Sometime between the 1880 Census and the1889 birth of Leota, Adolphus and Mary Jane had migrated west to New Mexico Territory. A search of the 1885 Federal Census of the New Mexico Territory yielded no listing for "Sipe", however.
In 1889, gold and silver were discovered in the Mogollon Mountains near Glenwood. Might that have been the reason for Sipe's migration to New Mexico Territory? Since we have no 1890 Census records, we don't know exactly where Adolphus Sipe was located nor what his occupation in 1890 was.
Apparently, Adolphus' brother, Robert Isaiah Sipe, also migrated west to New Mexico Territory. Robert appears in the 1900 Census, living in Alma, Socorro County, New Mexico, employed as a stockman. So perhaps the brothers migrated together.
This area was definitely the wild, wild West… Indian attacks, gold and silver strikes, and in the mid-1880s briefly the hideout of Butch Cassidy and his gang (in Alma at the WS Ranch).
On Adolphus' Find-A-Grave page, there is a link of "calculated relationship" for two children (added in March 2008 by "Ancestry Seeker"): Clara B. Sipe (January 5, 1882-April 2, 1888) and Freddie E. Sipe (October 25, 1883-March 30, 1888). Clara and Freddie are interred in Pleasanton, Catron County, New Mexico. The site notes that they both died of diphtheria (within 3 days of each other)… devastating!
Apparently, in 1888 there was a diptheria epidemic, perhaps worldwide (several articles seemed to indicate the 1880s decade was plagued with this disease). I found articles from California, Australia and New Zealand. One article, quoting the British Medical Journal, told a story of a turkey that was brought to a veterinarian surgeon infected with diptheria.
As noted on the Find-A-Grave page, these were calculated relationships. A historical search on Ancestry.com actually lists Clara and Freddie as being Robert's children. In addition, Harold Douglas Sipe is listed as a child of Robert and Cynthia Sipe (born in 1887 and died in 1888 – perhaps another diphtheria victim(?). Thus, the parentage of these children is in question.
Mary Jane Sipe died in 1897 but there is not a specific date listed on the Find-A-Grave page. I would surmise that her death occurred on or near the date of the founding of the Glenwood Cemetery by her husband. According to an index of that cemetery, Mary Jane was the one and only interment in Glenwood Cemetery in 1897. There were no more marked graves between 1897 and 1900 — the next interment was in 1900.
Unfortunately, I found no 1900 Census record for Adolphus, although I've already noted his brother Robert lived in Alma, Socorro County, New Mexico, with his wife and six children. In 1900, Adolphus would have been a widower (unless remarried) for approximately three years with at least one young child, Leota.
In 1910 Robert still resided in Alma, but in 1920 his residence is listed as Deming, Luna County, New Mexico – a farmer owning his own farm.
Research hit a brick wall with no 1890 Census records and no record of Adolphus in the 1900 Census. According to a message board at Ancestry.com, Leota married Albert Gatlin on December 23, 1908 and her father, Adolphus died sometime in 1909.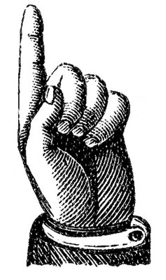 Did you enjoy this article?  Yes? Check out Digging History Magazine.  Since January 2018 new articles are published in a digital magazine (PDF) available by individual issue purchase or subscription (with three options).  Most issues run between 70-85 pages, filled with articles of interest to history-lovers and genealogists — it's all history, right? 🙂  No ads — just carefully-researched, well-written stories, complete with footnotes and sources.
Want to know more or try out a free issue? You can download either (or both) of the January-February 2019 and March-April 2019 issues here:  https://digging-history.com/free-samples/
Thanks for stopping by!