I found the subject of today's article on another blog which listed the ten best "ghost" towns to visit in Kansas.  The author's caveat was that it never became a town, but it is quite historical (and worth a trip to see) – known as the most historic place in Kansas on the Oregon Trail.
The name was given to the springs by a member of the Donner-Reed Party in 1846, although it was a known place along the trail which fur trappers traversed in the late 1820s and 1830s.  The first mention of the springs was made by travelers of the "Great Migration" in 1843.
"Alcove" was the name given the springs for its appearance, a shelving of rocks over which water flowed.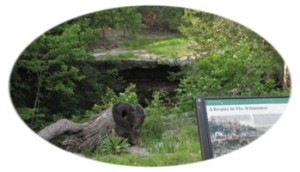 The springs became a popular place to stop because quite often when the emigrants reached this point in their journey the Blue River was at flood stage – Alcove Springs became a place to wait until the river level went down so they could continue. According to the Oregon-California Trails Associate web site, there are several carvings on the ledge and rocks surrounding the area, as well as wagon ruts. It is undoubtedly true that some people who stopped to rest at this location and made their carvings, never made it to their final destination. Mormons heading west probably passed through that area as well – it is said some may have been buried there after dying of cholera. The Oregon Trail has been referred to as "the world's longest graveyard".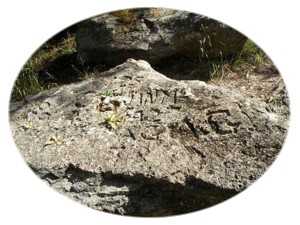 There are probably more than a few emigrants buried in and around the area. One of the most notable emigrants was the subject of yesterday's Tombstone Tuesday, Mrs. Sarah Keyes. One of the carvings was made by James Reed, Mrs. Keyes son-in-law. The picture below was taken by Don Weinell (as well as the one above); however, he wasn't sure if this was the original carving or had been moved to another location: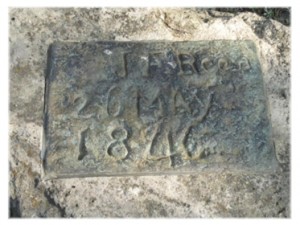 Alcove Springs had an unusual "post office" system. In 1849, William Johnson observed the following:
"We found here also one of the kind of postoffices peculiar to the plains — a stick driven into the ground, in the upper end of which, in a notch, communications are placed, intended for parties following. A letter in this postoffice was found addressed to Captain Pyle. It was from Captain Paul, giving information that at this place his driver, John Fuller, had accidentally shot and killed himself whilst removing a gun from the wagon."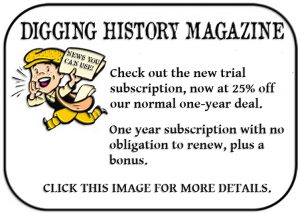 (I'm not entirely sure, but William Johnson may have been one of the Donner Party rescuers in the winter of 1846-1847.)
From the pictures I've seen, this "ghostly" place in Kansas sounds like a beautiful place to visit, officially listed as one of the "8 Wonders of Kansas Geography". The site is also listed on the National Register of Historic Places. The springs are located approximately 2 miles north of Blue Rapids, Kansas; turn right at the sign and head west for 6 miles on a gravel road.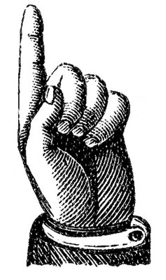 Did you enjoy this article?  Yes? Check out Digging History Magazine.  Since January 2018 new articles are published in a digital magazine (PDF) available by individual issue purchase or subscription (with three options).  Most issues run between 70-85 pages, filled with articles of interest to history-lovers and genealogists — it's all history, right? 🙂  No ads — just carefully-researched, well-written stories, complete with footnotes and sources.
Want to know more or try out a free issue? You can download either (or both) of the January-February 2019 and March-April 2019 issues here:  https://digging-history.com/free-samples/
Thanks for stopping by!