Today I'm starting a "mini-series" for this week of all things spooky and haunting (if you're into that kind of thing).  The articles today through Friday will be about different events and places surrounding the ill-fated Donner Party.  Today's article is about the tale of two Sarahs – one who died not long after the trip's beginning and the other who actually made it to California after being caught in Nevada in the snow storm and subsequent events that doomed so many.
Sarah (Handley) Keyes
According to the Find-A-Grave web site, Sarah Handley Keyes was born in 1776 in Monroe County, Virginia (no specific date of birth given, however, and I wasn't able to locate more detailed information). Her parents were Major John Handley and Mary (Harrison) Handley. The grave stones of the Major, his wife and Sarah all have commemorations indicating John Handley was an American Revolutionary patriot (DAR plaques). I found conflicting information indicating that perhaps this John Handley did not serve in the Revolutionary War, but had been a Major of the Virginia Militia during the Whiskey Rebellion of 1793.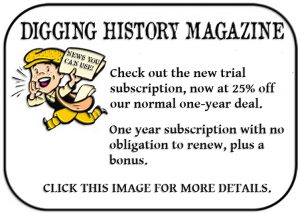 Sarah Handley married Humphrey Keyes on April 21, 1803 in Monroe County, Virginia. She and Humphrey had six children. I found one reference that seemed to indicate that Humphrey might have been a lawyer or judge. As noted in both the 1820 and 1830 United States Censuses, the Keyes family lived in Monroe County (Peterstown), Virginia. The Keyes family, according to "History of Early Settlers of Sangamon County, Illinois" arrived in Springfield, Illinois on November 10, 1830. The book also notes that Sarah was Humphrey's second wife. With his first wife (Strider or Streider last name), he had five children before she died. Humphrey died in 1833.
Sarah was now widowed at age 57 and her daughter, Margret, was widowed that same year. In 1835 Margret married James Frazier Reed. According to the 1840 Federal Census, a female between the ages of 50 and 60 resided in the Reed household, so it's safe to assume that would be Sarah Keyes. James Reed would be one of the leaders, along with George and Jacob Donner, of a group heading west in 1846. Reed was a wealthy businessman who had served with Abraham Lincoln in the Black Hawk War of 1832 (Lincoln with the Fourth Regiment and Reed with an Independent Company).
In 1845 Reed, along with the Donners, planned their trek to California and started from the Springfield, Illinois area on April 14, 1846. By this time, Reed's mother-in-law, Sarah Keyes, was in poor health (consumption) but was determined to make the journey with her daughter's family because she had hopes of seeing one of her sons, Robert Cadden Keyes, who had headed west a few years prior.
According to Daniel Brown, author of "The Indifferent Stars Above", Reed deemed himself to be the natural leader of the group – also that those who traveled with him thought him to be quite full of himself. According to Brown, one of the reasons for the Reeds to relocate to California was to cure his wife's migraines or "sick headaches". He goes on to say that Margret was so frail that at her wedding she had lain in bed during the ceremony while James held her hand.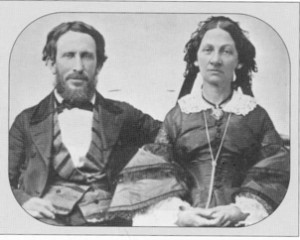 James and Margret Reed
The Reeds were quite well-to-do and set off on their journey in a wagon described by Reed's stepdaughter, Virginia Reed Murphy, in 1891:
Our wagons, or the "Reed wagons," as they were called, were all made to order and I can say without fear of contradiction that nothing like our family wagon ever started across the plains. It was what might be called a two-story wagon or "Pioneer palace car," attached to a regular immigrant train. My mother, though a young woman, was not strong and had been in delicate health for many years, yet when sorrows and dangers came upon her she was the bravest of the brave. Grandma Keyes, who was seventy-five years of age, was an invalid, confined to her bed.
Her sons in Springfield, Gersham and James W. Keyes, tried to dissuade her from the long and fatiguing journey, but in vain; she would not be parted from my mother, who was her only daughter. So the car in which she was to ride was planned to give comfort.
The entrance was on the side, like that of an old-fashioned stage coach, and one stepped into a small room, as it were, in the centre of the wagon. At the right and left were spring seats with comfortable high backs, where one could sit and ride with as much ease as on the seats of a Concord coach. In this little room was placed a tiny sheet-iron stove, whose pipe, running through the top of the wagon, was prevented by a circle of tin from setting fire to the canvas cover. A board about a foot wide extended over the wheels on either side the full length of the wagon, thus forming the foundation for a large and roomy second story in which were placed our beds.
Under the spring seats were compartments in which were stored many articles useful for the journey, such as a well filled work basket and a full assortment of medicines, with lint and bandages for dressing wounds. Our clothing was packed–not in Saratoga trunks–but in strong canvas bags plainly marked. Some of mama's young friends added a looking-glass, hung directly opposite the door, in order, as they said, that my mother might not forget to keep her good looks, and strange to say, when we had to leave this wagon, standing like a monument on the Salt Lake desert, the glass was still unbroken. I have often thought how pleased the Indians must have been when they found this mirror which gave them back the picture of their own dusky faces.
We had two wagons loaded with provisions. Everything in that line was bought that could be thought of. My father started with supplies enough to last us through the first winter in California, had we made the journey in the usual time of six months. Knowing that books were always scarce in a new country, we also took a good library of standard works. We even took a cooking stove which never had had a fire in it, and was destined never to have, as we cached it in the desert. Certainly no family ever started across the plains with more provisions or a better outfit for the journey; and yet we reached California almost destitute and nearly out of clothing.
If you'd like to read the entire account you can do so by clicking here.
The Reeds traveled on through Missouri, reaching the western side (St. Joseph and Independence) which was the commonly known jumping off point for those traveling west on the Oregon and California Trails. For travelers, it was a chance to stock up on supplies or see a doctor before heading out beyond the borders of the United States. Here are prices for various medical procedures:
50 cents – tooth extraction
$1 – seek medical advice or receive an enema
$5 – a toe or finger amputated; $10 for an arm and $20 for a leg
$5 – per baby delivered
After crossing the Missouri River, those headed west would travel into what is now known as Kansas. The Reeds and the Donners and another party (Russell Party) stopped at a bucolic site which was named by one member of the party as "Alcove Springs" and carved into one of the rocks. The Big Blue River had risen after thunderstorms and they were waiting for the level to drop so they could cross and continue their journey.
On May 29, 1846, Sarah Handley Keyes, age seventy years passed away. She had not been able to fulfill her wish of seeing her son Robert one more time. Her granddaughter Virginia wrote to her cousin in Illinois about the passing of her grandmother:
We buried her verry decent. We made a nete coffin and buried her under a tree we had a head stone and had her name cut on it and the date and yere verry nice, and at the head of the grave was a tree we cut some letters on it the young men soded it all ofer and put flores on it. We miss her very much every time we come into the Wagon we look at the bed for her.
After the river level dropped, the travelers were able to use a log ferry to cross and continue on their journey. The Donners and Reeds reached Fort Laramie on June 27, now known as the "Boggs Company" – named after it's leader Lilburn W. Boggs, a former Missouri governor. The group celebrated the Fourth of July before continuing on their journey to Fort Bridger to meet up with Lansford Hastings who was to guide them to California. However, upon arrival at Fort Bridger they learned that Hastings had already left a week prior so they had to head out without his leadership (encouraged by Jim Bridger) – they hoped to make it to Captain Sutter's fort in California territory in seven weeks. Just a few days out they found a note left by Hastings telling them that the road ahead was treacherous and impassable, so James Reed and two other men set out to find Hastings and get the new instructions. On August 11, 1846, just after receiving the new instructions, the group was joined by the family of Franklin Graves.
Franklin Graves had set out with his family from Steuben Township on the Illinois River on April 12, 1846. His group included: his wife, Elizabeth and their children: Sarah (and her new husband, Jay Fosdick), Mary, William, Eleanor, Lovina, Nancy, Jonathan, Franklin, Jr., youngest daughter Elizabeth and a teamster named John Snyder.
Sarah Graves Fosdick (Ritchie Spires)
Sarah Graves was born in Indiana on January 25, 1825 to Franklin and Elizabeth Graves. Sarah was their oldest child, following the death in infancy of their first child. According to Daniel Brown, the family moved to Illinois in 1831 and expanded to a total of nine children. Many people in the 1830s and 1840s began to grow restless to pick up and move to other lands in search of more prosperity and opportunities. Fueling that restlessness was a book published by Lansford Warren Hastings in 1845, called "The Emigrant's Guide to Oregon and California". The drier and warmer climate, along with the promise of "unexhausted and inexhaustible resources" was enticing to many. Franklin became restless too and planned a move west to seek a better life for his family. On April 2, 1846 Franklin sold his land. He had originally purchased the 500 acres in 1836 and 1838, according to Illinois Land Purchase Records, for $1.25 per acre. That day he sold the land for $3.00 an acre, a tidy sum of $1,500. Upon returning to their home, he made preparations to secure the money by secreting it away in wooden cleats (cabinets) and then nailing them to the bottoms of his three wagons. He did it in such a way as to make it look like these pieces were in place to support the wagon.
His eldest daughter, Sarah, was in love with a young man named Jay Fosdick. Sarah was torn between her love for Jay and the love and nearness of her family. On the same day that her father had gone to the courthouse to sell his land, she and Jay stood before a Justice of the Peace and were married. They would leave Illinois together headed to the unknowns of California (and everything in between) as newlyweds.
The Graves family and teamster John Snyder set out from Illinois on April 12, 1846. They followed much the same route and experienced much the same things that others who had traveled the route before them. On August 11, 1846 they met up with the larger Donner/Reed (Boggs) party and began traveling with them. There were even more challenges ahead with tempers flaring and exhaustion setting in, even death. Just after the first of November, the group reached Truckee Lake and spent the night – overnight it began to snow. The Donner group had earlier split but eventually they met up again and discovered they were now trapped and unable to go any further.
The winter was brutal and, as we now know, turned decent Christian people into cannibals to survive. Jay and Sarah joined a group in mid-December which left on snow shoes to try and cross over the mountains. The group became known as "Forlorn Hope". On Christmas Eve, Sarah's father, Franklin, died in her and sister Mary Ann's arms. On January 7, 1847 Jay died, but Sarah and Mary Ann continued on.
Late on the night of January 18, Sarah and Mary Ann approached a cabin situated by the Bear River. The survivors who made it through were described by a young woman from England:
I shall never forget the looks of those people, for the most part of them was crazy & their eyes danced & sparkled in their heads like stars.
Sarah and Mary Ann were nurtured back to health. Their siblings William, Eleanor, Lovina, Nancy and Elizabeth were all rescued. Franklin, Jr. had been rescued and then abandoned and died on or about March 11, 1947. Their mother Elizabeth, like Franklin, Jr. was rescued and abandoned and died probably about the same time as her son. Little Elizabeth died soon after arriving at Sutter's Fort.
The children of Franklin and Elizabeth Graves who survived went on to marry and have large families of their own. Sarah married William Dill Ritchie (one of the rescuers) in 1848. They had three sons: George, Gus and Alonzo (one died in infancy). William was hanged as a horse thief near Sonoma on May 30, 1854, even though he claimed innocence. In 1856, Sarah remarried once again, this time to Samuel Spires, with whom she had four children: Lloyd, William, Eleanor and Alice Barton.
On March 28, 1871, Sarah died suddenly and unexpectedly in Santa Cruz County, California. The following is noted on her Find-A-Grave page:
Find a Grave contributor, J.D. Larimore, has done extensive research on Corralitos Cemetery and the Graves family and has discovered that Sarah Graves Spires was probably buried in the Corralitos Cemetery first, and then removed to the Pioneer Cemetery when Corralitos Cemetery was turned into an orchard. She has also been unable to find a record or a headstone for Sarah, but believes that she is among the more than 100 unidentified graves in Pioneer Cemetery.
Two Sarahs – both determined to make the ill-fated trip west. One was old and frail and didn't live long enough to see her son one more time. The other, young and full of life, probably had to grow up considerably because of the tragic events that ensued – and then she died much too young.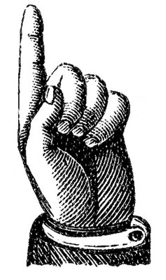 Did you enjoy this article?  Yes? Check out Digging History Magazine.  Since January 2018 new articles are published in a digital magazine (PDF) available by individual issue purchase or subscription (with three options).  Most issues run between 70-85 pages, filled with articles of interest to history-lovers and genealogists — it's all history, right? 🙂  No ads — just carefully-researched, well-written stories, complete with footnotes and sources.
Want to know more or try out a free issue? You can download either (or both) of the January-February 2019 and March-April 2019 issues here:  https://digging-history.com/free-samples/
Thanks for stopping by!