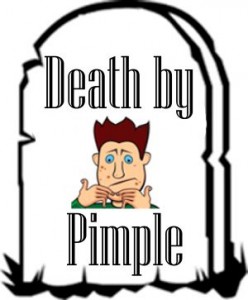 I ran across this intriguing subject while researching an early Surname Saturday article about the Pimple surname.  I found several references to so-called "death by pimple" and researched further.  Clearly, the problem was due to lack of an effective way to treat infection prior to the late 1920's and early 1930's.
That's not to say doctors didn't try to treat infections.  There were advertisements galore during the nineteenth century hailing various "miracle cures" for all sorts of maladies, pimples included.  The first instance found in a search of "pimple" at Newspapers.com yielded an article about a suspect in the disappearance of a surgeon who "hath been set upon by some ill people."  The suspect was described as a "short square man, with an oval Face, red and full of pimples, and is about 60 years of age."1  Early on, it appears to have been used as a means to identify someone – pimples were a distinct feature.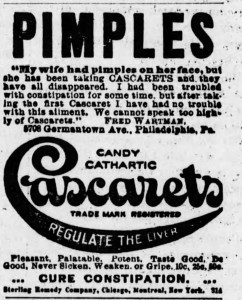 Two months later, in the same publication, an advertisement appeared hailing the efficacy of The Royal Cosmetick, chemically prepared in private practice and formulated to "infallibly free the Face of Worms in the Skin, Pimples, Pustules, Heat, Redness, Yellowness, Sunburnings, Tawnings, Morphew, and such like Defilements.  Being indeed, the greatest, certaintest, the safest restorer, preserver and Improver of a good Complection or Natural Beauty yet known."2  Pimples have been a problem for ages it seems.
According to Receipts and Remedies, published in 1908, the following was recommended.  If pimples weren't bad a daily morning washing with very hot water and ichthyol soap would be beneficial.  If, however, the condition was persistent an internal remedy of some sort should be obtained by prescription from a doctor, along with various types of lotions and ointments:
A good ointment for pimples is: Ointment of oleate of zinc, one ounce; ointment of rose-water, one ounce, camphor, ten grains.  This should applied to the pimples on retiring at night.
A good lotion is the following:   Carbolic acid, fifteen drops; borax, one drachm; glycerine, four drachms; tannic acid, one-half drachm; alcohol, one ounce, rose-water, two and a half ounces.  Dissolve and mix well together.  Apply night and morning.
This lotion for pimples is recommended by an authority: To five ounces of elder-flower water add one ounce of spirits of camphor and one drachm of milk of sulphur.  Shake thoroughly.  Wash the face at night with warm water and soap, and after drying the face apply the lotion with a sponge, allowing it to dry on.
White pimples should be pricked with a clean needle and the little mass gently pressed out.  A little cold cream may then be applied to the spots.
A French beauty specialist recommends the following treatment: Boric acid powder, fifty grams; magistery of sulphur, ten grams; distilled cherry laurel water, forty grams; gum arabic, twelve grams.  If this does not effect the cure try the following: Magistery of sulphur, twelve grams; sublimate of sulphur, eight grams; rectified alcohol, twenty grams; rose-water, fifteen grams; tragacanth, six grams.  Apply night and morning.  This is a very strong remedy; in fact a very radical cure for an acute attack of acne.3
The problem, of course, with these remedies was they would likely have very little if any effect on an infection and certainly not for a case of Black Erysipelas (as it was called) or blood poisoning brought on by picking at a pimple.  Note that one of the remedies did involve pricking of the pimple by a clean needle.  I would assume more often that not in the case of many of these so-called "deaths by pimple", the needle (or other instrument) was neither clean nor sterile, which in turn invoked the rapid spread of deadly bacteria.
The obituaries of these unfortunate souls who died due to an infected pimple should have been a cautionary tale for anyone attempting to treat their own case of acne by picking it away:
Daughter of Mr. and Mrs. Joseph Washburn of DeKalb Poked Pimple which Resulted in Death:  Mr. and Mrs. W. S. Washburn left this morning to attend the funeral of Mr. Washburn's niece, the 21-year-old daughter of Mr. and Mrs. Joseph Washburn of DeKalb, who died Monday as a result of blood poisoning.  About a week ago Miss Washburn had a slight pimple on her forehead which she picked with her finger and brought the blood.  Poisoning developed later and which resulted in her death Monday.4
YOUNG WOMAN DIES OF BLOOD POISONING: Miss Charlotte E. Avery, daughter of Dr. and Mrs. Amos Avery, of Oklahoma, died at the Littleton hospital Wednesday.  Death was due to blood poisoning.  She left Pueblo with her parents Monday morning, and while on the way a pimple developed on her forehead.  By the time they reached Littleton Miss Avery was ill and was rushed to the hospital for treatment but the poison had made such headway that she died Wednesday.5
Miss Margaret Parker, aged 18 years, daughter of Mr. & Mrs. John Parker of 5 Boone street died on Saturday (14 Oct) of blood poisoning at Allegany Hospital developed from a pimple on her face, which had been picked at.6
At her home in this village Wednesday morning, September 1st, at 4:30 o'clock, occurred the death of Mrs. Emory G Weaver after a week's illness with blood-poison.  Mrs. Weaver became infected from a pimple on her face, and in a few days her condition became serious.  Her nurse, Miss Ruth Stafford, of St. Luke's hospital, Utica, and Dr. Dunton were untiring in their efforts to save her life, but all that care and medical skill could do were of no avail.7
PIMPLE ON NOSE CAUSED DEATH POTTSTOWN, Pa., Sept. 19 – Frank Bliem, an eighteen-year-old young man of Lower Pottsgrave, picked a pimple on his nose Friday night and died twenty-four hours later of blood poisoning.8
Austin Gilbert, of Springfield, died from blood poison, caused by opening a carbuncle with a rusty pair of shears.9
DIED OF BLOOD POISONING  After suffering for five weeks from blood poisoning caused by picking open a pimple on the chin with a pin, Harvey B. Reiss, aged 22 years, died in great agony at the home of his parents, Mr. and Mrs. Cyrus Reiss, In Hellertown, on Saturday night.10
From the effects of picking with her finger-nails a pimple on her face a few weeks ago, Mrs. Mary Haley, of Girardville has just died of blood poisoning.11
Many of these died a short time after picking a pimple with a fingernail or pin.  Some lingered for a day or two and one had died in great agony.  Without the availability of an effective way to treat infection, death from blood poisoning simply couldn't be stopped with the rudimentary creams, lotions or other concoctions.   Even under the care of a physician, one's chances of survival were dicey in the mid-nineteenth century.  This story from an unknown Australian newspaper dated March 19,1852 underscores the fact that even under a physician's care in the mid-nineteenth century one's chances of survival were dicey at best:
CAUTION – DEATH FROM ARSENIC  –  In the following instance, death was caused  from the application of a poultice containing  a portion of Price's patent composite candles. HANNAH CLIFTON, aged 38, applied at the surgery of MR. GURNEY, at Camborne, on Thursday afternoon the 11th instant, with her upper lip enormously swollen, inflamed, and covered with small sores, the result of a pustular eruption, showing underneath white sloughs. On examination the surgeon's opinion was, from the appearance of the eruption, that she had used some application containing arsenic, and, on questioning her, he found that on Saturday the 7th, she had discovered a small pimple or blackhead on the edge of her under lip, and that on Sunday she had applied a white bread poultice, on which had been mixed a portion (as grease) of Price's patent composite candles, and that she had continued the same application for five succeeding days. The quantity of candle used was about an inch and a half in length, or half an ounce. She came again on the following morning (Friday,) having walked a mile; she did not appear worse, or had the erisypelatous inflammation increased. He ordered her to continue the applications recommended on the preceding day, but not come again herself, but send if worse.  On Monday, however, he was informed that she had died on the Sunday night.
Researchers were just beginning to scratch the surface (no pun intended) in the late 1800's, even though John Parkinson of England had begun recommending mold for treatment of infections as early as the mid-seventeenth century.  Sir John Scott Burdon-Sanderson observed in 1870 that cultured fluid covered with mold didn't produce bacteria, and a year later Joseph Lister (think Listerine) experimented with a fungus he called penicillium glaucium.
Louis Pasteur believed bacteria could kill other bacteria and Ernest Duchesne cured guinea pigs infected with typhoid in 1897 by using the same fungus Lister had used.  Still, it would be several years before scientists like Alexander Fleming finally developed penicillin, the first effective antibiotic.
Thereafter, other early antibiotics like streptomycin and tetracycline were developed and, as they say, the rest is history.  With the widespread usage of topical antibiotic creams and ointments today, so-called "death by pimple" would be considered extremely rare.
Our ancestors dealt with them and, unfortunately, sometimes died because of them.  Today, thankfully, we have modern medicine and every remedy imaginable to not only prevent infection but to prevent the outbreak of acne – or "zits" as we colloquially refer to them.  Pimples are a pain, we all know, but at least chances are pretty much nil we would die because of them.
Just another reason why the nineteenth century and early twentieth centuries are my favorites to read and write about – laying the groundwork for future discovery and technology which exploded in the mid-twentieth century and beyond.
Have a GREAT day . . . someday it will be HISTORY!
 © Sharon Hall (Digging History), 2016.
Footnotes: