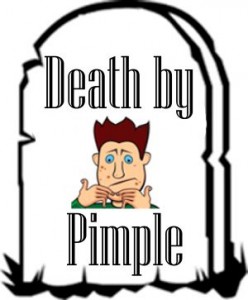 I ran across this intriguing subject while researching an early Surname Saturday article about the Pimple surname.  I found several references to so-called "death by pimple" and researched further.  Clearly, the problem was due to lack of an effective way to treat infection prior to the late 1920's and early 1930's.
That's not to say doctors didn't try to treat infections.  There were advertisements galore during the nineteenth century hailing various "miracle cures" for all sorts of maladies, pimples included.  The first instance found in a search of "pimple" at Newspapers.com yielded an article about a suspect in the disappearance of a surgeon who "hath been set upon by some ill people."
This article is no longer available at this site.  The former Digging History blog is now a monthly digital (PDF) publication, available by single issue ($2.99) purchase or by subscription at the Digging History Magazine site.  To see what the magazine is all about you can preview issues at our YouTube Channel.  Subscriptions are affordable, safe and easy to purchase and the best deal for getting your "history fix" every month.