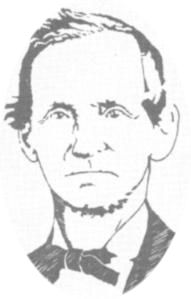 Thomas Jefferson Pilgrim was born on December 4, 1804 in East Haddam, Connecticut, the first child of eleven born to Thomas and Dorcas (Ransom) Pilgrim.  His family were devout Baptists and T.J. Pilgrim would spend a lifetime devoted to religious education.
After receiving his license to preach Thomas entered Hamilton Literary and Theological Institute, part of Colgate University, at the age of eighteen.  Even though his health was delicate he joined a group of sixty colonists and migrated to Texas following the completion of his education.
The migrants traveled to Cincinnati by water, via a raft built in two pieces and led by Elias R. Wightman.  The first day was trouble-free although by that night they were cold and wet.  After seeking shelter in an Indian village along the north bank, an old chief had pity and escorted them to a small cabin.
NOTE: This article is being re-purposed and will be included in a future edition of Digging History Magazine. Please check out our new site:  www.digginghistorymag.com.  Samples are available by clicking magazine image.  Regular monthly issues currently available for only $1.99. – Updated 1/20/18.