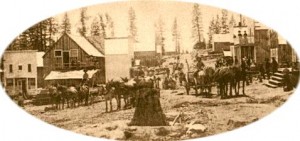 Gold was first discovered near the Idaho border in eastern Oregon in 1884 by Lon Simmons.  The town of Cornucopia, which in Latin means "Horn of Plenty", sprung up – said to have been named after the mining town of Cornucopia, Nevada.  In July of 1885 five hundred men had already converged on Cornucopia, "quite a village", reported the Morning Oregonian:
There is no doubt about the mines.  They are very rich.  Gold is being brought in every day and to see the rock is to be convinced that the mines are a big thing.1
Miners reported veins so rich that big nuggets would tumble right out of the rocks.  Over the years sixteen mines produced 300,000 ounces of gold, although one source estimates that eighty percent of the gold ore body still remains.2
NOTE: Digging History is now a monthly digital (PDF) magazine.  This article will be included in a future edition of Digging History Magazine. Check out the latest issue here:  www.digginghistorymag.com or try a subscription here.