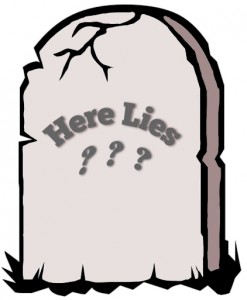 October is the spookiest month of the year, so a story about gravesite dowsing seemed in order for Halloween Eve-Eve, I guess you could call it.  The article title pretty much encompasses the range of opinion regarding the subject, although I have to say a brief survey I conducted most decidedly leaned toward the "just plain hooey" side.
Since, personally, I don't really have an opinion (yet) one way or the  other,  I  hope  nonetheless  you'll  find  the  article objective, informative, balanced — and hopefully interesting!  And oh, please do tell me what you think — science, wizardry, witchcraft or just plain hooey?
NOTE: This article is being re-purposed and may be included in a future edition of Digging History Magazine. After January 1, 2018 it can also be purchased as an individual article. If interested, please subscribe to the blog (to the right of this post) and you will be notified when the new Digging History Magazine web site is launched.