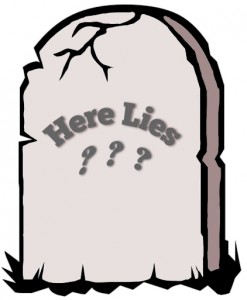 October is the spookiest month of the year, so a story about gravesite dowsing seemed in order for Halloween Eve-Eve, I guess you could call it.  The article title pretty much encompasses the range of opinion regarding the subject, although I have to say a brief survey I conducted most decidedly leaned toward the "just plain hooey" side.
Since, personally, I don't really have an opinion (yet) one way or the  other,  I  hope  nonetheless  you'll  find  the  article objective, informative, balanced — and hopefully interesting!  And oh, please do tell me what you think — science, wizardry, witchcraft or just plain hooey?

NOTE: This article has been SNIPPED — we are now an affordable monthly digital (PDF) magazine available via subscription single purchase.  More about the Digging History Magazine here (and how to get a FREE issue to TRY OUT).