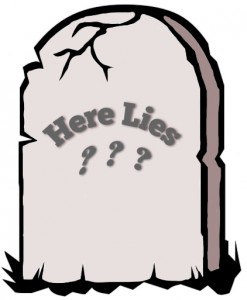 October is the spookiest month of the year, so a story about gravesite dowsing seemed in order for Halloween Eve-Eve, I guess you could call it.  The article title pretty much encompasses the range of opinion regarding the subject, although I have to say a brief survey I conducted most decidedly leaned toward the "just plain hooey" side.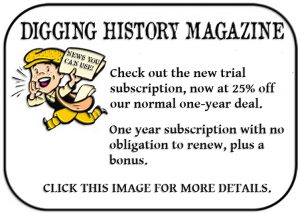 Since, personally, I don't really have an opinion (yet) one way or the  other,  I  hope  nonetheless  you'll  find  the  article objective, informative, balanced — and hopefully interesting!  And oh, please do tell me what you think — science, wizardry, witchcraft or just plain hooey?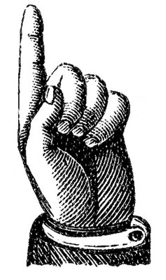 This article has been removed from the blog, but will be included in the September-October 2019 issue of our digital publication — Digging History Magazine.  Speaking of spooky, the October 2018 issue of the magazine was especially so — murder, strange lights, UFOs, American poltergeist and more!  Video preview here.
Since January 2018 new articles are published in a digital magazine (PDF) available by individual issue purchase or subscription (with three options).  Most issues run between 70-85 pages, filled with articles of interest to history-lovers and genealogists — it's all history, right? 🙂  No ads, just carefully-researched stories, complete with footnotes and sources.
Want to know more or try out a free issue?  That's easy if you have a minute or two.  Here are the options (choose one):
Scroll up to the upper right-hand corner of this page, provide your email to subscribe to the blog and a free issue will soon be on its way to your inbox.
A free article index of issues is available in the magazine store, providing a brief synopsis of every article published in 2018.  Note:  You will have to create an account to obtain the free index (don't worry — it's easy!).
Contact me directly and request either a free issue and/or the free article index.  Happy to provide!
Thanks for stopping by!