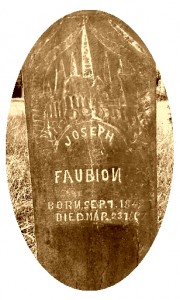 Joseph Faubion was born in Clay County, Missouri on September 7, 1842 to parents Moses and Nancy (Hightower) Faubion.  Moses was first married to Patsy Holcomb, and after she died he married Nancy Hightower in 1841.  According to the 1850 census Nancy was nineteen years younger than Moses and Joseph appears to have been their first child.
According to census records the family resided in Clay County where Moses was a farmer.  When the Civil War broke out, Joseph and his brother Jacob joined the Missouri Cavalry to fight as Confederates.  It appears that Joseph enlisted in Clay County on August 13, 1862.  A very faint and hard-to-read record seems to indicate he may have been a prisoner of war, but I'm not entirely sure the record is his because of the details to follow.
NOTE: This article is being re-purposed and will be included in a future edition of Digging History Magazine. Please check out our new site:  www.digginghistorymag.com.  Samples are available by clicking magazine image.  Regular monthly issues currently available for only $1.99. – Updated 1/20/18.