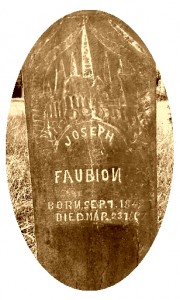 Joseph Faubion was born in Clay County, Missouri on September 7, 1842 to parents Moses and Nancy (Hightower) Faubion.  Moses was first married to Patsy Holcomb, and after she died he married Nancy Hightower in 1841.  According to the 1850 census Nancy was nineteen years younger than Moses and Joseph appears to have been their first child.
According to census records the family resided in Clay County where Moses was a farmer.  When the Civil War broke out, Joseph and his brother Jacob joined the Missouri Cavalry to fight as Confederates.  It appears that Joseph enlisted in Clay County on August 13, 1862.  A very faint and hard-to-read record seems to indicate he may have been a prisoner of war, but I'm not entirely sure the record is his because of the details to follow.
Little is known about his service except what was written in his obituary in 1897.  The Lamar Democrat provided a few details but no dates as to when he first "died".  His story was much like those I wrote about yesterday (Monday Musings: Attending Your Own Funeral).  The obituary only stated he was fighting somewhere in the mountains of Tennessee when he was stricken with yellow fever, an all too common disease which felled many a solider during the Civil War.
After contracting the disease his condition deteriorated rapidly and when his heart ceased beating Joseph was declared dead by a physician.  Funeral preparations were made, but just as the coffin was about to be lowered into the grave someone heard a muffled sound.  The lid was quickly removed and to the amazement of those gathered Joseph's sheeted form rose up from the coffin.
Joseph recovered, but as the newspaper reported, "from that hour his mind was blank."  Perhaps he had in fact briefly died causing brain damage, or perhaps had been in a deep coma resulting in memory loss?   Joseph returned home to Clay County but was never the same again, although at some point he eventually recovered some of his mental faculties.  The remainder of his life was spent performing odd jobs around Golden City, often seen around town with a saw on his arm.  His father had died in December of 1863 and Joseph remained with Nancy until his death.
In 1880 his occupation was listed as "works in garden" and there is an un-decipherable notation about a health issue ("Ex???? in Army") in the "Sick" column of that year's census form.  Joseph was living with his mother and brother James in Dade County, Missouri.  I was a bit surprised, given his "blank mind", that Joseph was not also noted as "Idiotic".  In addition to "idiotic" there were columns for blindness, insanity, deaf and dumb or crippled.
Joseph said little and was regarded as a harmless and eccentric character by local residents.  In 1897 he contracted pneumonia and suddenly died the second time in Golden City, Barton County, Missouri.  The date of his death is unclear, however, since the Lamar Democrat was dated March 4.  Another obituary in the Kansas City Star is dated February 25, 1897.  However, his gravestone is etched with the date March 23, 1897.
His aged mother Nancy was seventy-nine years old and the funeral was held in her home.  Joseph's body was returned to Dade County and buried in the Pippinger Cemetery.  There are some carvings on his stone which reminded me of the story I did several months ago about the Lawson Cemetery in Hickman County, Tennessee.  Located in that cemetery are grave stones carved with striking primitive art by the crippled son of Thomas and Elizabeth Warren Lawson.  It's one of the most read Tombstone Tuesday articles and you can read it here in case you missed it.
Have a GREAT day . . . someday it will be HISTORY!

© Sharon Hall (Digging History), 2015.