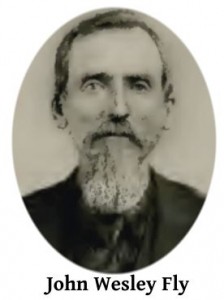 John Wesley Fly was born in Barry County, Missouri on March 7, 1844 to parents Asher Pipkin and Marillay (Cantrell) Fly.  Asher and Marillay were born in Tennessee and John was one of fourteen children born to their marriage. His parents were devout Christians, Asher having first professed his faith in 1840 by joining the Methodist Church and four years later joining the Methodist Episcopal Church.
Marillay died in 1860 and Asher married Minerva Doty in 1862 and fathered four children with her.  Meanwhile, the Civil War erupted and the state of Missouri was sharply divided as to its loyalties.  Citizens of Barry County gathered soon after the first shots were fired at Fort Sumter and declared their intentions to remain neutral, fearing civil war could erupt within the borders of their county.  Yet, despite the so-called Gadfly Resolution of 1861 (Gadfly was later changed to Corsicana) the county was indeed divided.
NOTE: This article is being re-purposed and will be included in a future edition of Digging History Magazine. Please check out our new site:  www.digginghistorymag.com.  Samples are available by clicking magazine image.  Regular monthly issues currently available for only $1.99. – Updated 1/20/18.