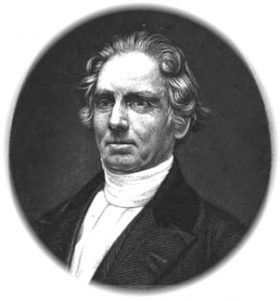 "I am either the worst of men, or the most persecuted and injured – either a knave or a martyr. Let the public read my story and judge for themselves."  J.H. Fairchild, Exeter, N.H., December 1844
While browsing through my list of potential Tombstone Tuesday articles, I stumbled across an interesting story, as they say "ripped from the headlines" of the 1840s and '50s, about a minister unjustly tried for adultery in the Boston Municipal Court.
Joy Hamlet Fairchild was born on April 24, 1790 in Guilford, Connecticut to parents Lewis and Mehitable Waterous Fairchild.  Lewis' first wife Sarah Waterous was Mehitable's sister and Joy was the eighth and last child of the second marriage.  Lewis died when Joy was but thirteen months old and credited his mother's prayers and counsels for his later successes in life — perhaps even his ability to face unthinkable challenges and controversy.
NOTE: This article is being re-purposed and may be included in a future edition of Digging History Magazine. After January 1, 2018 it can also be purchased as an individual article. If interested, please subscribe to the blog (to the right of this post) and you will be notified when the new Digging History Magazine web site is launched.