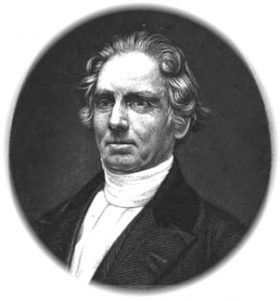 "I am either the worst of men, or the most persecuted and injured – either a knave or a martyr. Let the public read my story and judge for themselves."  J.H. Fairchild, Exeter, N.H., December 1844
While browsing through my list of potential Tombstone Tuesday articles, I stumbled across an interesting story, as they say "ripped from the headlines" of the 1840s and '50s, about a minister unjustly tried for adultery in the Boston Municipal Court.
Joy Hamlet Fairchild was born on April 24, 1790 in Guilford, Connecticut to parents Lewis and Mehitable Waterous Fairchild.  Lewis' first wife Sarah Waterous was Mehitable's sister and Joy was the eighth and last child of the second marriage.  Lewis died when Joy was but thirteen months old and credited his mother's prayers and counsels for his later successes in life — perhaps even his ability to face unthinkable challenges and controversy.
Around the age of eighteen as he was preparing to start college "it pleased God to visit the town with the special influences of his Spirit."  Joy would date his conversion to Christianity to that period of time as he made a public profession of faith.  He entered Yale College in the fall of 1809 and graduated in 1813.  Thereafter, he studied theology and lived with the family of the Reverend Dr. Ely.  In 1814 he received a license to preach the gospel and two years later became the pastor of a church in East Hartford, Connecticut.
On June 24, 1816 he was ordained and remained at the East Hartford church until August of 1827 when he asked for a dismission.  His congregants reluctantly agreed to release him, deeply regretting his departure.  His work over the past eleven years was highly regarded:
He has labored among us abundantly, in word and doctrine, and we esteem him highly in love for his works' sake.  Our attachment to him is strong, and our confidence unshaken.  By the blessing of God upon his labors this Church as been greatly enlarged.  More than eighty have been added to our number since the present year commenced, and upwards of two hundred during his ministry.  On these accounts he has become dear to us, and we cannot indulge the thought of his leaving us without peculiar regret.1
Upon his departure, Reverend Fairchild received numerous letters of recommendation and testimonials as to his character and ministry.  His tenure in East Hartford had not been without controversy or challenges, however.  During his second or third year of ministry an injurious report was circulated by two male members of the church who were under discipline for intemperance.  The rest of the congregation, however, dismissed their report and accused the men of libel.  No church meeting was ever held to address the subject.
On November 22, 1827, Reverend Fairchild was installed as the pastor of a South Boston church.  In 1832, he began to sense that all was not well in relations with his deacons.  One deacon, Marcus Whiting, thought his messages "pointed and personal".  The deacon was also upset with the reverend who "did not plainly tell his children …. that they were real sinners, and going directly to hell."
Fairchild likely dismissed those accusations since Whiting's children were quite young at the time.  Whiting had complained that the pastor would remind "them that they had been dedicated to God in baptism, asked them about their attending the Sabbath School, told them to be good children and love the Savior, so that when they died they might go to heaven."2
Several meetings with Whiting didn't seem to resolve their differences, however.  In early March of 1833 Fairchild received a call from the First Presbyterian Church of Newburyport, Massachusets.  Congregants were alarmed enough as to call a special meeting to ascertain what actions they might take to induce Fairchild to decline.  All expressed a strong desire for him to say – except the deacons, who preferred he leave.
Clearly, the deacons of the church were against him.  One admitted that he regarded Fairchild as a proud man.  The evidence?  Fairchild wore a frock coat, walked with a cane and preached in a gown and bands.  Fairchild apparently seriously considered taking the job in Newburyport but was ill at the time.  One deacon admitted other issues with his ministry.  The reverend had the impression "that if I preached more on the doctrines of the Gospel and against other denominations, and less on the duty of doing justly, and loving mercy, and having charity for those who differ from us, and governing the temper and tongue, the plea for better edification would not have been urged."3
Fairchild remained and in 1836 Josiah Vinton joined the church and became a deacon.  All seemed well until the summer of 1840 when a disagreement arose between the two men as to some building modifications.  Vinton was opposed and made a point of publicly criticizing Fairchild.  His words were hurtful, yet Fairchild wished for peace and said nothing to anyone other than his wife.
Things may seem to have been resolved, but on May 8, 1844 a meeting was held to investigate charges of Fairchild's moral character.  A Board of Referees consisting of ministers and laymen of neighboring churches was appointed.  How the deacons came to doubt Fairchild's moral rectitude seems to be a case of gossip and innuendo gone amuck.
In 1834 a young woman by the name of Roxana Davis had been converted under Fairchild's ministry.  Shortly thereafter she moved in with Reverend and Mrs. Fairchild as a boarder – their own daughter had recently departed to live abroad.  The Fairchilds regarded her very much like their own daughter.  After fifteen months as their boarder Roxana married Nahum Dunbar.
The Dunbars lived near the Fairchilds and the two couples continued their close relationship.    Quite often the reverend would stop by their home without invitation – just as if Roxana were his own daughter or sister.  Mrs. Howe, a nosy neighbor, took it upon herself for three years to watch out her window to see when Fairchild arrived.  She noted that he usually called around two o'clock in the afternoon.  In her mind this constituted some sort of "pre-concerted signal".
Mrs. Howe believed there was something about positioning of the blinds or curtains which signaled an open invitation to call upon Roxana.  Mr. Howe was persuaded to watch as well.  When Mrs. Fairchild left for a couple of months in 1841, the reverend would eat with the Dunbars but studied and lodged at his own home.  All noted by the neighborhood watchers.
Fairchild had promised Roxana he would bring over some plums from his garden when they were ripe.  Around the middle of August, he picked a few and laid them on a table, intending to take them when he left to shop.   He stopped by the Dunbar home on the way to the store, but realized he had forgotten them.  He promised to return later.  This was apparently highly suspicious to the neighborhood looky-loos.  Two visits in one day meant that something must be done.
Instead of speaking privately to Fairchild, Mr. Howe decided to go directly to the reverend's adversary, Deacon Vinton.  Then, the deacon joined the "stakeout".  Another deacon was informed and he started to watch.  Meanwhile, no one had said a word to the reverend and Deacon Vinton, for one, was steaming.
Vinton confronted Fairchild in an exchange at a Methodist meeting: "You are a bad man.  We have lost all confidence in you."  What was this outburst all about?  The exchange occurred in the afternoon around 2:30 probably because Vinton replied, "You know what I mean, for it is something which has taken place within half an hour."  Vinton assumed the reverend had called upon Mrs. Dunbar "for a bad purpose".  He then went on to inform Fairchild he had been watched for sometime and was aware of the "signal".
Obviously, Reverend Fairchild had no idea what Vinton was talking about.  The deacon promised not to make waves and publicly attack his pastor's character if he would resign.  The two men left together and passed the Dunbar home where Vinton pointed to the window blind over the front door – half of it open three or four inches – the signal!
Was there some sort of signal?  Not according to Fairchild.  In his own defense he wrote in Iniquity Unfolded:
It appeared in evidence [before the Board of Referees] that the room over the front door was occupied at that time by the girl who lived with Mrs. D.; that she worked for Mrs. D. in the morning, and attended school in the afternoon; that when she dressed herself for school just before two o'clock, she usually opened one half of the blind a little ways for the admission of light with the design of closing it before she left the room, which she generally did, but sometimes forget to do it; that when she returned from school and saw it open, she would hasten up stairs to close it, lest Mrs. D. should discover it, and reprove her for her forgetfulness, as she had often charged her not to leave it open.4
The nosy folks had made note of the blinds and the times when the girl left, assuming this was so Mrs. Dunbar could be alone with Fairchild.  Vinton had agreed to keep the matter private and invited the watchers to meet and discuss the matter.  Fairchild assured his accusers that Roxana had no knowledge of any signal, nor was there ever any improper behavior.  The deacons believed that Roxana was so hardened by sin she would, of course, deny any wrongdoing.
Fairchild had answered their questions, but the deacons had already pre-judged him and by this time the reverend was beginning to think it best he leave to avoid further controversy.  The deacons claimed they had no desire to injure his character and solemnly agreed not to do so.  After carefully weighing his options, Fairchild decided to release them from the oath and allow them to openly expose their "secrets".  Knowing their "secrets" would likely reflect badly on his moral character, Fairchild believed he would at least have an opportunity to defend himself before leaving the church.
He agreed to look for a new pastorate but his health declined and during the month of December 1841 wasn't able to preach for three successive Sundays.  His health became more important than seeking a new congregation to serve.  He decided to take a long journey as soon as the winter weather passed, planning to go to Europe for one year.
However, by April of 1842 his health had not greatly improved when another out-of-the-blue blow came his way.  A former domestic employee (he hadn't heard from her in over five months), Rhoda Davidson, was convinced to approach Fairchild and demand money.  Instead of traveling to Europe, he decided to journey through the southern and western parts of the United States.  He resigned and a few days later began his journey.  He also paid Miss Davidson the "hush-money", perhaps choosing to just pay her, walk away and avoid more controversy.
This was yet another twist in the life of Reverend Joy Hamlet Fairchild (warning:  there are many more ahead!).  Stop by later this week for a Far-Out Friday article to conclude his story and this Tombstone Tuesday article.  If you think this is already a crazy story, it gets crazier!
Have a GREAT day . . . someday it will be HISTORY!

© Sharon Hall (Digging History), 2015.
Footnotes: